Professional Analyst Coverage
Eka
Eka Software Solutions is a global leader in providing innovative, cloud solutions that unify a whole range of workflows from procurement to payments. Its platform driven solutions for commodity and supply chain management, source-to-pay, treasury and sustainability help customers to overcome complex challenges and accelerate their digital journey in an environment of continuous change.
For nearly 20 years, Eka has been the partner of choice helping over 100 commodity businesses navigate supply chain risk, frequent market disruptions and increased volatility with its comprehensive cloud-based platform.
Founded:
2004
CEO:
Manav Garg
Headquartered:
India (Regional offices in U.S., U.K., India, Australia, Canada, Mauritius and Geneva)
Ownership:
100% owned by Eka Software Solutions
Learn more about Eka's company, solutions and services.
Fintech Analyst Report
Primary Coverage on Treasury Technology can be found in Strategic Treasurer's annually released Treasury Technology Analyst Report. This definitive guide includes the market case, historic functionality, and future developments of solutions across three categories:
Treasury & Risk Management Systems
Treasury Aggregators
Supply Chain Finance Solutions
Explore special coverage of Eka's company and solution set in the report below.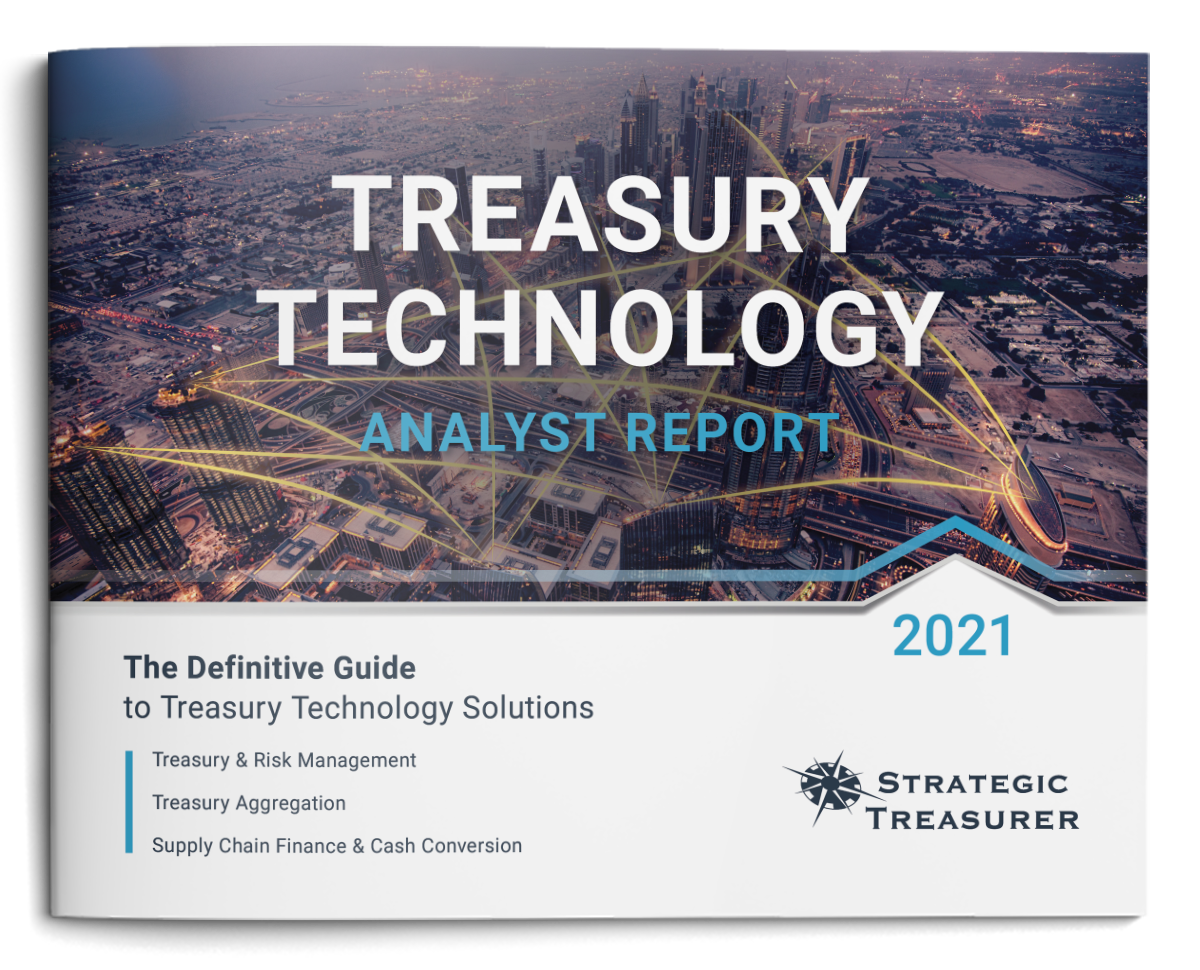 Headlines & Awards
Eka to transform corporate treasury operations with a new, state-of-the-art solution: (June 22)
Eka Software Solutions, a cloud-based enterprise solutions provider, has shored up a team of industry experts tasked with delivering a new solution to radically transform corporate treasury operations. This highly experienced team will help accelerate the treasury solution's time-to-market.
Eka unifies procurement to payment processes with launch of treasury management solution: (September 28)
Eka Software Solutions has launched Eka Treasury Management, a powerful financial management solution that provides CFOs with a unified and timely view into enterprise data, which is critical to understanding the true state of a company's cash flows, liquidity positions and foreign exchange (FX) risk. With this launch, Eka's Cloud Platform now provides powerful enterprise solutions and integrations that unify critical business processes across e-sourcing, trading & risk, supply chain, sustainability and financial management.
Energy Risk 2019 Award winner: Energy Technology House of the Year
In 2019 Eka Software Solutions bagged the prestigious Technology House of the Year for its enterprise apps for CTRM/ETRM solutions hosted by Risk.Net, a leading source of news and analysis on risk management, derivatives and regulation.
GlobalGrain Awards 2018
Eka was named 2018's best provider in "Innovative finance" at the biggest agricultual trade show – Global Grains, Geneva. Eka's powerful, "out of the box," apps have aided in revolutionizing in digital Commodity Management (CM) with over 20 businesses in this domain switching to app-based workflows.
Eka wins Best Commodities Trading System awards
In February 2021, Eka's innovative cloud platform for digital innovation added another feather to the cap when it was named the winner of best Trading System for Commodities in this year's Risk Markets Technology Awards.
This was the second time Eka's high level customer service and scalable architecture was recognized. Eka also ranked among the top five energy vendors in Chartis Research Energy50 following an evaluation of its platform driven ETRM solution.
Frequently Asked Questions
How is Eka's TMS different from other solutions?
Eka's TMS is a fully managed, cloud-native SaaS application with high levels of security, performance and uptime with automatic updates and upgrades. It leverages the power and scalability of cloud infrastructure, cloud native services to deliver a highly optimized and secured application. Some of the salient features that differentiate the application are
Breadth of functionality: Eka's TMS comes with modular features covering cash management, liquidity management, currency and interest rate risk management, working capital and funding. Users can pick and choose specific functional applications from Appstore that suit their unique business requirements.
Connectivity: Take advantage of an expanding ecosystem of predefined connectors covering ERP, CRM, trade repositories, financial and market data to better manage your key business functions and processes.
Analytics: Eka's TMS is a comprehensive solution that integrates data management, business intelligence, statistical analytics, and AI capabilities all embedded in one platform. It allows you to make the best possible decisions in the least possible time.
Configurability: Enrich data with user-defined attributes to handle new and evolving business logic using an intuitive and easy to use data enrichment editor, eliminating the need for product customization.
Can users create reports and dashboards on their own?
With Eka's TMS, users can derive key business insights from their data by creating intuitive visualizations on multiple measures and dimensions. Users can connect to external systems or use data available on Eka's platform to generate dashboards and reports based on their requirements. The platform supports multiple charting options that include line, bar, scatter, bubble, pivot, tabular, timeline, geo maps, heat maps, cards, slicers etc. and ability to slice and dice data using custom defined measures and calculated fields.
What does Appstore mean?
Eka's Appstore empowers users to pick and choose functional applications based on their requirement. A customer using the platform could extend their existing solution capability by adding more applications from Eka's Appstore as business requirements grow and evolve. The applications are designed to address specific business requirements, leveraging platform capabilities to deliver an end-to-end integrated solution. Specifically, for a TMS customer Eka's Appstore can accelerate the pace of business with rich applications supporting trading & risk, supply chain, business collaboration and financial management. Visit https://eka1.com/app-store/ for more details.
What is a cloud native platform? How is SaaS different from cloud-native?
SaaS stands for software as a service wherein a business can purchase a subscription for software applications hosted in cloud. Cloud-native SaaS applications are typically developed using cloud native architecture and services. These applications leverage features of cloud technology like the elasticity of cloud and increasing computing resources when there is a spike in customer activity. As a result, cloud-native SaaS applications like Eka's TMS offer a scalable and optimized platform to deliver services faster at a lower overall maintenance cost.
Onboarding, Implementation & Client Training
Eka's Treasury Management Solution is implemented as a SAAS cloud-native platform, which will allow users to not only access Treasury features, but also augment the solution suite by incrementally adding multiple apps that cover the entire procurement to payment value chain.
Eka's implementation methodology follows a well-defined approach that includes the following:
Consulting workshops—> AS-IS and TO-BE process mapping.
Product configuration —> Master data configuration, connectors and integration setup.
User Acceptance Testing —> Mutually agreed business scenario testing.
Data Migration and cutover—> Migration of existing data and planning for cutover.
Go-Live and post go-live support.
For client onboarding and training, Eka has a uniquely designed consulting workshop customized for every client's needs. A mix of remote, out-of-the-box and collaborative implementation approach is adopted by Eka.
Eka has well refined processes that enabled a record 16 go live in less than 12 months. Any out of the box implementation is completed in less than 100 days.
Eka's implementation best practices keep our clients ahead of competitors. Some of them are as follows:
Going live rapidly with out-of-the box implementation and achieving early RoI.
Deploying trained resources throughout the project duration and ensuring client executive sponsorship and business input into the project.
Any change of scope is managed through change management process.
Well defined project governance structure for risk management, monitoring and reporting.
Through its collaborative implementation approach Eka has built full scale delivery capability to enable efficient solution implementations. Eka's professional services has control over project delivery in the following ways:
Minimise the time to market for delivery of business value to the client
Maximise the return on investment (ROI)
Improve overall customer satisfaction
Client Training:
Client training is included as a part of implementation phase. The training can be either virtual or physical (on premise) depending upon customer convenience. Eka follows train the trainer approach. Under this programme Eka trains the superusers who in turn can train the end-users.
For the continuous training and upgradation Eka offers relevant courses that are pre-recorded by Eka experts. These are available at Eka's learning and development portal, Ekademy. Upon successful completion of the course, the participant is eligible to receive Eka certification.
Customer Service
Once Eka TMS implementation is up and running, client is offered a three-tiered support model spread over a timeline. Within the first two weeks of the implementation all Eka clients receive hypercare. Under this arrangement, the entire project team is available at the client's disposal with pro-active lines of communication. This time is utilized for the users to become self-sufficient.
Post hypercare, the next tier of customer service offered by Eka is assisted support, where the erstwhile project team moves out gradually and is replaced by a support team. Any system/user challenges are now addressed by the support team.
During this phase, customers can raise support tickets via online portal offered by Eka or email/ phone. Support SLAs are tracked and monitored using proper governance structure.
Eka offers various client support models based on which customers can chose from a specific package/offers. The support coverage is dependent on the support package ranging from 8/5 to 24/5.
Once the solution and the users acclimatize with each other Eka's dedicated support team remains at stand-by. Any requirement for updates are met with prompt responses.
Event Attendance
| | | |
| --- | --- | --- |
| Event | Date | Location |
| Euro Finance – 2021 | Sept 27 – Oct 1, 2021 | Barcelona, ESP |