Join Craig Jeffery of Strategic Treasurer and Benjamin Campbell of Capital Advisors Group as they cover high-level highlights from the recent Liquidity Risk survey.
Liquidity Risk: Survey Results Webinar
Date:     Tuesday, January 21, 2020
Time:     2:00-3:00 PM EST
Where:  This is an online event.

This survey results webinar will cover a wide range of topics and trends on liquidity risk mitigation practices. As one of our oldest running surveys, we are able to provide valuable year-over-year data that shows major and minor shifts in corporate risk mitigation strategies and predict future trends. Join us as we take a look at how macroeconomic changes and new regulations continue to impact all treasury professionals as they approach business decisions.
1.2 CTP and FP&A re-certification credits will be given for attendance to this live webinar.
If you encounter any issues with registration or during the webinar, please contact our team. It can take a few minutes for the confirmation email to come through.
You may also be interested in: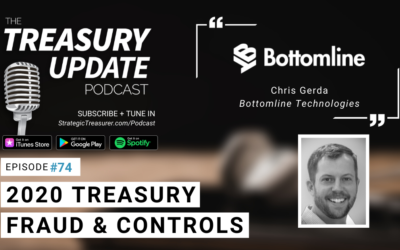 Host Craig Jeffery interviews Chris Gerda, Risk and Fraud Prevention Officer of Bottomline Technologies on the current and projected impact of fraud on the finance and treasury environment. Topics of discussion center around corporate fraud concerns, security spend, hacking tactics, recent events, and the significant value of the 2020 Treasury Fraud & Controls Survey. Listen in to find out how you can better protect yourself and your organization against attacks.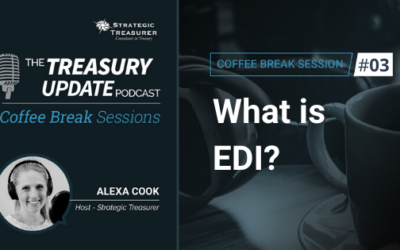 What is EDI? Special Host Alexa Cook meets up with Managing Partner Craig Jeffery of Strategic Treasurer to discuss the key elements of Electronic Data Interchange. They share valuable insights on how data is transmitted, transferred between companies, and what role EDI plays. Tune in to this short discussion to find out more.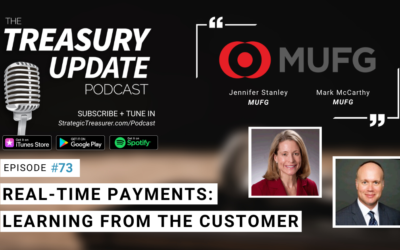 Live at the 2019 AFP Conference in Boston, Host Craig Jeffery joins special guests Jennifer Stanley, MUFG's VP and Senior Product Manager of Real Time Payments, and Mark McCarthy, Managing Director of Energy & Power Transaction Banking, to discuss real-time payments with view to learning from the customer. Listen in as they explore this brand-new payment rail and the transformative value it's bringing to business-to-consumer applications with a focus on the utility industry.