Technology Solutions Providers
Partner with us as we engage and inform practicing treasury professionals through widely distributed publications, highly engaged webinars, and other quality resources.
Partnership Opportunities
Contact A Team Member
Informed Marketing.
We continually survey the market of technology vendors and financial service providers, allowing us to expertly narrow the list of qualified candidates for each client's specific needs.
A Partner You Can Trust.
At Strategic Treasurer, we have the most relevant and current information by meeting with bankers and technology providers 50-75 times per year independent from client projects.
Current Marketing Partnership Opportunities
Strategic Treasurer conducts research and assessment of the treasury market through numerous surveys of corporate practitioners and bankers, along with in depth analysis of corporations currently undergoing updates and enhancements to their technology stack. Through those efforts, we have discovered both a significant need from treasury professionals and a significant opportunity for leading solution providers.
Market Solution Need
Large & Growing
Market Intent-to-Buy
Serious & Strong
Market Awareness
Shockingly Low
Marketing Opportunities
Vital & Limited
Inform
Add your unique insight to educate the treasury field.
Reach
Update the market on your treasury technology solutions.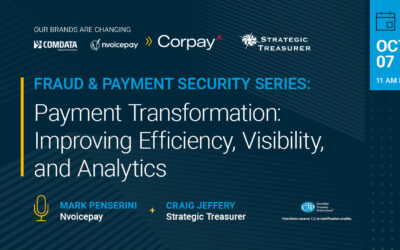 Changing expectations, developing technology and new payment rails all add to the value proposition for engaging in payment transformation. Transformation is occurring separately in individual areas (AP, Treasury, Operating Areas) and on an organizational-wide basis. This session covers some of the key drivers of payment transformation: demands for improved process efficiency; a broader view that includes internal areas and counterparties; risk management and fraud prevention; timeliness. Making payments faster addresses a speed concern. Making payments better might streamline the communication of payment information between partners more efficiently. Making payments more secure has become an executive demand. Payment transformation doesn't look at these elements in isolation or with a one-size-fits all. This fast-paced discussion will cover how organizations can develop and implement a comprehensive transformation of their payment processes and technology.