Treasury Technology Analyst Report
Access your definitive guides to treasury technology. Researching new treasury and finance technology can be overwhelming. Strategic Treasurer has stepped in to help. Explore our definitive guide to the treasury technology landscape and discover detailed, data-based coverage of:
Treasury & Risk Management Systems
Treasury Aggregators
Supply Chain Finance & Cash Conversion Cycle
Liquidity Enterprise Management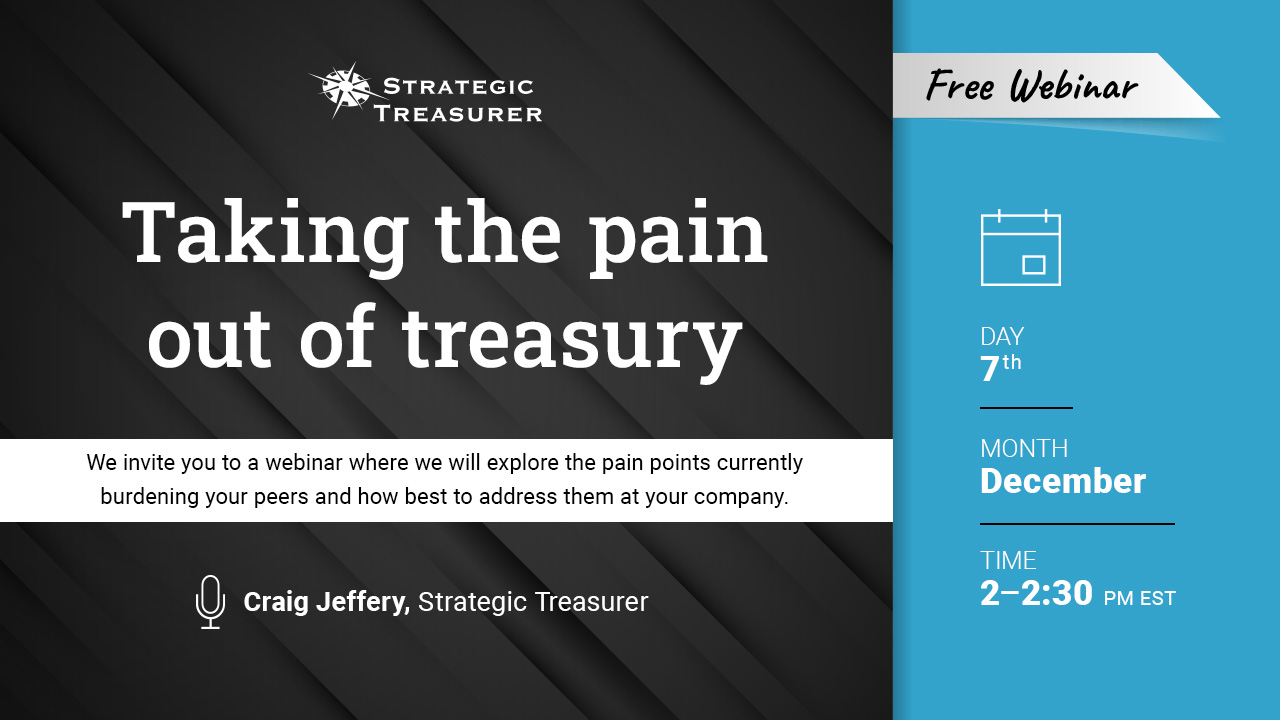 Webinar: Taking the Pain Out of Treasury
December 7 at 2pm EST
Strategic Treasurer's front-line survey of booth visitors at the AFP Conference in San Diego and online from non-attendees set out to discover the greatest pain point in treasury. The options included staffing limitations; fraud and control challenges; rework from errors; liquidity forecasting; and challenges around data, reporting, and analytics. This webinar will review the results and the magnitude of the differences. Strategic Treasurer's managing partner, Craig Jeffery, will offer his assessment of the levels of pain, why this is the case, and strategies and actions to reduce or eliminate the pain. This session is just 30 minutes, and attendees will come away armed with current information and ideas to implement.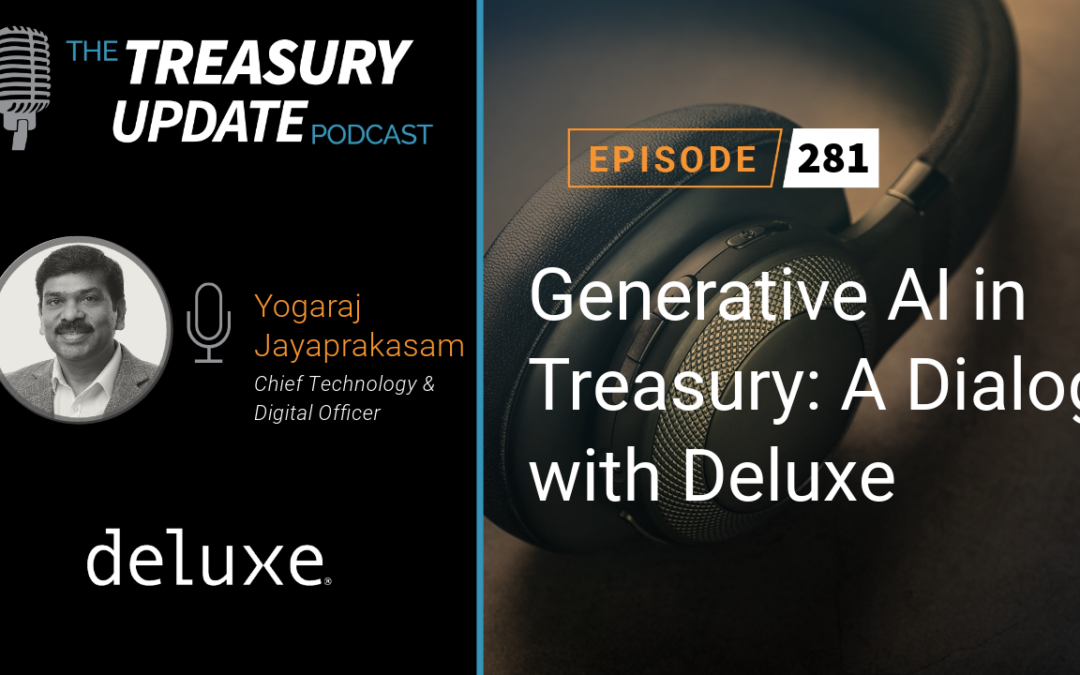 In today's podcast episode, we'll hear a discussion between Craig Jeffery and Yogaraj Jayaprakasam on the transformative power of generative AI in treasury. They discuss generative AI's transformative impact on communication, reasoning, and domain-specific applicability, as well as how Deluxe is looking at the adoption of AI.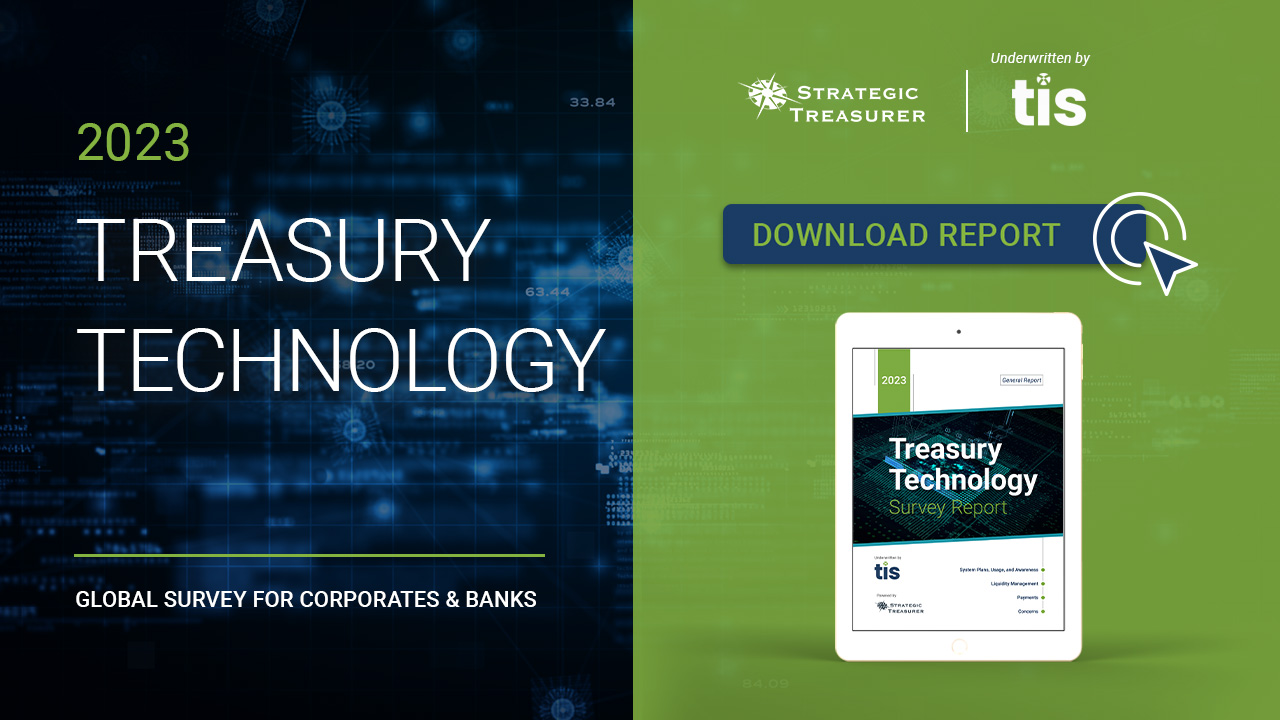 Treasury Technology Report
Strategic Treasurer and TIS are proud to present the findings from the Treasury Technology Survey with data from over 150 respondents operating primarily across North America and Europe. This study polls treasury and finance professionals on their views regarding technology drivers, challenges, and system plans, use, and needs.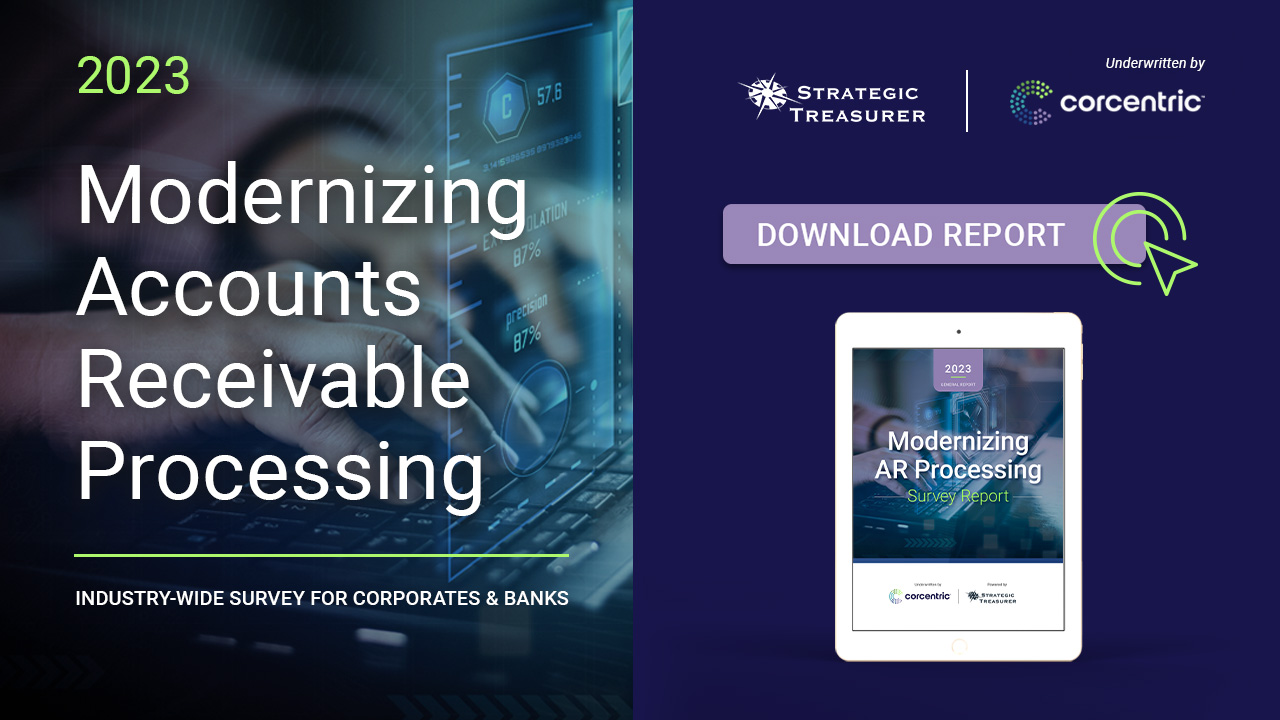 Modernizing AR Processing Report
This survey, underwritten by Corcentric, looked at various practices and plans for modernizing and automating AR processes. The influence of recent disruptions, calibration of various pain points that drive change, and other motivators to upgrade AR processes were examined.
Download the 2023 Modernizing Accounts Receivable Processing report today!
Our mission is to elevate & enhance the practice of treasury by advising individual clients & informing the industry at large.
Advising Our Clients.
All of our consultants have practical, hands-on experience in corporate treasury environments, having held various senior management and leadership roles in numerous industries. Being able to pull on this experience, our consultants have the ability to understand that solutions and advice must be unique and contextualized to fit your organization's specific situation. They can walk you through a customized process from beginning to end and answer any questions you have along the way.
Informing the Industry.
Informing the industry is an integral part of what drives our mission. In order for the industry to advance and stay ahead of the chaos of the environment, professionals need to be aware of the leading practices that can help stabilize their companies. We aim to fill this hole by creating our own primary market research. Using this, we are able to give relevant and up-to-date information in our webinars, reports, and visual guides. We can help you fill any gaps you might have in your company.
Global & Domestic Treasury
Financial Risk Management
Working Capital Optimization
Sign up for our newsletter here
Join our mailing list to receive the latest news and update by filling out the form below.
By filling out the form below, you acknowlege and understand you will be placed on Strategic Treasurer's email list. For more information, you can view our privacy policy here.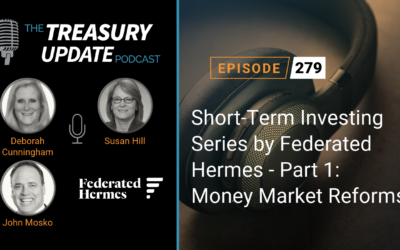 In this episode of the Short-Term Investing Series with Federated Hermes on the Treasury Update Podcast, experts from Federated Hermes discuss the 2023 money market reforms. They explain the key changes in liquidity requirements and how they impact government and prime money market funds. The conversation also touches on the evolving interest rate environment. If you're in the finance industry, this podcast episode provides insights to help you navigate these reforms with confidence.
Speakers:
Craig Jeffery, Managing Partner at Strategic Treasurer
Deborah Cunningham, CFA – Chief Investment Officer, Global Liquidity Markets, Senior Portfolio Manager, Executive Vice President, Federated Investment Management Company
Susan Hill, CFA – Head of Government Liquidity Group, Senior Portfolio Manager, Senior Vice President, Federated Investment Management Company
John Mosko – Senior Vice President, Liquidity Management Division, Federated Securities Corp.
Visit federatedhermes.com for more information.