While data continues to indicate that system integration between corporates and banks is an area in need of improvement, the connectivity methods available to corporates have already come a long way. 
Bank Connectivity: The Data Behind Where We Are & Where We're Going
Quarterly Technology Landscape Webinar
Date:     Thursday, June 26th, 2018
Time:     2:00PM – 3:00PM EST
Where:  This is an online event.
Bank connectivity is a common pain point for treasurers. With the arrival of PSD2 in Europe and the growing importance of APIs in streamlining integration with bank systems, treasury has a growing list of options when deciding upon the most appropriate connectivity approach.
This webinar will provide data-driven analysis on the current state of bank connectivity, what connectivity options are most utilized and preferred by organizations, and the major factors driving change within the industry.
1.2 CTP and FP&A re-certification credits will be given for this webinar.
If you encounter any issues with registration or during the webinar, please contact our team. It can take a few minutes for the confirmation email to come through.
Download the deck from the webinar here:
You may also be interested in: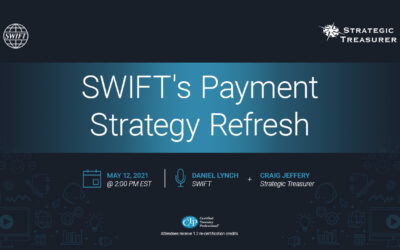 SWIFT has significantly enhanced its vision and strategy moving from a messaging platform to a transaction management partner. Intelligent adaptation has helped SWIFT adapt over time. Changes in payment and messaging platforms are impacting many companies. Hear how the new payment strategy can influence your understanding of payments whether you are a treasury or payments professional. This has applicability to SWIFT members and those not on the network. This covers even if you aren't a SWIFT member. APIs, pre-validation, etc. help us to contemplate the new world of control, payments and what is new at SWIFT.