Webinars
Register for our upcoming complimentary webinars below. Each webinar is approved for CTP and FP&A re-certification credits where noted.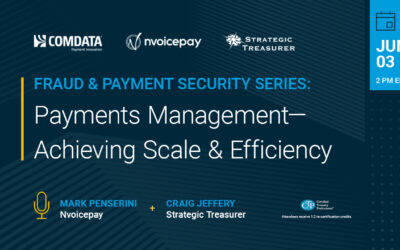 Organizational growth is a good thing, but scaling up isn't always easy when it comes to payments. Significant efficiency is often necessary to support this growth and keep things running smoothly and securely. This webinar will explore the use of technology and outsourcing for achieving scale and efficiency without compromising safety. Specific topics discussed will include the following:
-Easy of deployment
-Scaling through outsourcing
-Building efficiency throughout the entire payable process
When it comes to payments, many companies are finding the risk of fraud and the importance of efficiency both reaching higher levels than ever. Digitizing payments can bring relief on both fronts by driving payments through a streamlined, secure channel. This webinar will discuss the ways in which a secure payments solution reduces the complexity of the payments landscape, simultaneously increasing efficiency and reducing the fronts of defense and the number of vulnerabilities.
Sign-up for first notice about our upcoming webinars
Webinar Replays
At this time, only live webinars qualify for CTP and FP&A re-certification credits. We have heard your requests and are working to implement a system where you can receive credits for replays. Thanks for your patience!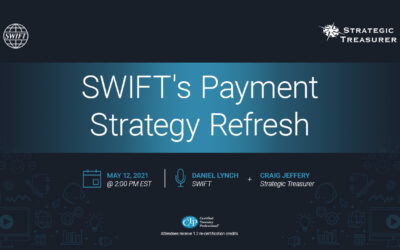 SWIFT has significantly enhanced its vision and strategy moving from a messaging platform to a transaction management partner. Intelligent adaptation has helped SWIFT adapt over time. Changes in payment and messaging platforms are impacting many companies. Hear how the new payment strategy can influence your understanding of payments whether you are a treasury or payments professional. This has applicability to SWIFT members and those not on the network. This covers even if you aren't a SWIFT member. APIs, pre-validation, etc. help us to contemplate the new world of control, payments and what is new at SWIFT.
Request Future Webinar Topics