Episode 165
CTMfile Becoming Part of Strategic Treasurer
On this episode of the Treasury Update Podcast, Special Host Meredith Zonsius interviews Founder and Editor Jack Large of CTMfile and Founder and Managing Partner Craig Jeffery of Strategic Treasurer on the reasons and synergies for joining forces. Listen in as they describe their new work together and what lies ahead.
Host:
Craig Jeffery, Strategic Treasurer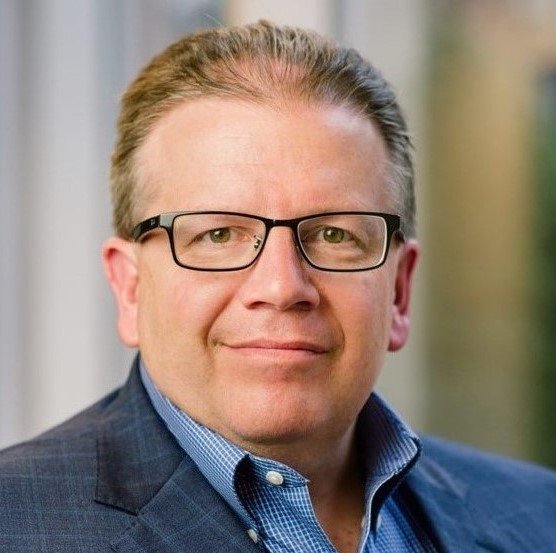 Speaker:
Jack Large, CTMfile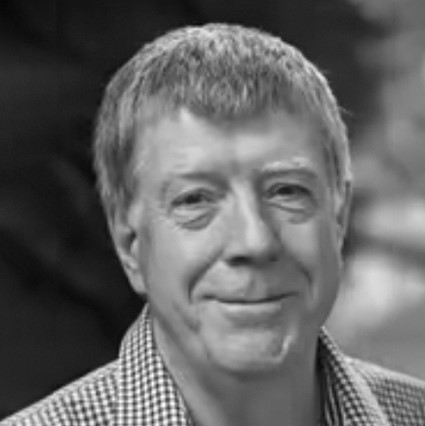 Subscribe to the Treasury Update Podcast on your favorite app!
Episode Transcription - Episode #165: CTMfile Becoming Part of Strategic Treasurer
Meredith Zonsius  0:12   
Welcome to The Treasury Update Podcast presented by Strategic Treasurer, your source for interesting treasury, news, analysis, and insights in your car at the gym, or wherever you decide to tune in. On this episode of The Treasury Update Podcast, special host, Meredith Zonsius interviews CTMfile Founder and Editor Jack Large and Strategic Treasurer Founder and Managing Partner Craig Jeffery on the reasons and synergies for joining forces, listen in as they describe their new work together and what lies ahead. 
Welcome to the podcast, Jack and Craig. 
Jack Large  1:05   
Good to be here. 
Craig Jeffery  1:06   
It's really good to be here. Thanks Meredith and good talking with you Jack on this podcast. 
Meredith Zonsius  1:14   
So, some of those listening will be familiar with CTMfile and others with Strategic Treasurer. Jack, can you give us a short synopsis of CTMfile and what enticed you to work with Strategic Treasurer at a far closer level? 
Jack Large  1:29   
We clearly overlap in terms of topics, and the types of things that we consider, but more importantly your premium resources and support that we really needed to be able to maximize the potential and the opportunities that we saw right across the world. And there are many stories we didn't cover, just because there wasn't the time or the resources. That, I'm thinking, it's going to stop. 
Meredith Zonsius  1:59   
Craig, perhaps you could answer the same type of question. Tell us about Strategic Treasurer and why you're connecting with CTMfile. 
Craig Jeffery  2:07   
Sure, Meredith So, Strategic Treasurer is an advisory firm. We've been in existence since 2004. We advise all kinds of corporate clients as well as banks and technology firms on technology. We have other areas that we deliver services as well some of the outsourcing services we have, but we're also a significant research entity. We do surveys, pretty much constantly to the year we do at least 12 annual surveys, so we are a massive research organization as well. And then finally the inform part of our businesses away we advise and help the overall industry understand what goes on. So, we advise individual clients, and we inform the industry at large. And this is where our connection with CTMfile came in, we've been an affiliate partner for a long time. Jack and I have known each other, and we put out, we put out content on CTMfile. And for a number of years, it seemed, to us, to make sense to do something together, they have a unique channel for sharing information that's different and complimentary to what we do. And as Jack said we talk about a lot of the same topics and so this made a lot of sense to us to expand our reach, give another channel that's less formal in the analyst report type structure that we've used so far, and more of a media, staying current in treasured and that's what drove us to pursue Jack and CTMfile over several years. 
Meredith Zonsius  3:49   
Excellent. And so, as you both joined forces, what should we expect? We heard that there will be more Treasury voices on the CTMfile site. 
Craig Jeffery  3:59   
You know the challenge that CTMfile had is how many, how many people were available resources they had. Jack was running everything and so our approach is that we can help take over the admin part of running the site and the content creation and editing aspects, and this will allow us to hear more of Jack more, you'll hear from more Treasury professionals more leading banks and tech vendors. And for us it's a different channel, an exciting channel, and we want to hear more of Jack and more voices both from professionals in the industry, from banks and providers, as well as some other voices that people may be familiar from the Strategic Treasurer side. So yeah, there'll be some more voices on the CTMfile site.  
Meredith Zonsius  4:48   
Jack, what are some of the most unique activities on CTMfile? 
Jack Large  4:53   
There are a number of different things that really worked well, and people come back to and look at even years afterwards. One is a which is web chats when I sit down with one or two at most, experts in the field and talk about a topic. And we've had several from Deutsche Bank and other suppliers like Cash Force, which have, quite literally, 1000s and 1000s of views because people don't read us, just for news, they read us solutions to their problems. And these are a good way of illustrating the way to approach different problems, it allows people to talk about things in more detail. The other thing that's really important is that we are an archive of stories and practices, and people go in, when a very famous corporate treasurer well known worldwide says I only go in once or twice a month into CTMfile, I always find something that's interesting and new that I haven't thought about before. And that's another role I would like to increase and make more relevant. The final thing is we have the podcasts and discussions on different topics through over a couple of weeks. And that, again, we want to expand significantly. 
Craig Jeffery  6:33   
Those are great examples of what CTMfile does in a unique way and in a good way and something that we couldn't do at Strategic Treasurer we can't host demonstration videos, and we don't necessarily have this massive Compendium or file as Jack calls it. The leading practices discussions and information so that is example of the researcher going in a couple times a month and learning something is extremely rich for people as coupled with the news aspect, the daily news the weekly or biweekly summaries. And so, we'll also be expanding the podcast channel, right now it's posted on the site. It will also be distributed in a syndicated format. I think the title is Open Treasury in the general world, but you'll also find it on the CTMfile site. So, lots of really good things, along with Jack's voice. 
Meredith Zonsius  7:30   
That's a wonderful news, it's like a wealth of resources and the forces of coming together will just be able to take it to the next level for the Treasury community. How will other things stay the same and what will change as we move forward? 
Jack Large  7:47   
I think you should answer that … a key piece for me and the deputy editor Ben Paul is how we'll just have more time to do the stuff that we've always wanted to get around to. And that's what's going to be the new edge, the new difference. 
Craig Jeffery  8:06   
Yeah, I think there's a few, few things we look at the idea that there's more research, they'll be available we have, Strategic Treasurer, has a tremendous amount of research that we put out through channels so this will be another vehicle to share that information and continue to supplement what CTMfile is doing, and we expect, like, like Jack was saying with additional resources will be able to accelerate the growth and the traffic on the site. There's some, it's really interesting to see how many people use CTMfile and look at some of these articles and content. You know, as we've looked at what's, what's going on but there's really a limited number of good treasury new sites. And we absolutely love but we have seen on CTMfile for a number of years, and we've been an affiliate member for a while and so this is, for us, it's a really natural way of extending what we do, partnering with an expert in this field has been doing it. It's really complimentary. So, as Jack said, this gives them the resources to continue this trajectory of growth and value and success. And it aligns with our broader mission of informing the industry at large. So, this, this was a good fit for us, a good fit for Jack and were excited about what it's going to mean going forward as we continue to operationalize our work together and talk even more closely than we have in the past couple of years.  
Meredith Zonsius  9:39   
Any final comments or thoughts. 
Jack Large  9:42   
Yeah, I cannot wait. I just want to get started. 
Craig Jeffery  9:46   
There's so much to do and we've been working on the deal and closing the deal, as well as prepping for the operationalizing of what goes on with CTMfile it's very, very exciting. And we're hoping that those of you who are familiar with Jack's voice, and the CTMfile content will grow to appreciate what Strategic Treasurer brings to the table and the voices you hear there and the same thing we hope to have Jack's and Ben's voice pushed out through some of our distribution channels as well so that we can amplify these messages and help the industry at large. Thanks so much Jack and Meredith, really appreciate it. 
Meredith Zonsius  10:29   
I'm excited about this new partnership and the great work that lies ahead. Thanks so much and look forward to catching up soon. 
OUTRO  10:38   
You've reached the end of another episode of The Treasury Update podcast. Be sure to follow Strategic Treasurer on LinkedIn, just search for Strategic Treasurer. This podcast is provided for informational purposes only, and statements made by Strategic Treasurer LLC on this podcast, are not intended as legal, business, consulting, or tax advice. For more information, visit and bookmark strategictreasurer.com.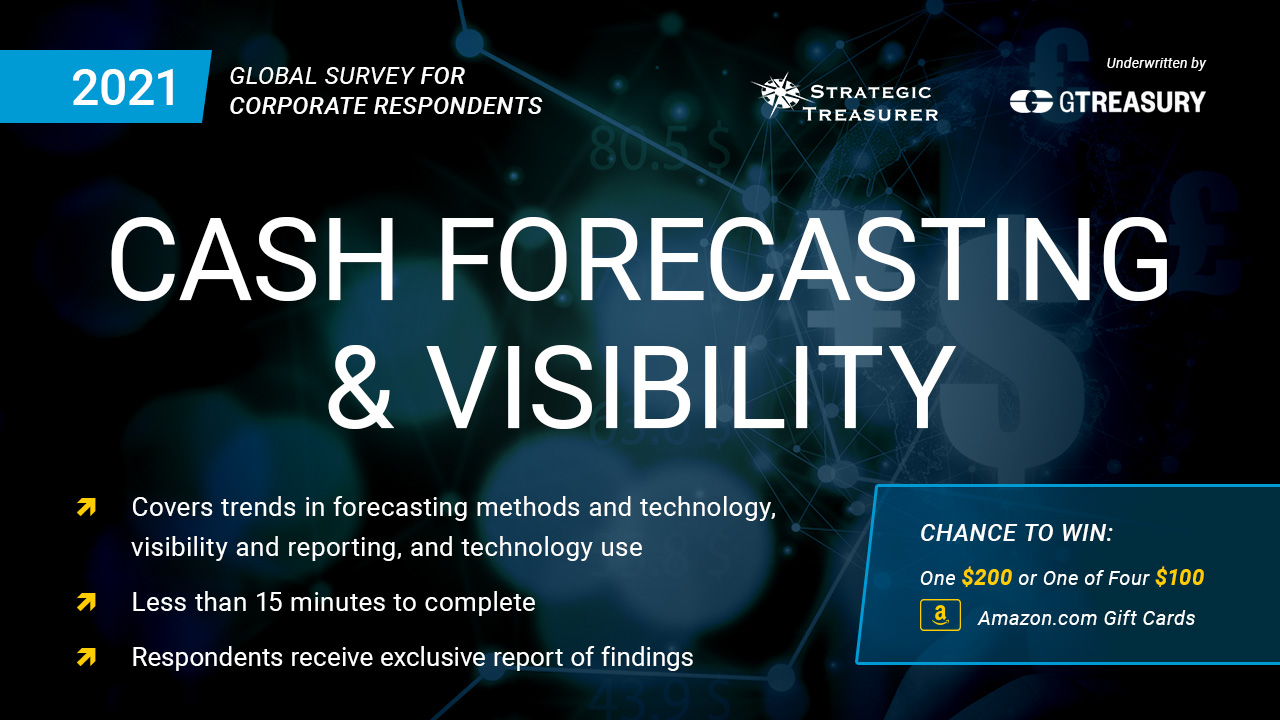 2021 Cash Forecasting & Visibility Survey

We are asking for your input on how you manage cash reporting and forecasting activities, gather the necessary balance and transaction data to forecast accurately, plan to improve visibility, controls, and efficiency over the next 12 months, and more.