2016 Global Treasury Fraud & Controls Survey
Is your company at risk? Find out what others are doing to protect their treasury organizations in a time when Crime Does Pay!
Traditional corporate security measures are falling behind.
Our recent survey uncovered some alarming trends in the area of payment fraud that corporations need to understand in order to stay ahead of the increased sophistication and frequency of criminal attacks.
The 2016 Treasury Fraud & Controls Survey Results Report is available for download. This report is accompanied by a summary infographic that explains why the data demonstrates that "Crime Does Pay!" and what your organization should do to be more defensive.
This global survey included over 300 organizations and identified various control practices, measured fraud levels, calibrated security activities, and captured the level of investment that organizations are making to become more secure.
Watch to hear survey author, Craig Jeffery, put his findings into practical use in this recent News Update from Strategic Treasurer regarding the massive security breach and loss of funds from the Bangladesh Central Bank and how corporate treasuries should respond.
Summary Report
We've analyzed the data and broken down the key findings into a story that can be understood by all stakeholders within your organization. This report explains where we've come from, what's gone wrong, and what organizations are doing to strengthen their defenses for the future.
Infographic
We've also broken down the key elements of that story and displayed them in visual format to allow you to easily access and share the data within your department, your organization at large, and throughout your peer networks.
Detailed Findings
Additionally, for those who appreciate a more granular view, we've included an appendix of an extensive subset of the survey data – complete with charts, graphics, and commentary – for you to drill down and see for yourself the basis for the analysis.
Fraud Experiences.
Comprehensive view of the market's experience across a range of dimensions.
Benchmarking Data.
Extensive points of comparison on what your peers are doing (or not doing) with regard to controls, systems, and structures to protect their organizations.
Implications.
Analysis of the current fraud environment and some proscriptive advice on how to change the ROI for the criminals.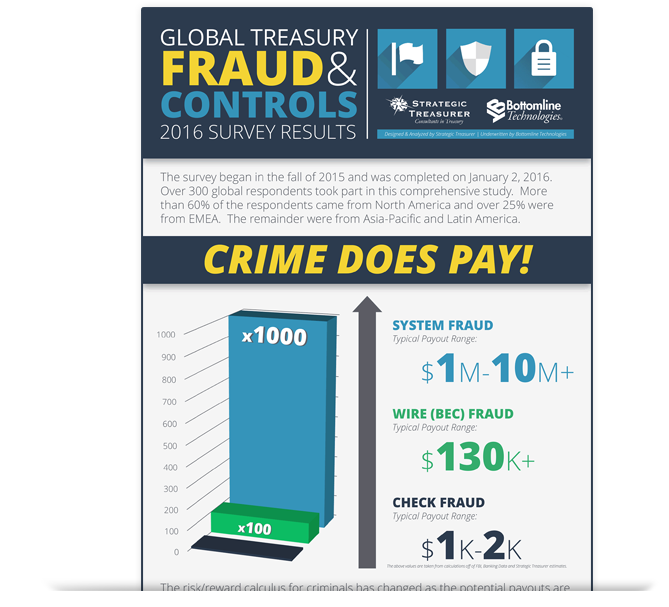 View Infographic Before Downloading Report
Click below to view full size graphic in new window.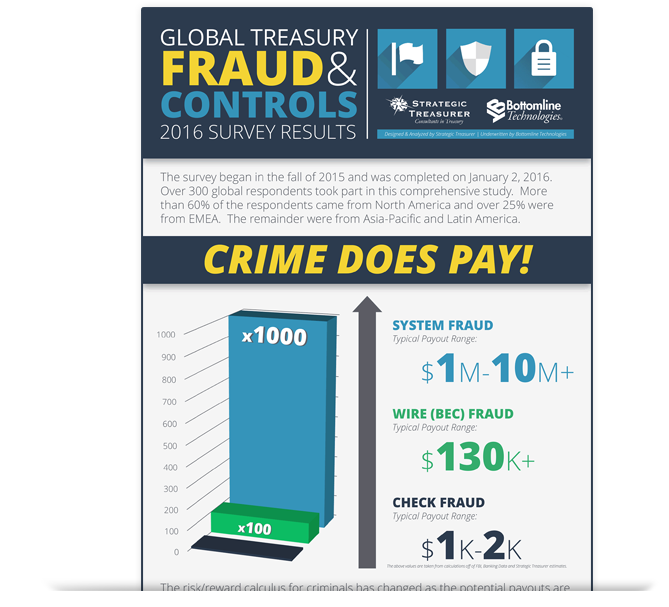 FREQUENTLY ASKED QUESTIONS
Why do I need to fill out the information requested?
We respect your privacy and will always keep your personal information safe.
We ask for your information in exchange for a valuable resource in order to (a) learn more about the effectiveness of the resources that we put out; (b) fulfill our mission to elevate and enhance the practice of treasury through advising individual clients and informing the industry at large; (c) send you information and marketing communication that we think may be of value to you. You can read more about our privacy policy
here
.
Yes! Absolutely. We believe that all ships rise and fall with the tide and the more useful information that is shared, understood, and implemented, the better off the entire industry will be. Keep us in mind the next time you have any questions related to treasury and risk security and management. We're here to help!
Download your free report today
Upon submission, you will be sent a link to access the report. If you encounter any issues, please don't hesitate to reach out to us at 
info@strategictreasurer.com.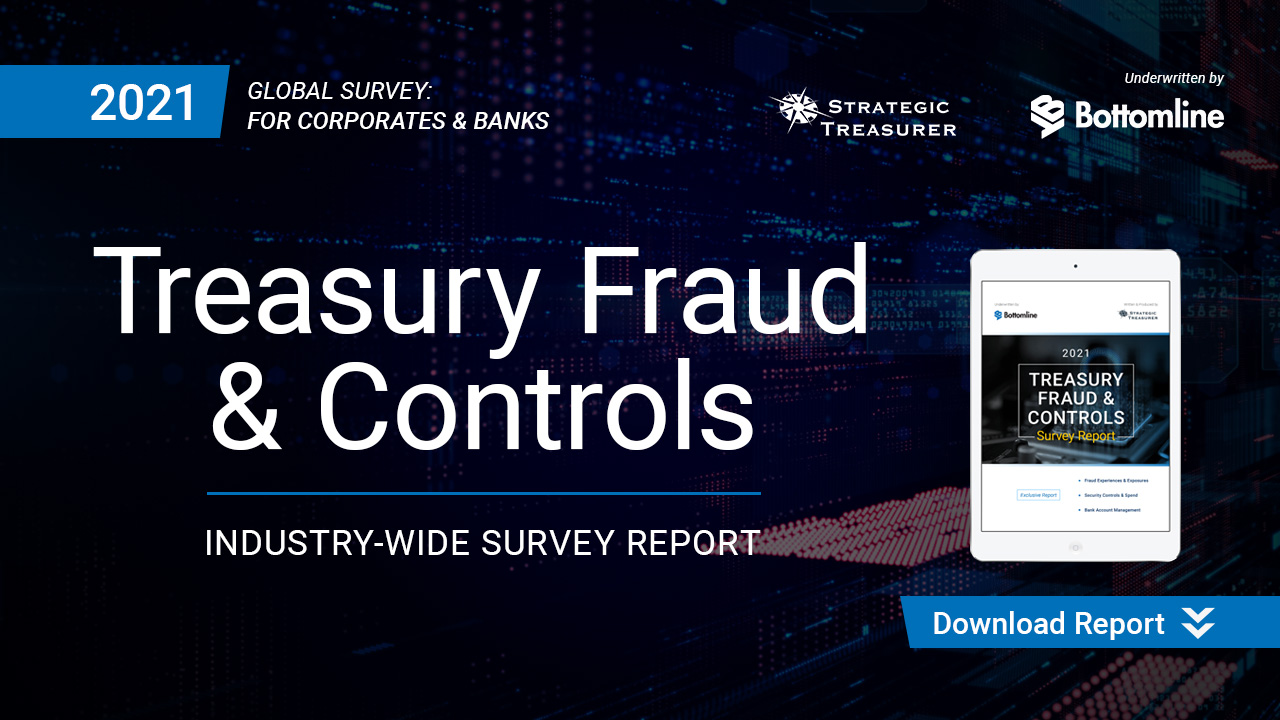 Since 2004, Strategic Treasurer has helped hundreds of corporate clients face real world treasury issues. Our team of senior consultants is comprised of former practitioners with actual corporate treasury experience who have "hopped the desk" to support their former peers from the consulting side. Strategic Treasurer consultants are known not only for their expertise in the treasury space, but also for their responsiveness to client issues, thorough follow-through on each project, and general likability as temporary team members of your staff.
Our focus as a firm centers on maintaining true expertise in the treasury space. Through constantly refreshing our knowledge and intentionally learning about leading solutions, we ensure that our understanding is both global in scope and rich in detail.

Bottomline Technologies (NASDAQ: EPAY) powers mission-critical business transactions. We help our customers optimize financially-oriented operations and build deeper customer and partner relationships by providing a trusted and easy-to-use set of cloud-based digital banking, fraud prevention, payment, financial document, insurance and healthcare solutions. Over 10,000 corporations, financial institutions and banks benefit from Bottomline solutions. Headquartered in the United States, Bottomline also maintains offices in Europe and Asia-Pacific.
For more information, visit www.bottomline.com
Toll-free: +1 800.243-2528
Please share with your colleagues.