2017 Liquidity Risk Survey
This survey infographic covers some key highlights from our 8th Annual Liquidity Risk Survey. Take a look below!
Click below to view full size graphic in new window.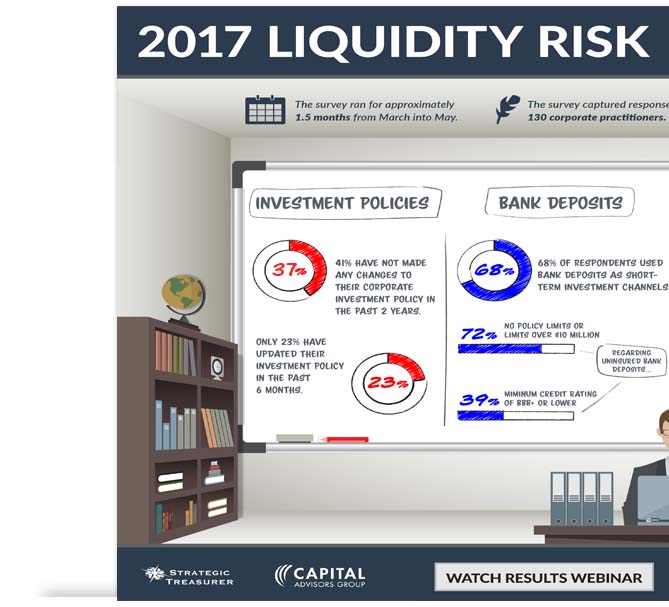 There is growing corporate emphasis on counterparty exposure oversight and a clear need for investment policy review.
Strategic Treasurer and Capital Advisors Group have been fielding the Liquidity Risk Survey since 2011. This has provided year-over-year comparisons and the ability to predict future trends on corporate risk, liquidity, and cash investment strategies.
68% of respondents' firms use bank deposits as short-term investment channels. With alarmingly high rates on uninsured bank deposits, these numbers suggests that firms remain overexposed and uninsured in regards to bank deposits.
This global survey included approximately 130 organizations and examined how to best evaluate current liquidity risk mitigation practices and macroeconomic changes and new regulations affecting all treasury professionals.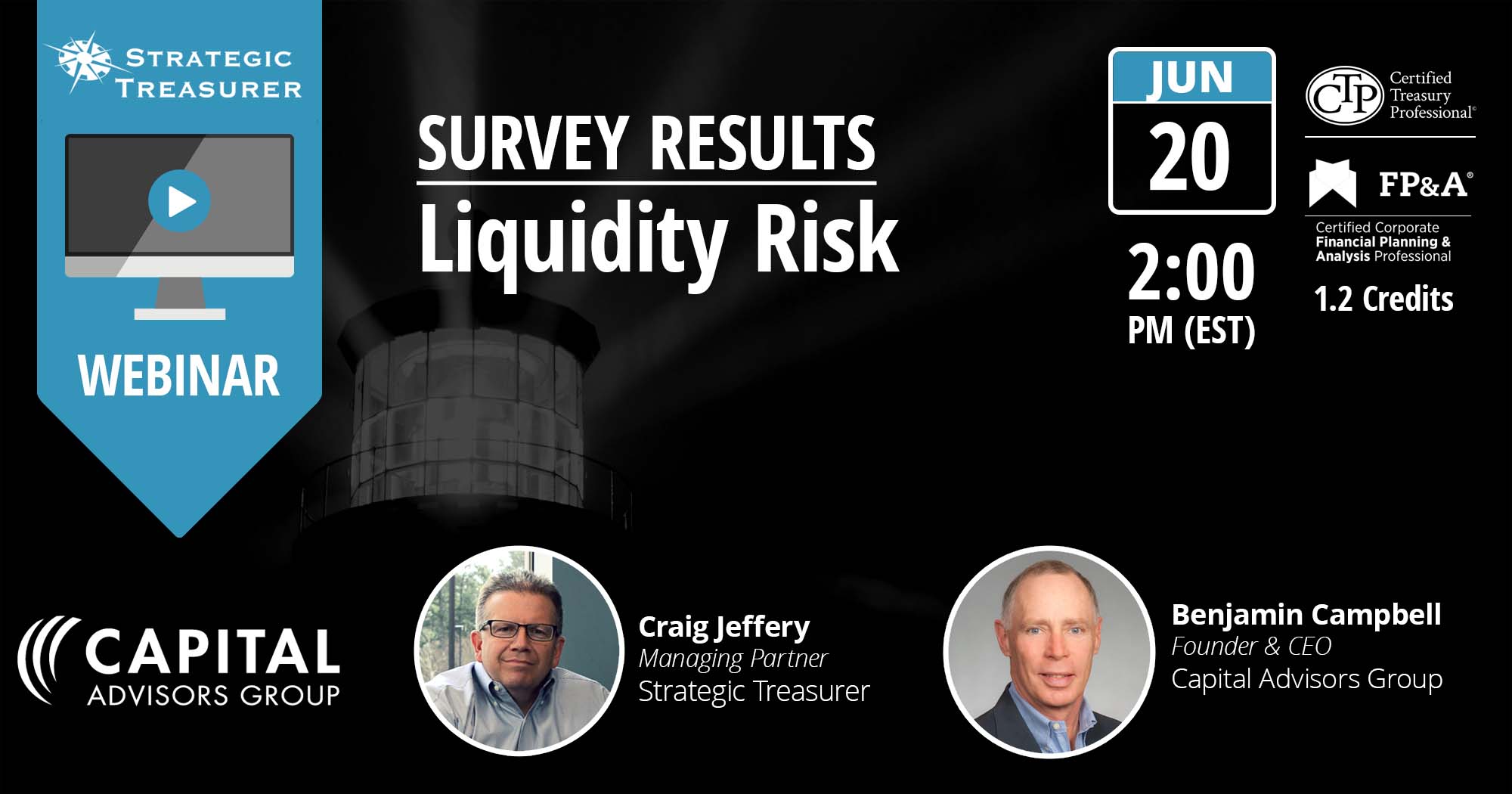 During this webinar, we will go over some of the major takeaways from one of our oldest surveys. Because this was the 8th year the Liquidity Risk survey ran, we will be able to provide valuable year-over-year data. Speakers include Craig Jeffery, Managing Partner at Strategic Treasurer and Ben Campbell, Founder and CEO at Capital Advisors Group.
FREQUENTLY ASKED QUESTIONS
Yes! Absolutely. We believe that all ships rise and fall with the tide and the more useful information that is shared, understood, and implemented, the better off the entire industry will be. Keep us in mind the next time you have any questions related to treasury and risk security and management. We're here to help!

Since 2004, Strategic Treasurer has helped hundreds of corporate clients face real world treasury issues. Our team of senior consultants is comprised of former practitioners with actual corporate treasury experience who have "hopped the desk" to support their former peers from the consulting side. Strategic Treasurer consultants are known not only for their expertise in the treasury space, but also for their responsiveness to client issues, thorough follow-through on each project, and general likability as temporary team members of your staff.
Our focus as a firm centers on maintaining true expertise in the treasury space. Through constantly refreshing our knowledge and intentionally learning about leading solutions, we ensure that our understanding is both global in scope and rich in detail.

Capital Advisors Group, Inc. is an independent SEC-registered investment advisor specializing in institutional cash investments, risk management, and debt finance consulting. Our clients range from venture capital-funded startups and emerging growth companies to Fortune 100 companies. Drawing upon more than a quarter of a century of experience through varied interest rate cycles, the firm has built its reputation upon deep, research-driven investment strategies and solutions for its clientele. Since 2003, Capital Advisors Group's debt placement consultants have advised more than 428 companies with debt needs of approximately $2 billion.
Phone: 617-630-8100
info@capitaladvisors.com
Please share with your colleagues.