Survey Results
Treasury Fraud & Controls
With your help, we've consistently found that fraud is a top ranking concern for treasury. This year, as it has become a bigger issue worldwide, we discover how your experiences and practices have changed. Has your security framework been strengthened? Or are you still doing the same things, hoping you're not one of the 86% of corporates who have experienced fraud?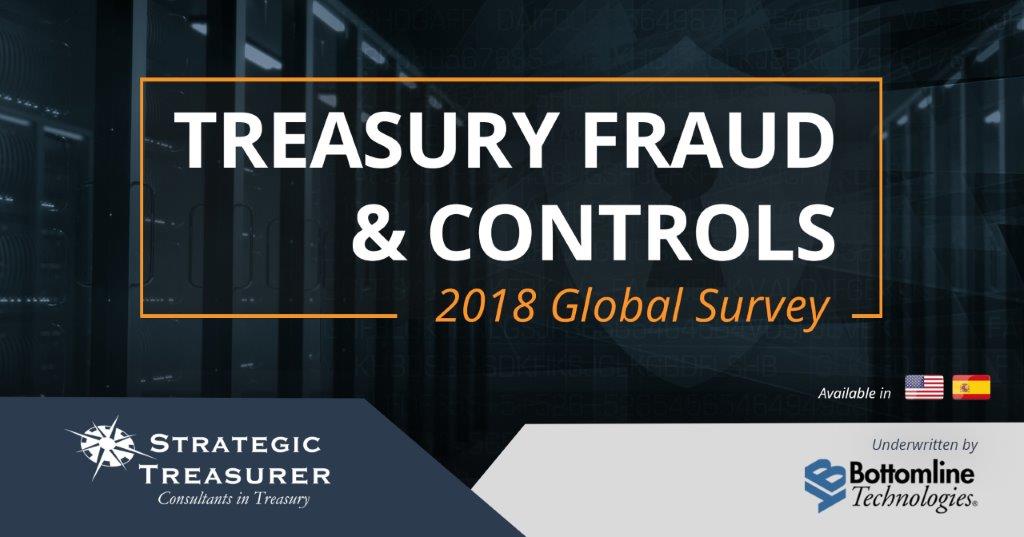 Depth of Coverage
While you may find other surveys that briefly poll the market, our research goes well beyond the surface and asks dozens of question sets across multiple strategic and operational areas within treasury to uncover truly informative and actionable data – insights with depth of understanding and breadth of context.
In this survey, treasury and finance professionals were asked as many as 97 questions (broken out by branching logic to relevant respondents) on the following topics:
Fraud Experience
Structure and BAM
Reconciliation and Visibility
Control Framework
Cyber Risk Management
Data Protection
Key Findings
There was extensive data covered in this survey. Here is an overview of what we think was most interesting. If these pique your interest or you're interested in seeing the data behind these findings, make sure to request the full report below.
Fraud on the Rise
The percent of corporates who have experienced fraud in the past 12 months has grown almost 50% since 2016.
Slow Growth Plagues BAM
While data shows that improvements have been made, there is still a number of bank accounts that are in poor condition.
Reconciliation Frequency Climbing
From 2017 to 2018, we see an increase in the number of bank accounts that are reconciled on a daily basis.
Who's Tracking Fraud?
A majority of organizations do not formally assign roles for tracking fraud and those who have dropped over time.
Greatly Improved Access Control
Over half of respondents have a scheduled review of signers, and all respondents have stepped up their game.
Cyberfraud Insurance Growing
Companies are steadily increasing their level of cyberfraud insurance or getting coverage for the first time.
Access the Results Report
Thank you for your interest in our research.  Upon submission, you will be sent a link to access the report. It can take a few minutes to receive the email. If you encounter any issues, please don't hesitate to reach out to our team.