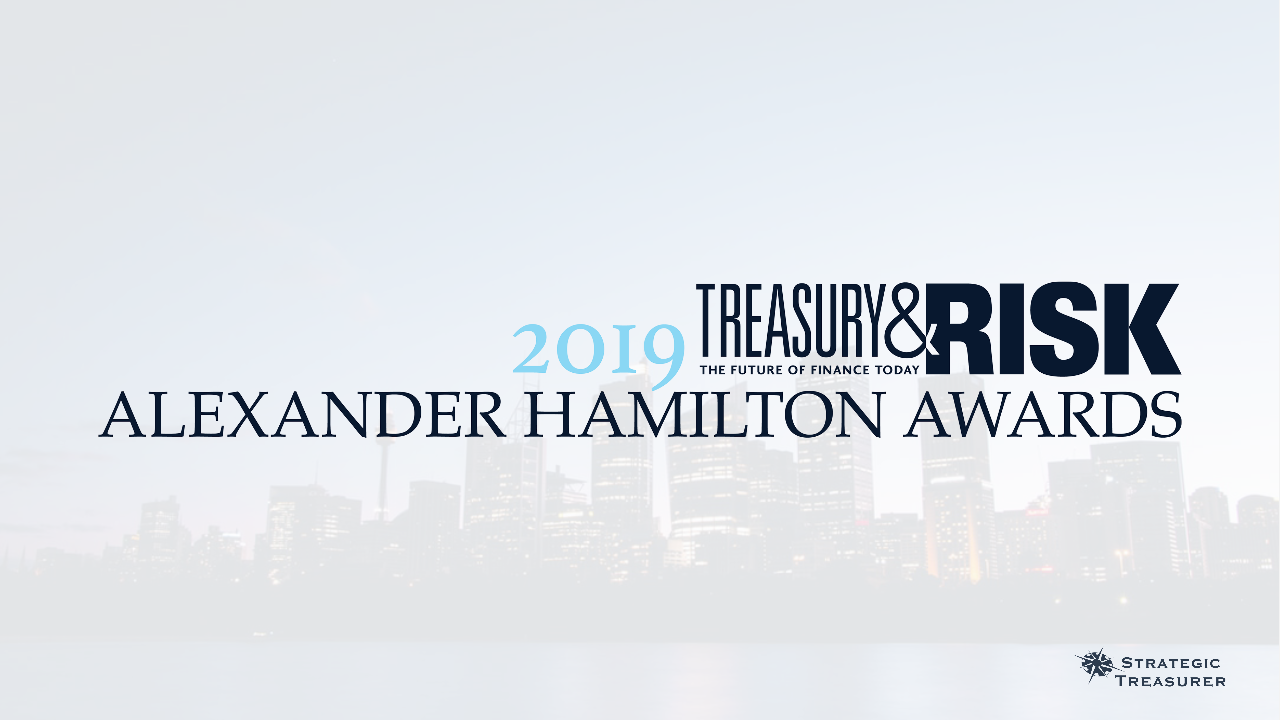 2019 Alexander Hamilton Awards
The Awards
It is quite a challenge getting others in the company to understand what treasury does. It is even harder getting them to understand the unique challenges or creative approaches to different problems that Treasury has solved. The treasury community has a long-running award program (20+ years), the Alexander Hamilton Awards, coordinated by Treasury & Risk Magazine. Some of the best projects are highlighted through these awards each year. This is an opportunity to get the recognition that is earned and provides an opportunity to raise the overall knowledge of the industry.
Award Categories
There are seven submission areas from which you can choose. You are allowed to submit multiple projects in the following  categories:
Treasury Transformation. This category celebrates projects that have achieved noteworthy success through a significant revamp of some major aspect(s) of corporate treasury processes. Centralization or decentralization of the treasury function, outsourcing initiatives, restructuring of treasury to support new lines of business, and staff recruitment or development programs—among other types of projects—fit into this category.
Liquidity Management. This category is aimed at portfolio management, short-term investing, and cash visibility/contingency planning for cash availability, as well as crisis management, to ensure adequate ongoing liquidity. Cash forecasting and cash pooling projects fit into this category.
Financial Risk Management. This category includes innovative solutions in management of risks around domestic or international interest rates, foreign exchange, or commodity prices; the use of derivatives or capital markets to hedge the company's financial risk exposures; or management of counterparty credit risks.
Working Capital Management. This category recognizes innovations related to the collection of incoming payments and the disbursement of outgoing payments, as well as the organizational structure around management of payments and the cash conversion cycle.
Operational Risk Management & Insurance. This category encompasses innovative solutions around risk assessment, identification, mitigation, and/or transfer when protecting a company's business, property, supply chain, employees, data, and/or reputation.
Technology Excellence. This award recognizes corporate treasuries or finance departments for their implementation of innovative technology solutions that may be developed either internally or externally. Winning projects must be exceptionally creative, must solve a major problem, must yield impressive results, and/or must set a precedent for a best practice in treasury or finance. Projects that fall into this category could include those that solve a complex issue in financial management or compliance, improve communication or analysis of financial data and information, mitigate risk, or give the business a strategic advantage.
Best Practices in Restricted/Emerging Markets. This award recognizes corporate treasury, finance, and risk management functions that have successfully supported business operations in parts of the world where other organizations may fear to tread. Winning projects may include pioneering solutions that overcome regional restrictions on movement of money, compliance or disclosure challenges, banking regulations, and/or cultural issues.
Successful entries will describe an innovative project in one of these areas and will explain how that project establishes the organization as a leader in treasury and finance, enabling the company to gain important new insights, achieve dramatic improvements in efficiency, and exhibit best practices.
Please note that the awards are designed to honor the corporate treasury, finance, and/or risk management staff who completed a spectacular project, rather than any consulting firm, bank, or vendor that may have helped make the project successful.
Also: If you would like to receive a PDF of this entry form for purposes of streamlining the submission process, please contact Meg Waters, megwaters@alm.com.
The deadline for entry in the 2019 Alexander Hamilton Awards is 5pm Eastern Time on Thursday, August 30, 2018.
To submit, use the following link: bit.ly/AHA2019