Survey Results
Global Payments
The 2019 Global Payments Survey offers a comprehensive evaluation of treasury-related payments functions regarding bank connectivity (including financial messaging formats and channels), cross-border and FX activity, security and fraud prevention, and the use of new payment technologies. Challenges associated with managing global payment complexity are examined, along with projected investment plans across various payment systems and services. This research provides a comprehensive view of the global payments environment, with a focus on the treasury function and identifies which technologies and processes are top of mind now and in the coming years.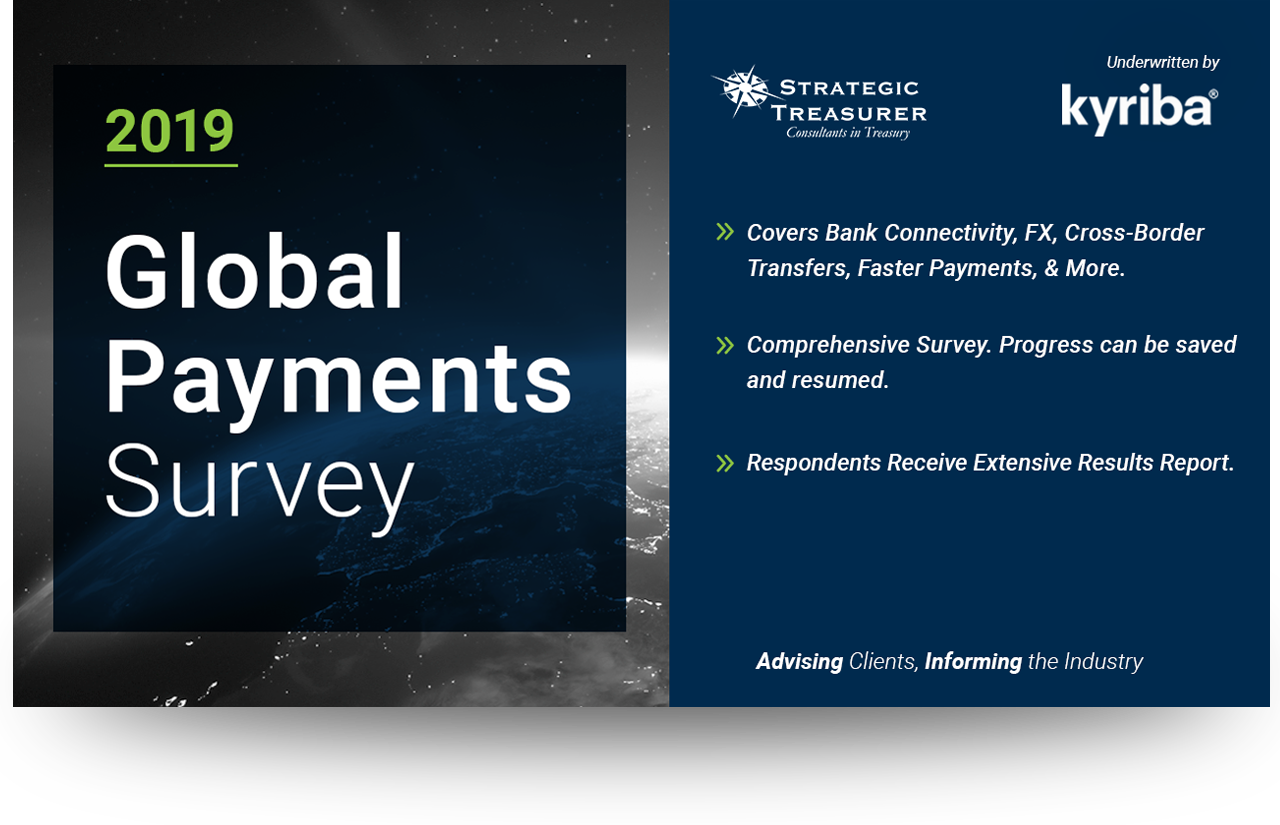 Depth of Coverage
The roughly 70 questions broken out across corporate and bank respondents covered many areas, including:
Payments Intensity
Bank Connectivity
Cross-Border & FX Payment Operations
Payment Compliance & Security Environment
Faster & Emerging Payments
Payments & Treasury Technology Spend Plans
Key Findings At-A-Glance
There was extensive data captured through this survey. Here is an overview of what we found most interesting. If any of these topics pique your interest, you can download the report for free using the form below, or reach out to us for more information.
Plans to Spend are Robust
Following multiple years of increased spending on payments, a majority of corporates plan to continue at pace and 28% plan to spend more.
One Size Does Not Fit All
Payment intensity varies significantly from company to company, yet most face complexity that must be handled better than it is today.
Fraud & Efficiency are the Run-Away Drivers
Payments professionals rank fraud/control as #1 priority from both corporates and banks with reduced costs, defects, and delays close behind.
KYC Leads Top Concerns by a Mile
Far out front, 64% of respondents ranked KYC as the most significant challenge in their compliance efforts with OFAC at 30% and FBAR at 23%.
Access the Results Report
Thank you for your interest in our research.  Upon release of the report, you will be sent a link to access your copy.  If you encounter any issues, please don't hesitate to reach out to our team.