This webinar covers the results and provides insights into the 2019 Higher Education Survey.
2019 Higher Education Survey Results Webinar
Presented by Strategic Treasurer

Date:     Tuesday, April 9, 2019
Time:     1:00 PM – 2:00 PM EST
Where:  This is an online event.

This webinar covers the results and provides insights into the 2019 Higher Education Survey. This newly revised survey, now in its third year, is specifically oriented towards treasury and finance practitioners operating within the realm of Higher Education. The aim of this research is to identify the specific drivers, challenges, and other factors impacting both private and public universities heading into 2019. Results from this survey will be compared against data obtained from the broader corporate environment to better understand how the treasury and finance functions within Higher Education differ from other industries.
Topics covered include:
Technology use
Fraud and security concerns
Top compliance challenges
1.2 CTP re-certification credits will be given for attendance to this live webinar.
Download the deck from the webinar here:
If you encounter any issues with registration or during the webinar, please contact
our team
. It can take a few minutes for the confirmation email to come through.
You may also be interested in: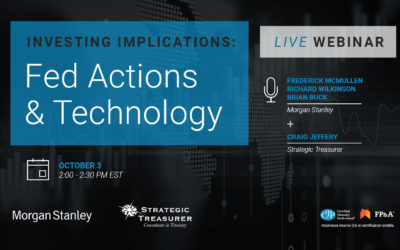 From shifting plans regarding rate changes to quantitative easing and mixed messages from the FED to other central bank activities of the ECB and BOJ, corporate investors are looking to understand the implications of these activities across the globe. Concurrently, radical shifts are underway with technology for finance impacting treasury and corporate investment teams. From APIs to RPA and Machine Learning, the impact and implications for connectivity, visibility and liquidity management are striking. This webinar examines the major shifts and implications for treasury/investors. Experts from Morgan Stanley and Strategic Treasurer team to provide a fast-paced dialog focused on Investing Implications.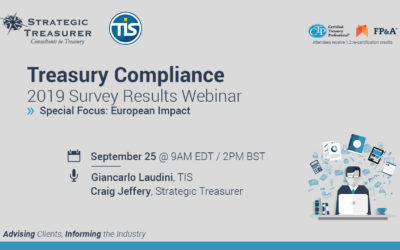 The survey captured both the macro and micro elements of the compliance landscape that are impacting treasury, identified how new regulatory developments are being accounted for, and gained insight to the various technologies and strategies leveraged by organizations for managing compliance on an ongoing basis. This session will cover highlights from the survey and include commentary from respected industry leaders as to what this means for you.