Survey Results
Treasury Perspectives
For the 2nd year running, Strategic Treasurer and TD Bank are proud to present the findings from the Treasury Perspectives Survey. This annual study polls treasury and finance professionals on their views regarding the economy, technology, industry innovation, and regulation to better understand top challenges and opportunities in the marketplace. In 2019, the survey captured data from 340 respondents operating primarily across North America and Europe.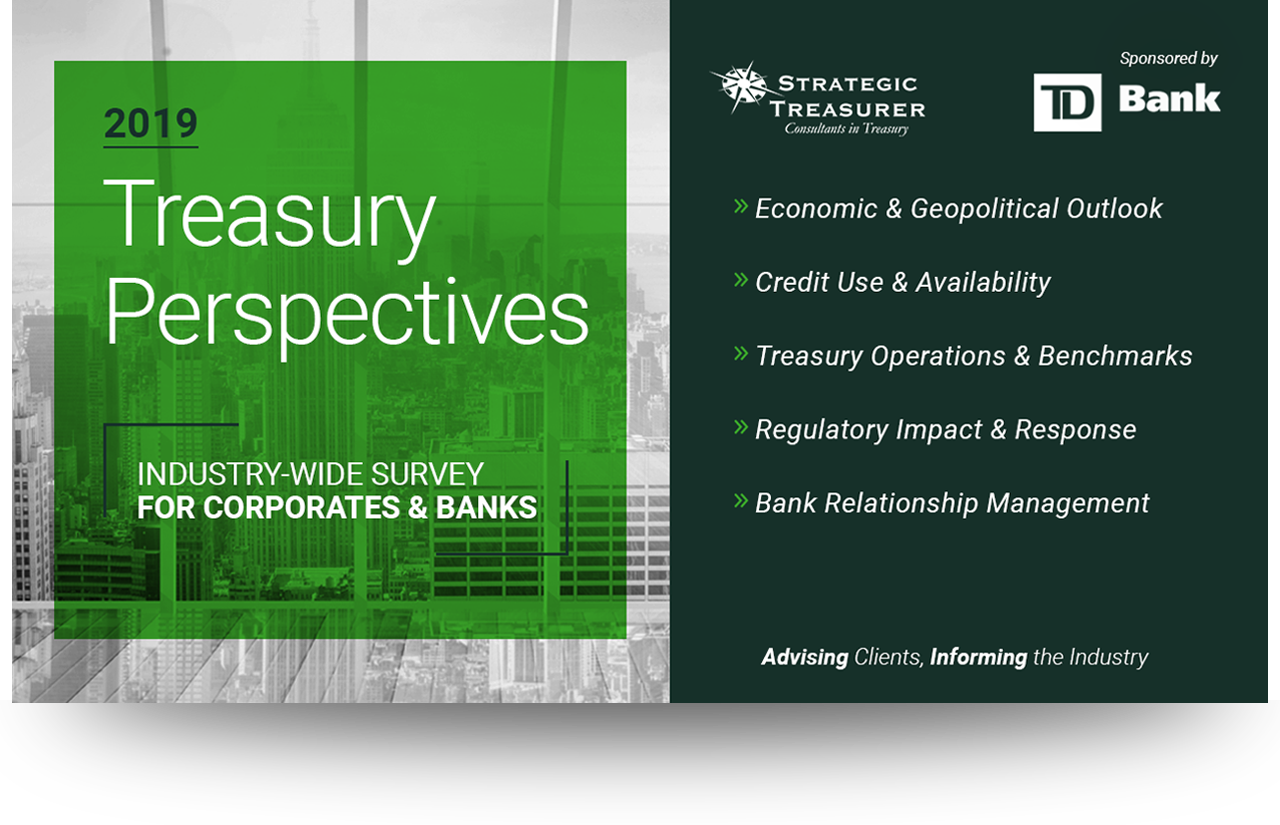 Depth of Coverage
The 100+ questions contained within the survey were segmented according to five industry categories:
Economic & Geopolitical Outlook
Credit Use & Availability
Treasury Operations & Benchmarks
Regulatory Impact & Response
Bank Relationship Management
Key Findings At-A-Glance
There was extensive data captured through this survey. Here is an overview of what we found most interesting. If any of these topics pique your interest, you can download the report for free using the form below, or reach out to us for more information.
Economic Outlook
1. Companies are less optimistic today than in 2018.
2. U.S. corporate tax reform has limited impact.
3. Trade Conflict is NOT a top corporate concern.
4. Despite economic uncertainty, corporates still plan to spend.
Treasury Operations
5. Manual processes continue bogging down corporates.
6. Payments and forecasting are time consuming.
7. Over one-third of treasury groups cannot perform all their duties.
Technology Use
8. Corporates are slowly applying new tech.
9. Despite slow adoption, corporates are excited about emerging tech.
Regulations & Compliance
10. Regulatory pressure is high and is expected to increase.
11. KYC remains a top concern for corporates
Access the Results Report
Thank you for your interest in our research.  Upon submission, you will be sent a link to access the report. It can take a few minutes to receive the email. If you encounter any issues, please don't hesitate to reach out to our team.