Survey Results
Modernizing AP/AR Processing
This survey, underwritten by Deluxe, looked at various practices and plans for modernizing and automating AP and AR processes. The influence of recent disruptions, calibration of various pain points that drive change, and other motivators to upgrade AP and AR processes will be examined.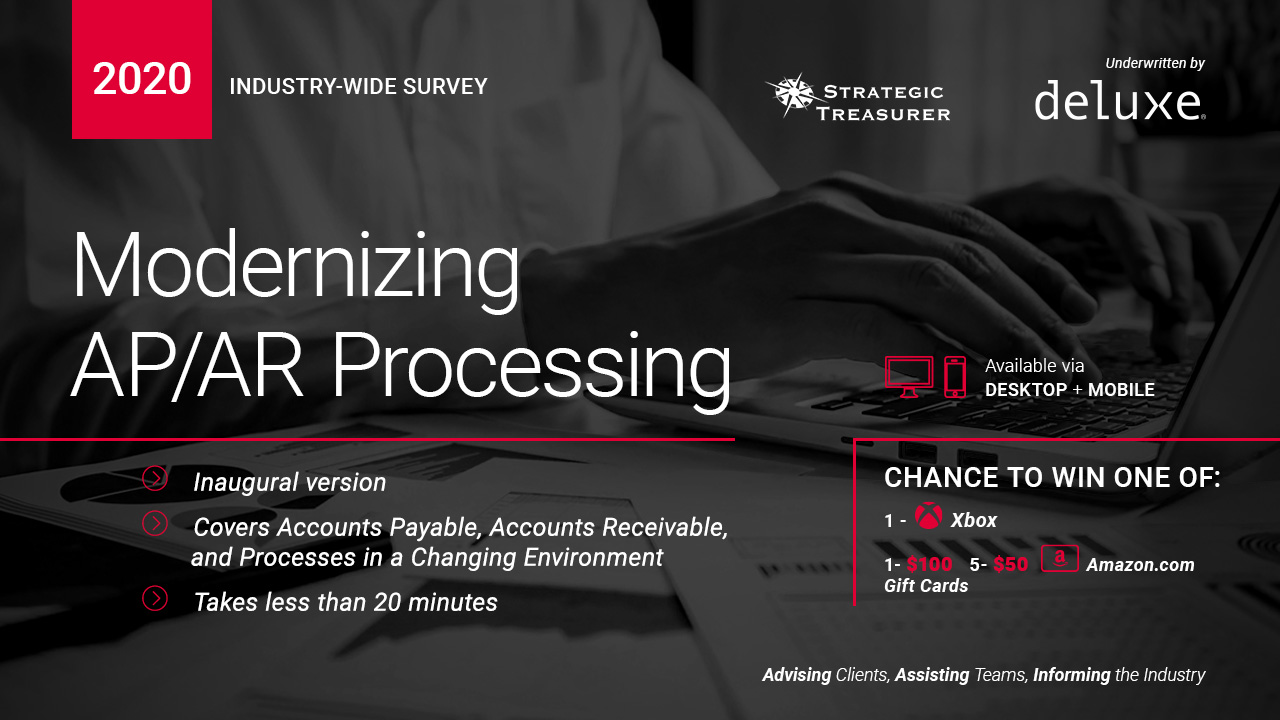 Depth of Coverage
This new survey is oriented towards treasury and finance practitioners. Topics covered include:
Impact of COVID-19 on making and receiving payments
Findings in current environment related to a remote workforce and business continuity
The biggest pain points of operating in this environment
Migration goals and impediments to achieving them
Commitment and challenges to migrate to more digital AP/AR processes
Key Findings
There was extensive data covered in this survey. Here is an overview of what we think was most interesting. If these pique your interest or you're interested in seeing the data behind these findings, make sure to request the full report below.
COVID-19
AR's Business-Continuity-Plan had significant gaps in 2X the rate of treasury. AR (10%), AP (6%), Treasury (5%).
Moving to a Mix of Outsourcing
AR is pushing hardest to outsource paper-based work and has 3 task categories with expectations of rapid growth (50%+ growth).
Truncated View of Straight-Through Processing
STP is viewed internally, and it infrequently includes the external party.
The Narrow Road: Highly Automated
Only 17% of AP groups and 11% of AR groups consider themselves highly automated.
The Biggest Growth Potentials
Bots with eyes and bots that can log into systems
Control/Security Is a Bigger Driver of AP Automation Than AR Automation
However, efficiency and error reductions dominate
Access the Results Report
Thank you for your interest in our research. Upon submission, you will be sent a link to access the report. It can take a few minutes to receive the email. If you encounter any issues, please don't hesitate to reach out to our team.