Fintech Analyst Report Series
Treasury's go-to source for insights into the latest developments, trends, and solutions.
Download Reports
Treasury & Risk Management
Better
understanding
yields better
selection
Access Your Definitive Guides to Treasury Technology.
Researching new treasury and finance technology can be overwhelming. Strategic Treasurer has stepped in to help.  Explore our definitive guides to the treasury technology landscape and discover detailed, data-based coverage of:
Treasury and Risk Management Systems
Treasury Aggregators (Bank Connectivity Solutions)
Supply Chain Finance Solutions
Learn more about these technologies and evaluate some of the top vendors in each industry.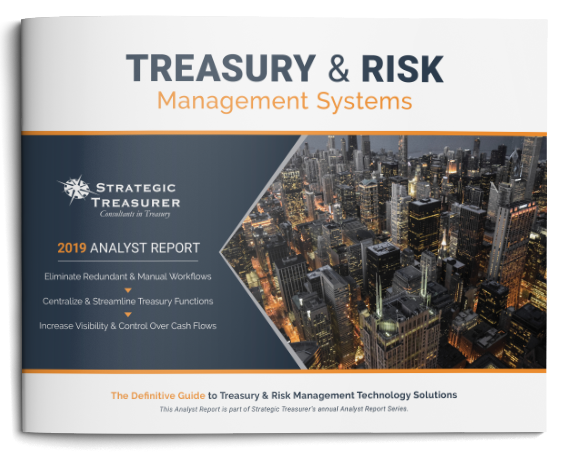 Treasury and Risk Management Systems
The Treasury and Risk Management Systems ("TMS") Analyst Report offers a thorough evaluation of the TMS space by providing the data behind which areas of functionality corporates are planning to invest in, the types of solutions seeing the most traction, and an explanation of the primary benefits derived through the use of such a solution. This report also provides a detailed look at the treasury technology landscape, analyzes key factors that impact TMS implementations, and offers coverage of some of the leading vendors currently operating within the space.
What's inside:
Reasons why TMS are an ideal solution for most treasury departments.
Current trends that are unfolding within treasury departments.
Key factors that are currently driving change within the TMS industry.
Various functionalities contained within the Treasury Management Systems offered on the market today.
Treasury technology landscape and the individual providers operating within it in terms of position, fit, strategies, and strengths.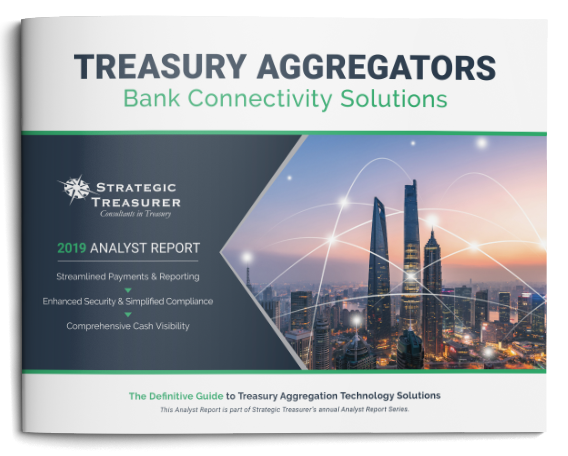 Treasury Aggregators (Bank Connectivity Solutions)
In today's business environment, data and insight derived from numerous industry surveys and discussions with Treasury Aggregation technology providers has highlighted several key factors driving change in the Treasury Aggregation landscape. The Treasury Aggregator Analyst Report goes into detail on what a treasury aggregator is and what it can do for your company.
What's inside:
Rapid economic globalization and the resulting need for a quick and efficient global connectivity framework.
Changing payment and financial messaging formats and networks that are forcing corporations to adapt in order to maintain compatibility.
Evolving compliance expectations arising from increased threats faced by hackers and criminal organizations.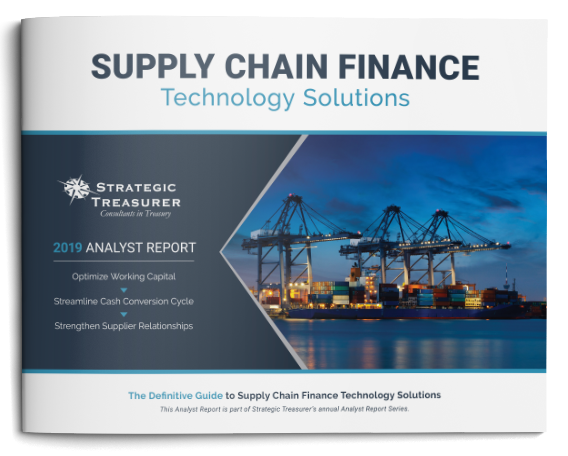 Supply Chain Finance Solutions
The elevated corporate need and interest surrounding supply chain finance coupled with the rapid growth and evolution that is occurring within the industry has highlighted a clear need for up-to-date resources that provide a thorough evaluation and analysis of the supply chain finance industry. Our Supply Chain Finance report aid corporate practitioners in furthering their understanding of supply chain finance and the growing industry demand.
What's inside:
An overview of the economic conditions that have led to increased interest in SCF solutions.
Defining supply chain finance as it exists today.
Outlining the business case for supply chain finance.
Analysis of the top drivers and trends currently shaping the SCF industry.
A view of the SCF solution landscape, with in-depth analysis of leading providers.



Thanks to all of our participating vendors.
Download Your Complimentary Reports
Upon submission, you will be sent an email confirmation containing your requested download link(s). If you encounter any issues or have any questions, please don't hesitate to reach out to
our team.