Professional Analyst Coverage
Corcentric

Corcentric is a leading global provider of payments, procurement, accounts payable, and accounts receivable solutions to enterprise and middle-market companies.
Corcentric delivers software, advisory services, and payments focused on reducing costs, optimizing working capital, and unlocking revenue.
Thousands of companies globally have trusted Corcentric's expert team and suite of world-class solutions to spend smarter, optimize cash flow, and drive profitability.
Founded:
1996
CEO:
Doug W. Clark
Headquartered:
Cherry Hill, New Jersey (US)
Ownership:
Private
Learn more about Corcentric's company, solutions, and services.
Treasury Technology Analyst Report
Primary coverage on treasury technology can be found in Strategic Treasurer's annually released Treasury Technology Analyst Report. These definitive guides include the market case, historic functionality, and future developments of solutions across these categories:
Treasury & Risk Management Systems
Treasury Aggregators
Supply Chain Finance & Cash Conversion Cycle Solutions
Enterprise Liquidity Management
Explore special coverage of Corcentric's company and solution set in the report below.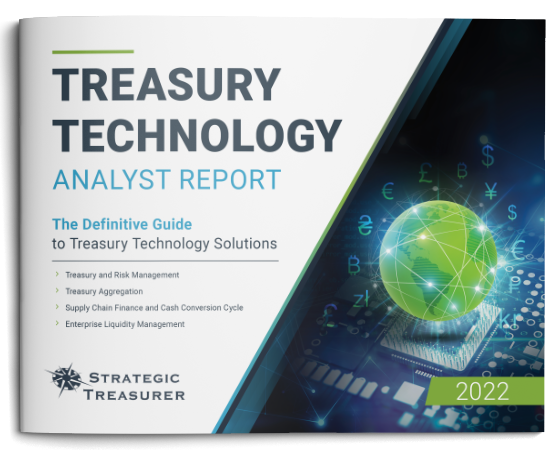 Headlines & Awards
Corcentric Procures New Payments Partnership with Manufacturing Multinational ProMach
September 2022 – Corcentric announces its partnership with ProMach, a worldwide leader in packaging and processing machinery solutions, to provide its Corcentric Payments suite of payments digitization services.
Corcentric and Sovos Partner to Address New Invoicing and Reporting Compliance Requirements in Europe
September 2022 – Corcentric announces its partnership with global tax compliance solutions provider Sovos to help companies navigate intricate global e-invoicing requirements, including new laws regulating e-invoicing and e-reporting being rolled out in several European countries.
Corcentric Named a Global Procurement Leader in 2022 ISG™ Provider Lens Report
April 2022 – Corcentric announces that Information Services Group (ISG) has recognized the company as a global leader in its Procurement Software Platforms and Solutions Provider Lens™ Midmarket and Large Accounts report. Of the 50 U.S. providers ISG reviewed, Corcentric is one of nine companies attaining leader recognition. According to ISG, market leaders utilize platforms elevating and integrating procurement organizations and operations to enhance capability and efficiency. They hold a comprehensive product and service offering, solid market presence, innovative strength, and an established competitive position.
Customer Service
Toll-Free: (800) 608-0809
https://www.corcentric.com/contact-support/
Cor360 PO

Remote around the US.
Hours of operation: 8am – 5pm Eastern.
Language: English

CorConnect, Cor360 (our Corcentric Legacy team)

Remote around the US.
Hours of operation are from 7am – 7pm Eastern.
Language: English

Corcentric Platform (US)

Remote around the US.
Hours of operation are from 8am – 8pm Eastern (with 1 agent in India for emergencies during US night)
Language: English

Corcentric Platform (France)

Aix en Provence, France.
Hours of operation are from 9am – 6pm local time (CET)
Languages: French, English

UK EIPP (our legacy Netsend team)

London, England
Hours of operation are from 9am – 5:30pm local time (GMT)
Language: English

Payments (our legacy Vendorin team)

Remote around the US.
Hours of operation: 9am – 6pm Eastern.
Language: English
Mediums for all businesses: Phone (phone system used is now DialPad) and Email across all businesses. Working on implementing portals across all business.
Process: Customer sends an email or calls in. All tickets go into Salesforce Service Center (excluding Payments for the time being). If not solved right away, our personnel follow up at least once every 2 days if customer is unresponsive or to give update, etc.
Initial Response times (excludes Payments):
| | | |
| --- | --- | --- |
| Type of Issue | Definition | Average Initial Response from Support |
| Urgent | An emergency characterized by a malfunction preventing the correct operation of the application and/or making it impossible for a significant number of users to use one of the critical features of the application and no workaround exists. | 1 hour. Must contact via phone. |
| High | Malfunction that substantially impacts use of application. Issue has a negative impact for users trying to execute tasks using the application but is not blocking. It may require a workaround to achieve the expected result. | 4 business hours |
| Normal | Issue other than Urgent or High which does not allow application to be used as planned and/or has minor impact on the process. A workaround is always possible | 1 business day |
| Minor | Any issue other than Urgent, High and Normal. Examples are typos in UI or any issue that does not impact planned usage of application. | 4 business days |
Testimonials
"ProMach strives to deliver consistent, high-performance, industry-leading processing and packaging solutions from our various business lines to our entire customer base…Implementing the Corcentric Payments solution helps us deliver the same level of performance to our highly valued suppliers through a proven, innovative, and secure payment platform."
Kevin Carroll, Vice President of Corporate Finance at ProMach
Second Testimonial (watch here)
"With the team at Corcentric being responsive and helpful, the deployment process was fast, meaning we were able to start saving money quickly,"
Jeff Esprit, Business Process Improvement Manager at Travelport
Case Study
Major Manufacturer Adopts Financial Process Automation to Optimize Parts Business
The Business
As the leading commercial vehicle manufacturer in North America, Daimler Trucks North America manufactures, sells, and services several renowned commercial vehicle brands including Freightliner, Western Star, Detroit, and Thomas Built Buses nameplates. To manage this set of distinctive brands that serve a multitude of industries and commercial vehicle applications, Daimler established a National Accounts parts division focused on delivering billing and support services for its small, regional, and national fleets.
The Experience
A growing business, Daimler's National Accounts parts division was managing an expanding fleet parts business of hundreds of dealer operators that supported more than 15,000 customer locations nationwide. Recognizing a higher level of billing and technology expertise was needed, Daimler looked to Corcentric's ManagedAR solution, a technology enabled managed service that guarantees payments for receivables. Working with Corcentric, Daimler was focused on refining their billing and support services across their vast dealer network by outsourcing the billing and collections process while enabling electronic invoices to dealer customers using the Corcentric platform.
Once the technology went live, it enabled more than 17,000 unique connections between Daimler dealers and buyer ERP and point of sale systems.
~ Richard Simons, General Manager of Parts, Sales and Marketing
Corcentric's ManagedAR solution enabled more than 17,000 unique connections between Daimler dealers and buyer ERP and point of sale (PoS) systems by normalizing hundreds of types of data formats across the business network and turning that data into a digital format. Corcentric's ManagedAR transformed Daimler's billing processes and customer support network, so they could focus on improving cash flow and sales growth while improving customer experience. "After the successful implementation, Daimler was able to move forward and provide their customers a new level of billing accuracy and visibility that translated into significant reduction in disputes," notes Corcentric Chairman and CEO Doug Clark. As part of the ManagedAR solution, Corcentric also assumes the credit risk of Daimler's customers, by taking on the receivables and accelerating payment to Daimler dealers. Through the accelerated payment offering, Corcentric also eliminated the need for Daimler dealer locations to seek payment from delinquent purchasers. Clark notes, "Based on our ability to facilitate accelerated payments for Daimler's dealer locations, Corcentric was able to decrease average Days Sales Outstanding (DSO) from 37 to 15 days."
The Future
Corcentric's ManagedAR solution has contributed to a significant increase in annual revenue for Daimler's parts and service program and has also added to customer acquisition and retention. Daimler reports that the platform enabled them to sign new customers that otherwise would not have been possible. It also enabled Daimler to re-engage several major accounts that had previously been inactive but were willing to participate in a new, industry-leading dealer billing program. Less than two years after the Corcentric solution was implemented, Daimler saw a substantial increase in invoices processed, a double digit growth in revenues realized, and an 86 percent decrease in disputes with no additional overhead needed to accommodate its increased parts business. "Partnering with Corcentric to manage our billing has consistently enabled us to not only achieve significant processing efficiencies, but to have the visibility to identify customer trends, forecast spend, and develop strategic initiatives that actually improve our working capital," says Richard Simons, General Manager of Parts Sales and Marketing for Daimler Trucks North America.
Visibility to identify customer trends, forecast spend, and develop strategic initiatives that actually improve our working capital.
~ Richard Simons, General Manager of Parts, Sales and Marketing
Event Attendance
Hosts
Corcentric Symposium
Regularly Attends
AFP
APP2P Spring & Fall
ProcureCon West
The U.S. Fintech Symposium
ISM World
PE Operating