Professional Analyst Coverage
ECS Fin

ECS Fin helps financial institutions and corporations navigate the digital ecosystem through process optimization with its comprehensive line of transaction processing solutions.
Its mission is to help customers transition from digital readiness to digital maturity. Headquartered in New York, ECS Fin has over 100 employees in 6 countries including the USA, Colombia, Ireland, Malaysia, the UAE, and India.
ECS Fin started in 1999 as a transaction processing consultancy. While providing professional services to Fortune 100 companies, it observed the inefficiencies and challenges faced by organizations during application integration, enterprise messaging, transaction processing, data governance, and reporting.
ECS Fin has been innovating products for global and regional payments, cash management, financial messaging, compliance, digital banking, open banking, API gateway, and post-trade processing.
Founded:
1999
CEO:
Dr. Jacob Aruldhas
Headquartered:
White Plains, New York
Ownership:
Privately Held
Learn more about ECS Fin's company, solutions, and services.
FinTech Analyst Report
Primary Coverage on Treasury Technology can be found in Strategic Treasurer's annually released FinTech Analyst Reports.  These definitive guides include the market case, historic functionality, and future developments of solutions across three categories:
Treasury & Risk Management Systems
Treasury Aggregators
Supply Chain Finance Solutions
Explore special coverage of ECS Fin's company and solution set in the report below.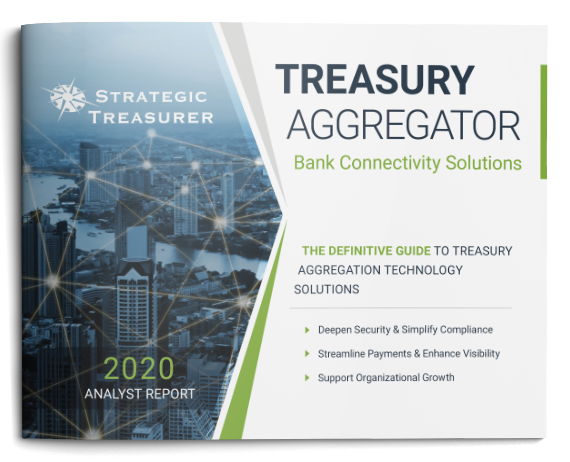 Headlines & Awards
IMS wins major certification and clients
IMS Payments and IMS Securities have both been certified by SWIFT. IMS has been granted the PA DSS Compliance certification in September 2019. The ECS Business Solutions are certified for SWIFT GPI and carry ISO 27001, ISO 9001 and CMMI Level 5 Compliance certification in India. In the past 2 years, ECS Fin has won 2 new banking customers from Dubai for IMS Payments, 6 new customers for IMS Gateway and 3 new customers for IMS Securities.
Major banks select IMS Gateway, ECS Fin's Enterprise Service Bus
In 2018, IMS Gateway, ECS Fin's Enterprise Service Bus and Message Hub, was selected by major banks in East Africa and Dominican Republic for enterprise messaging. The bank has streamlined all internal and external data flow while reaching STP with internal systems including core-banking, loan systems, and core payments while connecting to SWIFT and RTGS for clearing.
ECS Fin's SWIFT GPI module adapted by a major bank in Argentina
A major bank in Argentina chose ECS Fin's SWIFT GPI module in 2019. The module comes with full workflows for banks and corporates. The main advantage of the module is that it can be implemented without any disruption to existing systems or internal technology infrastructures. The module provides SWIFT tracker information to the source systems and corporate customers in real-time.
Major airlines and fiduciary based in Latin America selects IMS Payments
In 2019, IMS Payments for Corporates, a module consisting of payment factory, application integration, connectivity, and SWIFT services, was selected by a fiduciary as well as a major airlines company in LATAM for automating treasury operations. The platform connects with domestic and international banks for automating integrated payables and receivables and for processing responses and statements.
IMS Securities Hub & SWIFT Service Bureau chosen by major fund administrator
In 2019, a major fund administrator hired ECS for automating payments and all supporting workflows for its investment management customers globally, as well as for transferring funds between multiple accounts, for making third-party payments, and for implementing complex payment workflows that include batching and sequencing. The project also included the engagement of IMS modules for collecting statements from a number of commercial banks in a variety of formats and delivering them to the fund administrator's customers in unified formats.
Frequently Asked Questions
What are the different integration options supported by the proposed solution?
The IMS solution comes with built-in adapters to support SFTP, Web services, APIs, MQ series and can support any integration option.
What are the different payment modules available with the solution?
IMS has international payment modules such as SWIFT, RIPPLE etc. and has domestic payment module Intra, Real time payments (RTP), ACH, RTGS etc. and new payment networks could be easily integrated.
Does the solution allow the definition and administration of general parameters of the application via maintenance, so that these values can be modified or updated by administrators defined?
Yes. The configurations can be modified through the user interface.
Does the proposed solution support protocol of secure connections? If yes, indicate which?
The solution supports HTTPS, TCP/IP, SFTP.
Does the solution allow the parameterization of exchange according to the currency rate?
Yes. The exchange rate can be uploaded into IMS
What is the capacity of concurrent user access that the offered solution has?
Concurrent user access is unlimited provided necessary hardware requirements are met.
Does the solution allow you to authenticate the users against the centralized server management (Active Directory)?
The users can be synchronized into IMS and can be used for authentication.
Onboarding, Implementation, & Client Training
ECS offers flexible deployment models to suit different investment appetites with installed, hosted hardware, fully hosted and SaaS hosting models. A standard project implementation takes around 9 weeks with the following estimates for product implementation.
IMS Gateway – around 1-3 weeks
IMS Payments – around 3-6 weeks for implementing the modules
IMS Securities – around 6 to 9 weeks for implementation
The following high-level tasks are identified for the project including (but not limited to):
Agreements
Finalizing functional specifications
Finalizing technical specifications
Detailed project plans
Acquiring SWIFT BIC and any branch codes as needed
Engaging BIC and branch code
Engaging security officers
Securing data exchange link between ECS and the customer
Defining users, roles and related configurations
Documentations
UAT & training
Production
On signing agreements, ECS will engage a business analyst and a product engineer and be made available onsite to work with the customer's project owners and associates. ECS plans to spend a week with the various stakeholders of the project, define expectations and finalize the functional specifications. By the end of 2 weeks, both functional specifications and technical specifications are expected to be ready. In the meantime, the customer will place the online application for SWIFT depending on the type of connectivity selected.
On finalizing the technical specifications, a series of activities can start. The most critical being the preparation of hardware, OS, network, and security-related services. This includes the installation of the application on the development instance and initiation of configuration, integration services, workflow management, defining owners, departments, and roles.
The sixth week involves the migration of executables and schemas to the QA environment, setting up of SWIFT connectivity, routing rules, and preferences, and initiation of a series of testing including regression and stress.
The seventh week can be assigned to customer training along with customer UAT. The eighth week can be used to set up all production systems, replication, and DR tests.
The final week can be dedicated to low amount testing in the production environment engaging test simulator, and cleaning up of transaction schema followed by production cutover.
ECS Fin provides an entire week of client training during implementation before the go-live stage. It will typically train a few individuals extensively who can then train others within their group in the future. Users are also provided with user guides for reference whenever needed and can contact ECS Fin support staff for further assistance.
Customer Service
ECS offers 24/7 support to customers through its globally distributed team. The support staff is available in New York, India, Malaysia, and Colombia to answer client questions. The staff has been trained to interact with customers in a variety of languages. ECS also offers an online portal for opening tickets, support telephone numbers covering each region, and email requests. Email requests are generally most effective at speeding up issue resolution, while the portal is kept up-to-date, either by the customer or by ECS, to maintain accountability for every request that comes in.
Testimonials
AQR Capital Management LLC
"Moving to ECS cloud was a good and valuable decision for AQR. Our cash wires, securities settlement, foreign exchange and reconciliation statements STP rate increased by moving to ECS. The system is very user-friendly and allows our team to research and reconcile issues faster than our legacy systems. The client service team is knowledgeable and responsive to all AQRs needs and we see them as a partner rather than a vendor."
Mr. Ross Foden, COO at AmBank Group, Malaysia
"The return on investment of the IMS products meet our expectations and we are pleased to explore other potential solutions within the IMS Suite for other core needs within the bank."
Mr. Marshall Jablon, COO at Corporate Funding Partners, NY
"I find that the IMS Application from ECS meets all our needs. First fast deployment and then ease-of-use and I have to tell you my own experience. It is so intuitive that I figured out how to use it by myself in no time."
Case Study
A large bank in Asia spent about a year evaluating more than 15 vendors worldwide for identifying an innovative payment solution that best fit into their need of serving all user groups. IMS from ECS Fin was selected based on its credentials, product features and functions.
IMS provided the client with:
Dashboards for various user groups and a web enabled interface for operations
Instant connection with external systems and fast integration with source systems
Multi-client, multi-branch, regional and departmental support
Multi-language, time-zones and user access schedules by location
Try/buy and risk-free acquisition offered for the first payment module
No need for message transformation services
The bank went live processing all incoming SWIFT messages, providing an interface for each user-group for internal control and STP with multiple source systems within a month. Outgoing SWIFT instructions were completed in another 3 months.
RTGS payments, both outgoing and incoming were migrated in another 2 months. The solution consisted of IMS payment modules for RTGS as well as the client adapter that will interface between IMS and the central bank system.
Later, the bank recognized the value of processing ACH payments utilizing IMS modules catering to payment instructions and STP entries from and to several source systems. This migration took about 3 months against an anticipated timeline of one year.
Compliance check and duplicate checks were engaged at multiple points for operational efficiencies, at the time of creation and release for outgoing instructions. Incoming advices were checked at the time of receiving from external entities.
Cash management became a valuable commodity across various internal departments. The estimation of cash positions at real-time along with balance enquiries, helped in making decisions in real-time with the actual movement of money.
The bank's savings on operation cost alone exceeded the overall cost of the project within the first six months of going live with the first module.
Event Attendance
ECS Fin attends several events globally most of which occur in either North America or Asia. SIBOS, The Annual AFP Conference, Payments by NACHA, New York Cash Exchange and Euro Finance are some of the major events that ECS Fin attends every year. In addition to these, DotFinance and MEFTECH are some of the events in Asia that ECS Fin attends.
The contact details for reaching ECS Fin in each region are:
North America/HQ
Tel: +1 914 902 0101
info@ecsfin.com
South America
Tel: +571 752 5060
info@ecsfinlatam.com
Middle East
Tel : +971 50 6982443
sales.me@ecsfin.com
Asia Pacific
Tel: +603-2092 9525
sales@ecsfin.com
India
Tel: +91 471 2317318
sales@ecsfin.com
Release Notes
Payments
Real Time Payments for Malaysia

FPX Seller for Malaysia

Flexi Payments and Salary Payments for Malaysia

Domestic FTS for UAE
Gateway
SOAPHA Integration

SWIFT GPI Tracker
Securities
FX Module (Foreign Exchange)

Rest API Implementation

RabbitMQ Implementation

SecureAuth 2FA

Duo MFA