Professional Analyst Coverage
Fides

Fides is the world leader in multibank connectivity, payments and transaction communications. A market leader for more than a century, Fides is committed to making financial operations as efficient, transparent and secure as possible for all organizations. More than 4,000 clients rely on Fides for efficient cash and liquidity management, through connectivity to more than 13,000 banks and comprehensive workflow, reporting, conversion, validation and security services. Whether you access via the secure Fides Multibanking Suite or leverage our seamless integration with third-party ERP, TMS and other backend systems, Fides is the only platform you need.
Founded:
1910
CEO:
Andreas Lutz
Headquartered:
Zürich, Switzerland
Ownership:
Privately held
Learn more about Fides' company, solutions, and services.
Treasury Technology
Analyst Report
Primary coverage on treasury technology can be found in Strategic Treasurer's annually released Treasury Technology Analyst Report. These definitive guides include the market case, historic functionality, and future developments of solutions across these categories:
Treasury & Risk Management Systems
Treasury Aggregators
Supply Chain Finance & Cash Converstion Cycle Solutions
Enterprise Liquidity Management
Explore special coverage of Fides's company and solution set in the report below.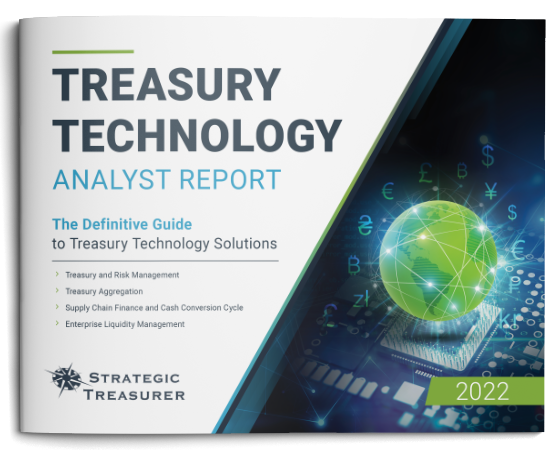 Headlines & Awards
Fides Accelerates Global Business Growth, Adding and Expanding Customer Implementations
In the past year, Fides has onboarded and extended a total of 186 projects. These results reflect the investment the company has put into its solutions and teams to support business growth. In addition to new business, numerous clients have opted to expand their relationship with Fides, increasing the scope of their implementations.
Award – Best Bank Connectivity Solution
Fides received the TMI Innovation & Excellence Award for Best Bank Connectivity Solution 2022, marking the third year in a row the company has won in this category.
Award – Best Cross-Border Payments Solution for Corporates
Fides received the 2023 Global Finance World's Best Treasury & Cash Management Systems & Services for Best Cross-Border Payments Solution for Corporates. This is the second consecutive year for this win.
Award – Best Performing Multi-Banking Solutions Provider
Fides was named Best Performing Multi-Banking Solutions Provider for 2022 by The European.
Frequently Asked Questions
What are the benefits to using Fides vs. managing bank connections in-house?
Bank connectivity is our business, so if you choose to work with Fides you know you will be working with specialists who are experienced in dealing with different connectivity channels and formats. Fides can implement the connections you need using the channels of your choice, whether that is SWIFT, Host-to-Host, EBICS, APIs or any combination. Using Fides can be more cost effective and gives you a broader reach than establishing and managing individual direct connections using a single channel or other providers. Fides also cuts down the need for the treasury staff to do a lot of work collecting and compiling data in spreadsheets. We have had clients tell us that our solutions have cut the time that a treasury analyst previously had to spend on manual work by as much as 50 percent.
Which file formats do you support?
Fides supports all messaging formats and types such as the ISO 20022 (XML formats) and ISO 15022 (FIN) standards, as well as country-specific and bank-specific formats. We are able to work with even the smallest, most irregular payment providers and create customized parsers to convert their messages into a standardized format. This means that you can onboard banks much more quickly than you might otherwise be able to do.
Do I need to integrate Fides with a TMS or ERP?
While all Fides products can conveniently integrate with any ERP or TMS platform, the products and capabilities are all also accessible via the Fides Multibanking Suite. Not all clients feel the need to have a TMS, and for the ones who do, a TMS on its own doesn't support the range of bank protocols and formats that Fides can. We have a large number of clients who don't want to be locked into a TMS or ERP vendor. We partner with a number of the leading TMS vendors and can integrate with even more.
What connectivity options provide me with the greatest global coverage?
Fides' unique Hybrid Model helps clients overcome the gaps in their bank's SWIFT SCORE readiness and offers additional connectivity options including multi-network, dual-BIC solutions. We can streamline payment processing, securely manage foreign exchange, deliver trading confirmations — basically, we can handle any and all kinds of messaging between our clients and their banks and payment providers regardless of where they are located.
Onboarding, Implementation, and Client Training
Fides provides a customized onboarding process for each client through its project management team. Based on the customer's needs and requirements, Fides will create a tailor-made solution that is based on bank capabilities, compatible reporting and payment formats, and the best connectivity method for each bank. An experienced project manager is assigned to each client, and everything begins with a detailed kick-off call where the entire project is reviewed, roles are explained on the client side and the Fides project management team side, and then planning begins for each bank.
Fides maintains even workloads across the team to ensure clients receive ample attention and onboarding is completed efficiently. A deputy is also assigned at the beginning of the project, so clients find the experience seamless if their primary project manager is unavailable. The deputy is aware of the status of each bank and connection as well as most recent communication and is able to provide continued support to the client.
After the onboarding process is complete, the project manager hands support over to client services. This means making sure the client feels comfortable with next steps and providing detailed instructions and explanations for interacting effectively with the client services team. The project manager is responsible for ensuring that knowledge transfer to the client services team takes place so that the client's experience through production is excellent and customized. Fides supports all main languages within its Fides Multibanking Suite: English, German, French, Italian and Spanish — and even more languages may be supported by cient services.
The relationship manager assigned at the beginning of the project remains with the client throughout their time at Fides, including through their transition from the project management team to the client services team.
Customer Service
Fides' client services team is based in the company's Switzerland headquarters, assuring that all representatives have direct access to all the resources they need. The customer support team is available by email or phone Monday through Friday during extended CET business hours, and can communicate with customers in multiple languages.
Making customers' lives easier is one of the Fides client service team's core goals. The company is known for its ability to maintain existing clients while also expanding its operations to support additional customers. Over the past several years, Fides has experienced significant business growth, and has realigned its services, support, business development, relationship management, and marketing departments under the leadership of Chief Growth Officer, Philip Anklin.
A number of TMS partners bundle Fides with their own offerings. These partners provide first-level customer support to the clients who purchase the bundled solutions, and interface with Fides when additional expertise is required.
Testimonials
"Fides works so well that you don't even know it's there. Our users who are running the payments, approving the payment only, they are not aware – only the banks have to be aware."
Kamil Jellonek, Treasury Systems Administrator / Project Manager, Corporate Finance and Treasury at LafargeHolcim
"Having a TMS doesn't necessarily mean you have connectivity to all your banks. And even when you do have connectivity, the information contained in bank transmissions, and the language used for transmissions is not always the same. That is where a provider like Fides adds so much value."
Christian Azzopardi, Group Treasurer and Commercial Finance Manager at Hästens
"Having all the information in one place gives us the ability to get the big picture fast. It saves manual work, gives us the info to be able to make a decision and analyze quite quickly. Our company is growing very fast, and it is mandatory that we have systems to support that growth and support the work that we have to keep up with in our environment. Without Fides, we would not be able to support the scaling of our business."
Revital Gadish, SVP, Finance and Treasury at Payoneer
Case Study
Read Fides' Case Study
Event Attendance
In previous years, Fides has had a presence at a number of industry-leading events around the globe, including AFP Conference, EuroFinance International Treasury & Cash Management Conference, Finanzsymposium Mannheim, and DACT.
To learn more about Fides,
Contact Us:
Web: www.fides-treasury.com
Telephone: +41 44.298.65.66
Email: hello@fides.ch