Professional Analyst Coverage
TIS

TIS helps CFOs, Treasurers, and Finance teams transform their global cash flow, liquidity, and payment functions. Since 2010, our award-winning cloud platform and best-in-class service model have empowered the entire office of the CFO to collaborate more effectively and attain increased efficiency, automation, and control. By streamlining connectivity between our customers' back-office systems and their worldwide banks, vendors, and business partners, TIS enables users to achieve superior performance in key areas surrounding cash forecasting, working capital, outbound payments, financial messaging, fraud prevention, payment compliance, and more.
With over 11,000 banking options, $80 billion in daily cash managed, and $2.5 trillion in annual transaction volume, TIS has a proven track record of combining our strong market expertise with tailored client and community feedback to drive digital transformation for companies of all sizes and industries. As a result, hundreds of organizations and thousands of practitioners rely on TIS daily to gain strategic advantage, monetize data, improve operational efficiency, and better manage risk.
For more information, visit tispayments.com and begin reimagining your approach to global cash flow, liquidity, and payments.
Founded:
2010
CEO:
Erik Masing
Headquartered:
Boston, Massachusetts (US)
Berlin, Germany (EMEA)
Ownership:
Privately Held
Learn more about TIS's company, solutions, and services.
Treasury Technology
Analyst Report
Primary coverage on treasury technology can be found in Strategic Treasurer's annually released Treasury Technology Analyst Report. These definitive guides include the market case, historic functionality, and future developments of solutions across these categories:
Treasury & Risk Management Systems
Treasury Aggregators
Supply Chain Finance & Cash Conversion Cycle Solutions
Enterprise Liquidity Management
Explore special coverage of TIS's company and solution set in the report below.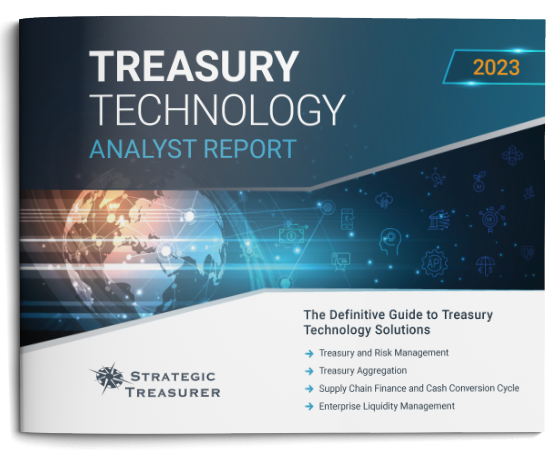 Headlines & Awards
TIS Clients Unilever, Siemens Gamesa, and TeamViewer Win Five Treasury Technology Awards in H1 2023
June 28th, 2023 – During the first half of 2023, TIS was thrilled to recognize three of our pinnacle clients for receiving prominent treasury and technology industry awards. The award recipients included Unilever, Siemens Gamesa, and TeamViewer, who were each recognized for their significant achievements in completing large-scale treasury technology projects within the past few years.
Citi & TIS Launch Next-Generation Cash Flow Forecasting & Working Capital Insights for Companies
May 1st, 2023 – Citi's Treasury and Trade Solutions (TTS) has expanded its relationship with Treasury Intelligence Solutions (TIS), a global leader in cloud-native cashflow, liquidity, and payment solutions. Joint clients may now, through Citi, gain access to TIS' innovative cash forecasting and working capital platform, enhancing Citi's end-to-end solutions suite across its market-leading global banking network.
Frequently Asked Questions
How does TIS manage ongoing innovation & development?
As a trusted and longstanding provider of SaaS solutions, TIS is constantly enhancing our existing product and adding new value by developing additional capabilities and features based on client conversations, industry research, and collaboration with partners and peers. Our roadmap is being constantly refined to ensure our development focuses on what is most important to our clients and community. Today, some of our innovative projects include support for smart analytics and data science applications, as well as corporate banking APIs and AI logic for managing fraud, compliance, cash forecasting, working capital, and much more!
I already have a TMS, so why would I need TIS?
Today, many TIS clients use our solution to complement their existing TMSs and ERPs. This is because TIS acts as a specialist in connectivity and payments, and can often provide additional efficiencies, automation, and control over what traditional TMSs and ERPs are capable of. This includes streamlined onboarding of all bank partners, compatibility with all messaging formats, and support for all relevant payment methods and channels.
As a result, clients find that TIS supplements their existing ERP and TMS functionality by streamlining liquidity and transaction processes, mitigating fraud and compliance risks, and ultimately saving remarkable amounts of time and money. Find out how TIS can serve as an extension to your TMS by requesting a demo!
What security measures are included with TIS?
TIS employs robust security measures at every juncture within our solution to keep client information safe and secure. This includes multifactor authentication (MFA) and single sign-on (SSO) during login, the use of IP safelisting and blocklisting software to restrict user access, and 24/7 user and system auditing controls. Other controls include the use of encryption and hashing on files in transit and in storage. In addition, our PCS solution screens and monitors payments against a community repository of validated transactions to spot any inconsistencies in beneficiary or bank details. For each client, admins can also determine the authentication levels of each user in their network and add or remove users as necessary. Custom approval workflows and bank account management controls can also be incorporated as needed. Finally, TIS employs a variety of controls and protocols internally to protect our own operations and help ensure total integrity and safety of our clients' data.
Onboarding, Implementation & Client Training
With our easy-to-use multi-tenant and API-enabled cloud platform, TIS can manage the vast majority of implementation, system integration, and bank connectivity tasks for our clients. Due to the ERP plug-ins, APIs, and comprehensive format library we have established over time, TIS can integrate with virtually any back-office system, 3rd party platform, or financial institution in the world. Most of these integrations have already been pre-packaged into our product as a standard offering, but because we establish connections to new banks or back-office platforms on your behalf, we ensure that your technology projects are never sidelined by insufficient technology, experience, IT resources, or internal bandwidth.
For more information visit tispayments.com/client-experience.
Customer Service
The TIS product and customer support teams consist of seasoned experts who have consistently proven themselves through repeated success in handling the complex and diverse needs of our clients. Today, many of our support staff are former financial practitioners and technology experts who understand exactly what is required in order to provide effective service. In addition, all of our customer support members are full-time TIS employees, which means that each client can be given a dedicated contact to serve as their champion for handling inquiries and resolutions.
As a result of this superior approach to client support, TIS maintains 99.95%+ global system uptime and resolves 92%+ of all client support tickets in under 24 hours. Combined with our 100% in-house team and fully-managed cloud platform, it's easy to see why clients consistently give TIS 9.0+ stars for support and service. To browse ratings and reviews from dozens of active TIS clients, visit our TrustRadius page here: Treasury Intelligence Solutions (TIS) Reviews & Ratings 2023 (trustradius.com)
Case Study
Cash Forecasting / Working Capital
Bank Connectivity and Payments