Professional Analyst Coverage
Bottomline | TreasuryXpress

At Bottomline, we make complex business payments and treasury management simple, smart, and secure. Corporations and banks rely on Bottomline for domestic and international payments, efficient treasury management, automated workflows for payment processing and bill review, and state of the art fraud detection, behavioral analytics and regulatory compliance solutions.
Operating in 92 countries across 6 continents, Bottomline provides technology solutions to corporates and the banks that serve them across the entire payments and cash management lifecycle – from accounts payable and treasury management to receivables. Our solutions help unify financial data, systems, and processes so financial leaders and their teams can work more simply, securely, and intelligently.
Founded:
1989
CEO:
Rob Eberle
Headquartered:
Portsmouth, NH
Ownership:
Publicly Held
Learn more about Bottomline's company, solutions, and services.
Treasury Technology Analyst Report
Primary coverage on Treasury Technology can be found in Strategic Treasurer's annually released Treasury Technology Analyst Report.  This definitive guide includes the market case, historic functionality, and future developments of solutions across three categories:
Treasury & Risk Management Systems
Treasury Aggregators
Supply Chain Finance Solutions
Explore special coverage of Bottomline's company and solution set in the report below.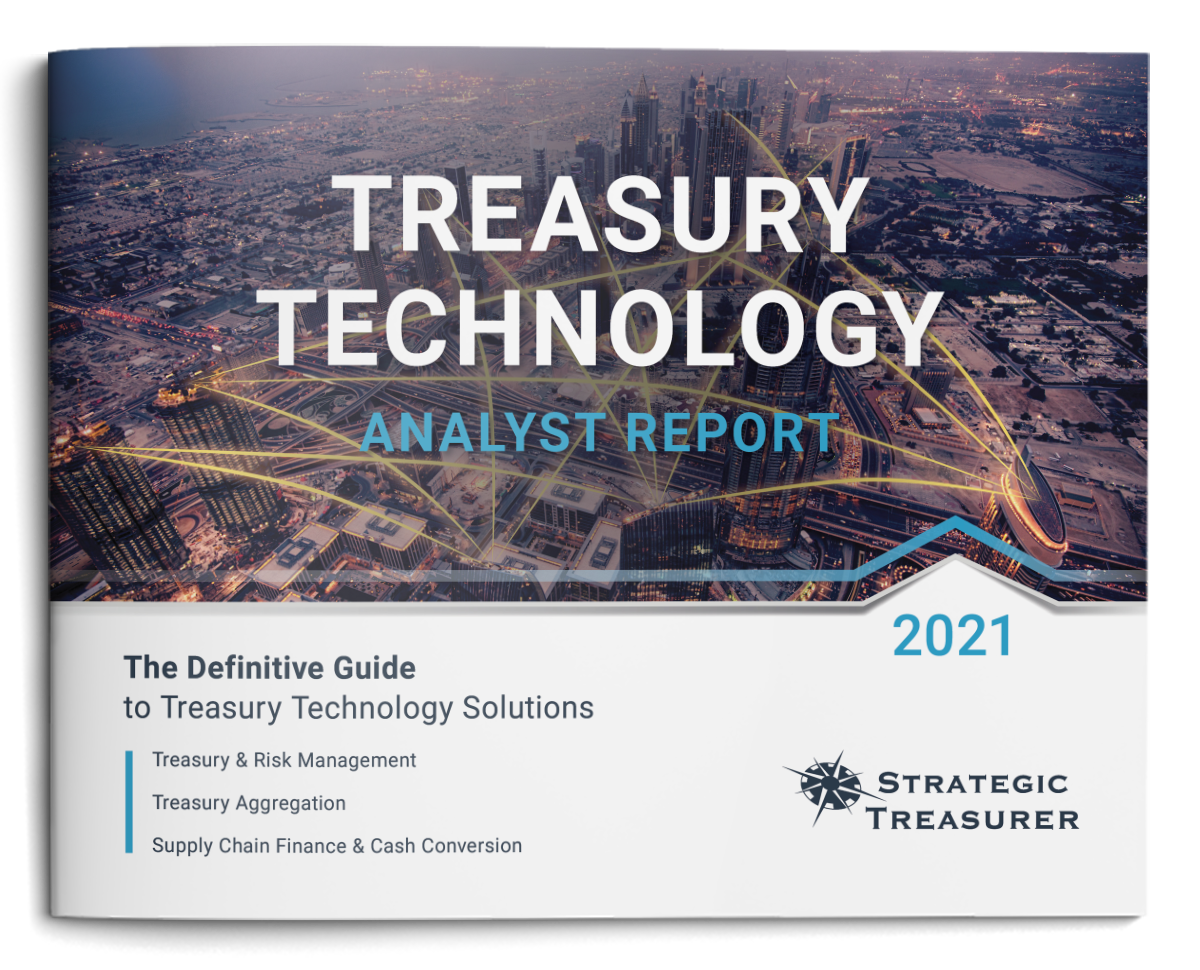 Headlines & Awards
Top Headlines
Bottomline announces cash management platform
Bottomline, a provider of financial technology for business payments, has unveiled expanded corporate treasury capabilities as part of its integrated Payments and Cash Lifecycle Platform. The platform aims to empower financial managers to optimise cash, liquidity and working capital with a unified solution combining payables, receivables, and treasury management, delivering greater visibility and control throughout the end-to-end cash lifecycle.
Payments Podcast: Better Cash Management and Forecasting
The Payments Barometer research report revealed that almost half of businesses, from SMEs to Enterprise treasury teams, struggle with accurate forecasting, and many are still using manual Excel spreadsheets.
Why Should We Be Friends? How AP & AR Team Up for Smarter Payments & Processes
It's mission critical for your accounts payable and accounts receivable teams to work together with their counterparts in other organizations to ensure smooth processes, better visibility, and enhanced security for both parties.
Awards
Named SMB "Leader" and Enterprise "Major Player" in 2019 IDC Marketscape for Worldwide SMB Cloud Treasury Applications
Best "Treasury Crisis Management Solution 2020" by Treasury Today's Adam Smith Awards
Best "TMS Implementation of 2020″ by Treasury Management International magazine
2021 Alexander Hamilton Best Liquidity Management Solution" by Treasury and Risk Magazine
2020 Winner of Best Overall Customer Satisfaction for Treasury Management by IDC SaaS Path Program
Frequently Asked Questions
What is TreasuryXpress?
TreasuryXpress is Bottomline's Cloud-based Treasury Management solution (TMS) 
The solution helps treasury and finance professionals:
Simply and accurately achieve comprehensive visibility

Achieve and real-time cash positioning

Streamline their reconciliation processes
Improve their cash forecasts
Optimize their liquidity utilization
Manage debt and instruments
Simplify bank connectivity

 

Improve bank account management

 

Perform in-depth bank fee analysis

 

Automate and improve audit support and reporting requirements

 

Secure and automate end-to-end payment processes

 
Why did Bottomline combine with TreasuryXpress?
Many of our customers have shared that they find themselves collaborating more with their treasury teams to achieve greater cash visibility, optimize shared reconciliation efforts and improve their cash forecasts.

To help with this need, Bottomline has recently combined with TreasuryXpress, a full-service Treasury Management Solution (TMS) so we are now able to offer our corporate customers a complete solution for payments and cash management. 
How will Bottomline TreasuryXpress connect with my banks?
TreasuryXpress is bank-agnostic and offers multiple options to connect with any bank anywhere in the world. 
Connectivity Options –  
Via one of Bottomline's three SWIFT Service Bureaus, our Universal Aggregator

 

Host-to-Host (H2H) via SFTP

 

API

Via client's own SWIFT BIC

 

In-App API Factory

 
Can integrate Bottomline TreasuryXpress with my existing 3
rd
 party systems (ie: ERP, AP, Accounting, Bank Fee Analysis, Reconciliation)?
Yes.  Bottomline TreasuryXpress is a digital-native solution which means it is designed to be highly integrable with any third-party solution. 
It is worth noting that Bottomline supports the entire payments and cash management lifecycle. So not only do we offer a leading TMS solution, Customers can use Bottomline for all their payments, AP Automation, and Accounts Receivable needs all under one umbrella. 
How long will it take to implement Bottomline TreasuryXpress?
Implementation varies by Customer and complexity of the project; however, most clients achieve full cash visibility in 12 weeks or less on average. 
What is the average implementation cost for Bottomline TreasuryXpress?
Bottomline does not charge for implementations, which is not only a tremendous cost savings to our customers, it is unique in the market. 
Testimonials
"We chose Bottomline TreasuryXpress as our partner to enable digital transformation. Partnering with them, we have created a controlled and centralized hub for managing liquidity collaboratively and with a long-term view. And, we established full bank connectivity in just 12 weeks."
Sasha De Gracia, Director of Finance – Treasury Services at Holiday Inn Club Vacations
"As well as being straightforward to implement, the Bottomline TreasuryXpress model makes it easy to customize the solution for your company's specific needs – without the additional costs that traditional vendors often tag on. The healthcare sector is very complex, since there are so many moving parts with third-party payers, and Bottomline TreasuryXpress has been very responsive to our sector-driven needs."
Terry Nelson, Treasury and Accounting Services Manager at Avalon Health Care Group
"We selected Bottomline TreasuryXpress to not only improve the efficiency and productivity of our team, but also because of the cost control benefits and the team's commitment to innovating their product based on real client requirements. We are very excited to be working with them."
Paul Colgan, Vice President of Accounting & Finance at Coastal Ridge RE
Event Attendance
Bottomline Hosted
Bottomline Virtual Education Series: The Reality of Real-Time Treasury
Series Overview: If the past year has taught us anything, there are two key things that come to mind: 1) anything is possible, and 2) the need for speed when it comes to treasury and overall financial management is everything – especially during times of uncertainty.
Session 1: Real-Time Payments – Fact, Fiction, Future
September 29, 2021 (11:00 AM EST/16:00 BST)
Session 2: Real-Time Visibility – Making the Move from Static to Dynamic
October 13, 2021 (11:00 AM EST/16:00 BST)
Session 3: Real-Time Liquidity – Smarter, faster, stronger
November 16, 2021 (11:00 AM EST/16:00 BST)
Session 4: Achieving Real-Time Treasury – People, Process, Systems
December 7, 2021 (11:00 AM EST/16:00 BST)
Upcoming Industry Events
2021 ACT Annual Conference and International Treasury Week
Sibos 2021
2021 AFP Annual Conference
TMAC Windy City Summit 2022