Join Craig Jeffery of Strategic Treasurer and Bob Stark of Kyriba as they discuss the latest key findings on global payments. 
Global Payments 2019 Survey Results Webinar
Date:     Tuesday, August 13, 2019
Time:     11:00 a.m. EST
Where:  This is an online event.

During this expert-led webinar, Craig Jeffery of Strategic Treasurer and Bob Stark of Kyriba discuss results from the 2019 Global Payments Survey and share how organizations are addressing new challenges and opportunities. Tune in to hear key findings from this year's research, created to show the drivers, attitudes and perceptions of various new, faster payment initiatives across the globe. This comprehensive evaluation of treasury and AP-related payments functions will assist practitioners in managing global payment activity technology for years to come.
Download the deck from the webinar here:
If you encounter any issues with registration or during the webinar, please contact our team. It can take a few minutes for the confirmation email to come through.
You may also be interested in: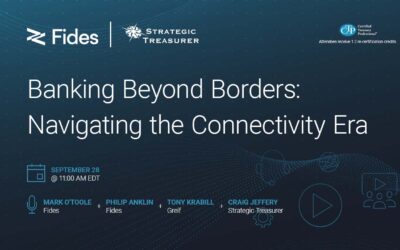 Gain insights into the transformative impact of connectivity on the banking industry. As technology continues to bridge geographical gaps and reshape traditional financial systems, this webinar delves into the opportunities and challenges that come with banking's new connected landscape. Attendees can expect to gain a deeper understanding of how cross-border transactions, digital platforms, and real-time data are shaping the future of banking. From exploring the potential for enhanced customer experiences to understanding the regulatory implications of this global connectivity, the webinar will provide a comprehensive view of the changing dynamics.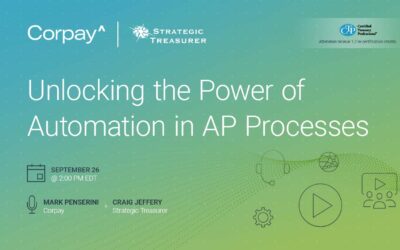 In the world of modern business, achieving efficiency and cost-effectiveness is crucial to success. However, a common problem that hinders this goal is defects within critical business processes. Among these, the accounts payable (AP) process stands out as a prime contributor to inefficiencies and financial losses. But what exactly fuels these defects? There are two primary sources:
1. Manual processes and handoffs.
2. Poorly designed processes with limited scope.
Understanding the AP process and the advantages of automation is crucial. This understanding goes beyond just the steps in the process; it includes how information is used, managing available funds, optimizing working capital, reducing risks, preventing fraud, and increasing overall business adaptability. Join us in this informative webinar as we uncover the surprising impacts that automation can have on the AP process.