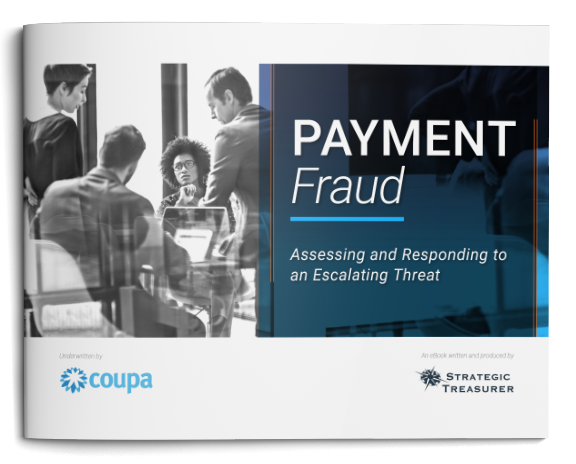 With fraud on the rise and payment processes scattered throughout different departments, a treasurer must function as the 'superintendent' of payment security, overseeing the policies, controls, and practices others are putting into action.
This eBook is intended to help treasury understand and fill that role most effectively by covering the current situation, the threat levels of various types of fraud, common areas of vulnerability, and frameworks and tactics for constructing a solid defense.
This publication is brought to you by
Strategic Treasurer and Coupa 
CTP Credits Now Available  To better support the professional development of industry leaders, Strategic Treasurer offers 1.2 CTP credits for this eBook/Audiobook when the accompanying 7-question quiz is taken and passed (a score of 80% or higher).  
No time to read?
Listen on the go with our audiobook version of Payment Fraud:
Watch on our YouTube channel:
Eager to learn? Explore these free resources.