Regulations and laws for treasury can be a moving target.
Each year, new requirements arise as governments react to market changes. Waiting to react to these changes in regulations can be risky.
Preparing for Change: Compliance in 2018
Quarterly Compliance Webinar
Date:     Thursday, April 19th, 2018
Time:     2:00PM – 3:00PM EST
Where:  This is an online event.
Some regulatory changes can take a significant effort on the part of corporations to comply, so being proactive in preparations is key. In order to mitigate the risk of noncompliance, it is important to have a game plan in place for dealing with new or changing requirements.
This webinar will delve into how to prepare for future changes in the regulatory environment and will provide a brief update on the current state of regulations.
1.2 CTP and FP&A re-certification credits will be given for this webinar.
Download the deck from the webinar here:
If you encounter any issues with the replay or have questions regarding credits, please contact
our team
.
You may also be interested in: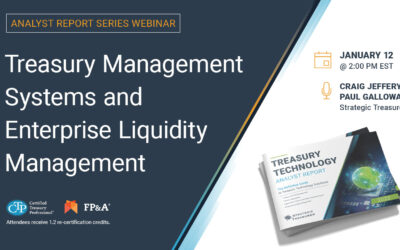 Treasury management systems (TMS) are a vital part of many treasury departments' technology stacks, and adoption rates across companies of various sizes are expected to remain high for some time. Meanwhile, some TMSs seem to be outgrowing the category, creating the new enterprise liquidity management (ELM) solution type. This webinar will give a wide-ranging overview of the current TMS space, its importance in today's era of volatility, leading practices for selection and implementation, and innovative technologies impacting the TMS landscape, as well as briefly discussing the emergence of ELM as a separate category.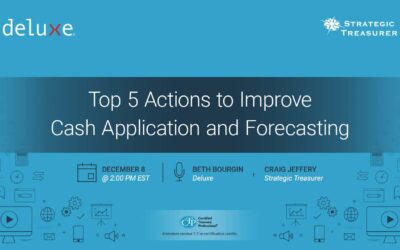 'No man is an island,' said John Donne. Cash application and cash forecasting are also connected in important ways. This session will cover five of the top actions companies should take to improve their cash application process and rates and tighten up their forecasting activities and accuracy. Slow cash application and low auto-assign and auto-apply rates negatively impact efficiency standards and month-end working capital metrics. They also impede accurate cash forecasting. Both efficiency in cash application and prioritization of cash forecasting have been top goals of AR groups and treasury teams for over five years. Listen in for some key steps that you can take to up your financial game in these areas.