Join Craig Jeffery of Strategic Treasurer and Julien Laurent & Chris Gerda of Bottomline Technologies as they cover high-level highlights from the 2020 Treasury Fraud & Controls survey.
Treasury Fraud & Controls: 2020 Survey Results Webinar
Date:     Wednesday, February 12, 2020
Time:     11:00 AM-12:00 PM EST
Where:  This is an online event.

This webinar will cover the results and provide insights into the 2020 Treasury Fraud and Controls Survey.
This survey's purpose was 
to evaluate the current and projected impact of fraud on the finance and treasu
ry environment. Practitioners were
 polled on their experiences with fraud and on the range of controls, safeguards, and security practices employed to protect their financial asset
s and information. The data was compiled 
and 
is 
used to educate the industry as to how the fraud landscape is evolving, and how practitioners can better protect themselves and their organizations against attacks. 
1.2 CTP and FP&A re-certification credits will be given for attendance to this live webinar.
Download the webinar deck here:
2020 Treasury Fraud & Controls Survey Report
With your help, we've consistently found that fraud is a top ranking concern for treasury. This year, as it has become a bigger issue worldwide, we discover how your experiences and practices have changed. Has your security framework been strengthened? Or are you still doing the same things, hoping you're not one of the many corporates who have suffered a loss from fraud in the past year?
[wpforms id="35488" title="false" description="false"]
You may also be interested in:
The treasury management system (TMS) automates and streamlines treasury's core tasks, forming a central dashboard for the treasury function and freeing staff for more strategic work. Recent years have seen some TMS vendors expanding into enterprise-wide solutions for tracking and managing liquidity, giving rise to the distinct enterprise liquidity management (ELM) category. From the basic TMS to the highly advanced TMS and the more comprehensive ELM system, each solution serves a segment of treasury departments. This webinar will cover the current TMS and ELM landscapes, innovations, and leading practices for selection and implementation.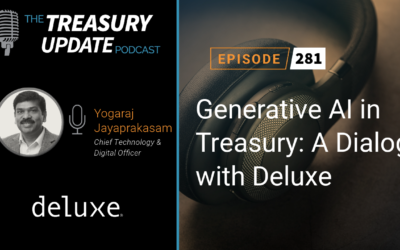 In today's podcast episode, we'll hear a discussion between Craig Jeffery and Yogaraj Jayaprakasam on the transformative power of generative AI in treasury. They discuss generative AI's transformative impact on communication, reasoning, and domain-specific applicability, as well as how Deluxe is looking at the adoption of AI.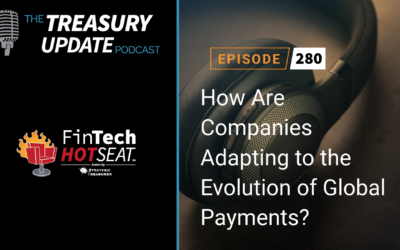 In today's episode, we'll hear an insightful discussion on the Future of Treasury Payments. Recorded live at the AFP conference in San Diego, CA, our panelists delve into the world of global payment rails and the strategies companies must adopt to tackle security and operational challenges head-on.