Join Craig Jeffery of Strategic Treasurer and Julien Laurent & Chris Gerda of Bottomline Technologies as they cover high-level highlights from the 2020 Treasury Fraud & Controls survey.
Treasury Fraud & Controls: 2020 Survey Results Webinar
Date:     Wednesday, February 12, 2020
Time:     11:00 AM-12:00 PM EST
Where:  This is an online event.

This webinar will cover the results and provide insights into the 2020 Treasury Fraud and Controls Survey.
This survey's purpose was 
to evaluate the current and projected impact of fraud on the finance and treasu
ry environment. Practitioners were
 polled on their experiences with fraud and on the range of controls, safeguards, and security practices employed to protect their financial asset
s and information. The data was compiled 
and 
is 
used to educate the industry as to how the fraud landscape is evolving, and how practitioners can better protect themselves and their organizations against attacks. 
1.2 CTP and FP&A re-certification credits will be given for attendance to this live webinar.
Download the webinar deck here:
2020 Treasury Fraud & Controls Survey Report
With your help, we've consistently found that fraud is a top ranking concern for treasury. This year, as it has become a bigger issue worldwide, we discover how your experiences and practices have changed. Has your security framework been strengthened? Or are you still doing the same things, hoping you're not one of the many corporates who have suffered a loss from fraud in the past year?
You may also be interested in: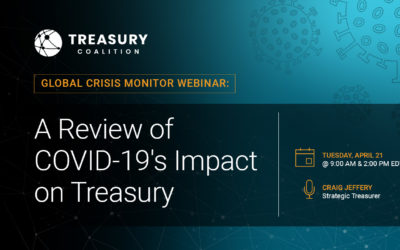 This webinar will review the Global Crisis Monitor results to date on the COVID-19 global pandemic, dive into cross cuts of the data, and what organizations can do moving forward.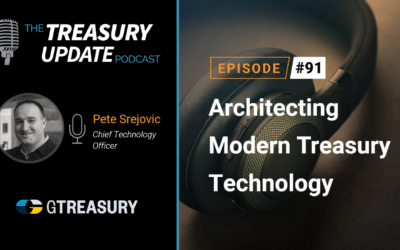 Host Craig Jeffery joins Pete Srejovic, Chief Technology Officer at GTreasury, to discuss modern treasury technology. Topics of discussion center around market changes and expectations, new treasury requirements, the move to simpler and flexible models, security applications and more. Listen in to discover simple treasury solutions to better position your company for success.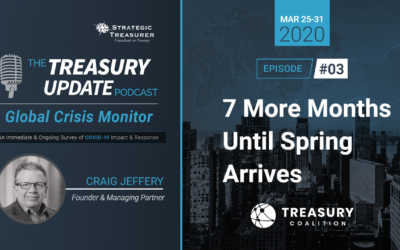 Special Host Meredith Zonsius maintains social distancing by joining a web meeting with Managing Partner Craig Jeffery of Strategic Treasurer to explore the second wave of survey results from the weekly COVID-19 Impact & Response Survey.