Join Craig Jeffery of Strategic Treasurer and Steve Bullock of Kyriba for a webinar to discuss the findings from our 2020 Insurance Treasury survey.
Insurance Treasury: 2020 Survey Results Webinar
Date:     Wednesday, April 29, 2020
Times:     2:00-3:00 PM EDT
Where:  This is an online event.

Treasury professionals in the insurance industry face different challenges. We want to provide insights into these unique views with a brand-new industry exclusive survey results webinar.  The analysis focuses on complexity, exposure management, technology, and more that impact the insurance industry. In this webinar we will examine how insurance treasury differs from other industries and provide some insight and tips for to assist the insurance treasury community based on survey findings.
While this webinar is targeted for those in the insurance treasury industry, it is open to anyone who is interested in trends in the insurance industry
1.2 CTP and FP&A re-certification credits will be given for attendance to this live webinar.
Download the webinar deck here:
2020 Insurance Treasury Survey Report
This brand-new survey, underwritten by Kyriba, identified the unique financial drivers, challenges, and areas of focus for insurance companies heading into 2020. Results from this survey are compared against data obtained from the broader corporate environment in order to better understand how the treasury and finance functions within insurance compared to those of other industries.
You may also be interested in: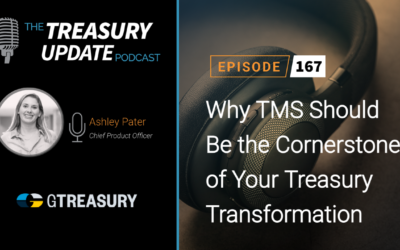 Host Craig Jeffery joins Ashley Pater, Chief Product Officer at GTreasury, to cover questions from their webinar on why a treasury management system (TMS) should be the cornerstone of your treasury transformation. They share valuable insights and examples on how to transition treasury operations to a modern and efficient technology stack, complete with automation and integration that allow organizations to focus on strategic tasks. Listen to find out more.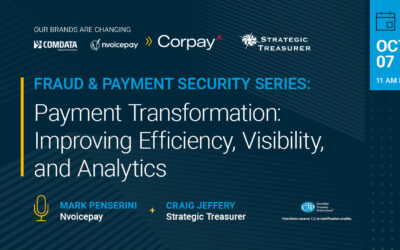 Changing expectations, developing technology and new payment rails all add to the value proposition for engaging in payment transformation. Transformation is occurring separately in individual areas (AP, Treasury, Operating Areas) and on an organizational-wide basis. This session covers some of the key drivers of payment transformation: demands for improved process efficiency; a broader view that includes internal areas and counterparties; risk management and fraud prevention; timeliness. Making payments faster addresses a speed concern. Making payments better might streamline the communication of payment information between partners more efficiently. Making payments more secure has become an executive demand. Payment transformation doesn't look at these elements in isolation or with a one-size-fits all. This fast-paced discussion will cover how organizations can develop and implement a comprehensive transformation of their payment processes and technology.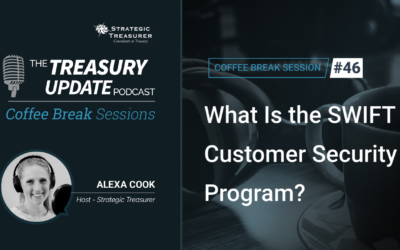 What is the SWIFT Customer Security Program? Coffee Break Session Host Alexa Cook catches up with Strategic Treasurer's Founder and Managing Partner, Craig Jeffery, to discuss what SWIFT CSP is and for whom it is designed.