Join us for a webinar to discuss the transition from crisis to recovery with the findings from the Global Recovery Monitor.
A Review of COVID-19's Impact on Treasury: From Crisis to Recovery
Date:     Wednesday, July 15, 2020
Times:   11:00 AM & 2:00 PM EDT
Where:  This is an online event.

In response to the COVID-19 global pandemic, the Treasury Coalition formed to assist treasury and finance professionals in examining the impact on the industry. Through weekly and now biweekly surveys, data has been collected, analyzed, and distributed for the good of the industry. Specifically, the survey looked to gather concerns and response plans, and monitor economic preparations and impact changes throughout the pandemic life cycle. This webinar will review the results from the over 4-month runtime, dive into cross cuts of the data, and discuss what organizations can do as we move from crisis to recovery.
Craig Jeffery
Managing Partner - Strategic Treasurer
Donald Gradwell
Treasury Business Development Director - ION Treasury
Simon Kaufmann
Head Client Relations and Marketing - Fides
Download the webinar deck here:
Anish Souri
Global Presales Executive - Kyriba
Craig Jeffery
Managing Partner - Strategic Treasurer
Timothy Hesler
Assistant Treasurer - TMANY
Download the webinar deck here:
Global Recovery Monitor Survey
The Global Recovery Monitor provides rapid exploration and response reporting on major factors impacting treasury and finance organizations. This effort is supported by the Treasury Coalition which consists of leading solution providers leveraging their networks to ensure comprehensive results for the good of the profession.
You may also be interested in: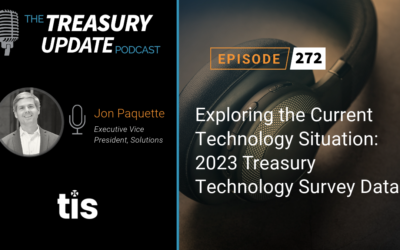 Technology is changing rapidly. Recently completed research on the topic of treasury technology brought many interesting data points and trends to light. Join Jon Paquette of TIS and Craig Jeffery of Strategic Treasurer as they talk through the implications for treasury.
Their discussion includes technology adoption rates, the growing value of technology investments, and the use of AI and machine learning in treasury.
Download the survey report here: https://strategictreasurer.com/2023-treasury-technology/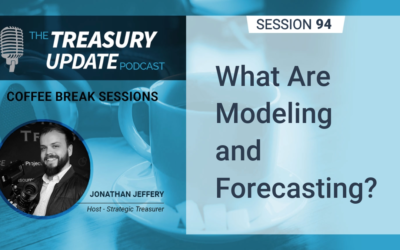 In this week's Coffee Break Session, we unpack modeling and forecasting as a corporate treasurer. Listen in and learn the key differences, explore real-world examples, and see how data can help drive accurate predictions.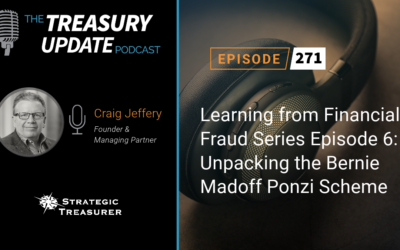 Welcome to another edition of our Learning from Financial Fraud Series. In this segment, we delve into the notorious Bernie Madoff Ponzi Scheme. Join us as we unravel the intricate layers of this scandal, where Bernie Madoff, a once-respected financier, orchestrated an elaborate scheme that entrapped countless investors.
Learn more about staff augmentation at: https://securetreasury.com/