Join us for a webinar to discuss the transition from crisis to recovery with the findings from the Global Recovery Monitor.
A Review of COVID-19's Impact on Treasury: From Crisis to Recovery
Date:     Wednesday, July 15, 2020
Times:   11:00 AM & 2:00 PM EDT
Where:  This is an online event.

In response to the COVID-19 global pandemic, the Treasury Coalition formed to assist treasury and finance professionals in examining the impact on the industry. Through weekly and now biweekly surveys, data has been collected, analyzed, and distributed for the good of the industry. Specifically, the survey looked to gather concerns and response plans, and monitor economic preparations and impact changes throughout the pandemic life cycle. This webinar will review the results from the over 4-month runtime, dive into cross cuts of the data, and discuss what organizations can do as we move from crisis to recovery.
Craig Jeffery
Managing Partner - Strategic Treasurer
Donald Gradwell
Treasury Business Development Director - ION Treasury
Simon Kaufmann
Head Client Relations and Marketing - Fides
Download the webinar deck here:
Anish Souri
Global Presales Executive - Kyriba
Craig Jeffery
Managing Partner - Strategic Treasurer
Timothy Hesler
Assistant Treasurer - TMANY
Download the webinar deck here:
Global Recovery Monitor Survey
The Global Recovery Monitor provides rapid exploration and response reporting on major factors impacting treasury and finance organizations. This effort is supported by the Treasury Coalition which consists of leading solution providers leveraging their networks to ensure comprehensive results for the good of the profession.
You may also be interested in: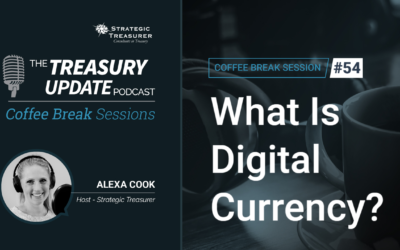 What is digital currency? Coffee Break Session Host Alexa Cook catches up with Strategic Treasurer's Managing Partner, Craig Jeffery, to discuss what digital currency is, how it is being used, and some examples of digital currency. Listen in and learn a little bit about digital currency.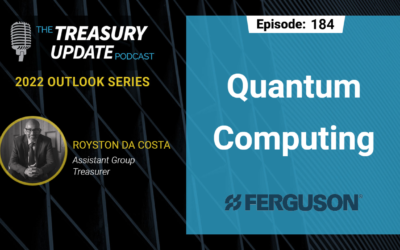 On this episode of the 2022 Outlook series, Host Craig Jeffery joins Royston Da Costa, Assistant Group Treasurer at Ferguson plc, to discuss the outlook of quantum computing. They explore this developing technology, discuss how it's relevant to finance and treasury, reveal which companies are using it now and its impact on cybersecurity. Listen in to the conversation to find out more.
Treasury is responsible for several crucial areas of finance including liquidity management. Managing liquidity requires clear visibility to all cash regardless of its location or currency (bank, country, currency, entity). This visibility can no longer be limited to a single point in time. Liquidity management has a time domain and is commonly addressed through the short-term cash forecast or liquidity forecast. From APIs to machine learning (ML), newer technologies are being deployed that help leading organizations achieve the global visibility their companies require. This session will look at the progress of firms in their quest to achieve global visibility for their position and forecast and will further examine how automation must be leveraged for these tasks for all but the simplest of organizations.