In the ever-changing world of corporate finance, core responsibilities like payments and cash management must continually adapt to keep pace with developing initiatives, regulations and threats.
Survey Results: B2B Payments & WCM Strategies
Co-Presented with Bank of America Merrill Lynch & Bottomline Technologies
Date:     Thursday, June 7th, 2018
Time:     2:00PM – 3:00PM EST
Where:  This is an online event.
There is always a need to learn what treasury and payment professionals are planning to do. This year's B2B Payments & WCM Strategies Survey sought to do just that. We asked questions regarding what your current practices and perceptions are. We've been able to learn what banks and corporations are doing for their leading practices, priorities, and spend plans.
This session will cover high-level highlights from this survey and include some commentary from respected industry leaders as to what this means for you. 
1.2 CTP re-certification credits will be given for this webinar.
Download the deck from the webinar here:
If you encounter any issues with the replay or have inquiries about re-certification credits, please contact
our team
.
You may also be interested in:
Treasury is responsible for several crucial areas of finance including liquidity management. Managing liquidity requires clear visibility to all cash regardless of its location or currency (bank, country, currency, entity). This visibility can no longer be limited to a single point in time. Liquidity management has a time domain and is commonly addressed through the short-term cash forecast or liquidity forecast. From APIs to machine learning (ML), newer technologies are being deployed that help leading organizations achieve the global visibility their companies require. This session will look at the progress of firms in their quest to achieve global visibility for their position and forecast and will further examine how automation must be leveraged for these tasks for all but the simplest of organizations.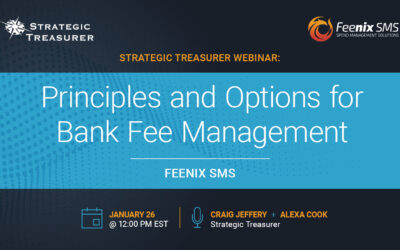 Managing bank fees through active monitoring of your analysis statements is typically on the to-do list but it rarely gets checked off as complete. Perhaps you are putting out a myriad of fires and the idea of getting out a magnifying glass to manually dig into your bank invoices is less than appealing. Is that something your team should even be doing? In this session we will help you understand the practical, operational, and strategic elements of effectively managing bank relationships and handling the mundane and vital process of managing expenses. This session will include a brief case study covering a multi-national corporation's review of global bank fees and strategic ongoing management of their bank relationships. Corporate practitioner takeaways will include: 1) ways to architect your bank fee management process and 2) benefits of bank fee analysis and benchmarking.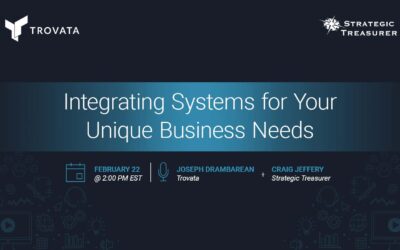 In this webinar, discover how banking APIs establish rails that automate the collation of your transaction data and the sending of payments information back and forth between your bank and cash automation platform, empowering your organization with automated cash management functionality and payments experience in one, all-inclusive solution.