In the ever-changing world of corporate finance, core responsibilities like payments and cash management must continually adapt to keep pace with developing initiatives, regulations and threats.
Survey Results: B2B Payments & WCM Strategies
Co-Presented with Bank of America Merrill Lynch & Bottomline Technologies
Date:     Thursday, June 7th, 2018
Time:     2:00PM – 3:00PM EST
Where:  This is an online event.
There is always a need to learn what treasury and payment professionals are planning to do. This year's B2B Payments & WCM Strategies Survey sought to do just that. We asked questions regarding what your current practices and perceptions are. We've been able to learn what banks and corporations are doing for their leading practices, priorities, and spend plans.
This session will cover high-level highlights from this survey and include some commentary from respected industry leaders as to what this means for you. 
1.2 CTP re-certification credits will be given for this webinar.
Download the deck from the webinar here:
If you encounter any issues with the replay or have inquiries about re-certification credits, please contact
our team
.
You may also be interested in: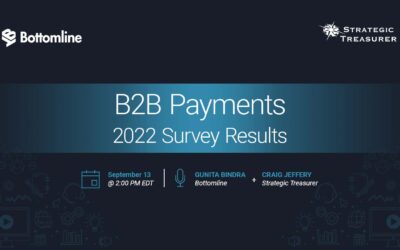 In 2022, the world of business payments faces continually developing threats, regulations, and priorities. In such a constantly changing environment, knowing what your peers are planning and doing can help you decide how to proceed and adapt. The B2B Payments Survey gathers data from treasury and finance professionals on payment challenges, security, technology, and complexity, probing global respondents on their plans, perceptions, and practices. This year's results yielded insights on payment fraud, innovative tech use, differences between organizations of different sizes and in different regions, and more. The webinar will present and discuss highlights from the survey results and key takeaways for banks and corporations.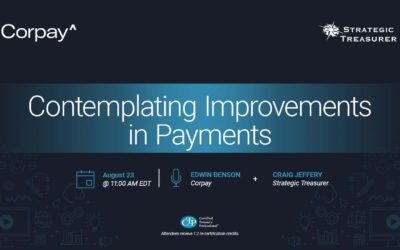 Given the technological and functionality changes in the payment space over the past five years, taking a fresh look at systems and services is in order. For those working to either optimize their current technology setup or looking to acquire new systems, gaining visibility and understanding of the newer functionality and the "art of the possible" is vital. This webinar will walk through the changing functionality and when/why this matters to organizations. Companies seek improved visibility, strengthened defenses against fraud, ability to scale, and reduced defects to drive efficiency. A leading technology provider and consultant will take attendees on a journey to payables improvements.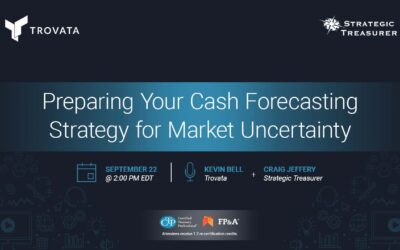 Companies today are bracing for an era of increasing market uncertainty, interest rate and pricing fluctuations, and possible recession. In such times, forecasting needs to become a priority. How can proactive treasurers prepare and strengthen their cash forecasting practices for future unknowns? In this webinar, Strategic Treasurer and Trovata discuss leading practices for crafting a strong cash forecasting strategy and offer steps that you can take now to put your treasury team in an advantageous position to handle whatever turbulence lies ahead.