Join Craig Jeffery of Strategic Treasurer and Vincent Beerman of Taulia for a webinar on overcoming challenges and ensuring liquidity through various levers.
Comprehensive Liquidity & Supply Chain Resiliency Webinar
Date:     Thursday, June 4, 2020
Times:   2:00-3:00 PM ET
Where:  This is an online event.

In this time of disruption due to COVID-19, liquidity concerns abound. The outlooks for accounts receivable and accounts payable are both deeply negative. As organizations rally to construct their response plans, their priorities are clear:
Keeping the business alive.
Keeping suppliers alive.
Securing more and better levers for success.
In this webinar, Craig Jeffery of Strategic Treasurer and Vincent Beerman of Taulia will discuss overcoming challenges and ensuring liquidity through various levers. Topics covered will include access to debt and capital markets, AP and AR forecasting and modeling, supply chain resiliency, enhancing organizational posture through flexibility, and more.
Download the webinar deck here:
You may also be interested in: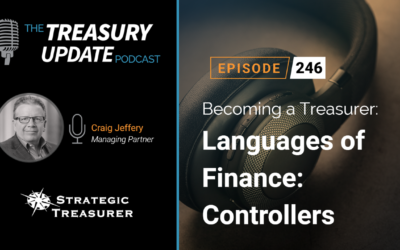 In the Language of Finance sub-series of the Becoming a Treasurer series, we will look into different terms that should be understood in order to communicate effectively with the rest of your treasury team and with others. In this episode, Craig Jeffery and Jason Campbell discuss some important questions regarding controllers. How does the language of a controller differ from the language of treasury? When do controllers, accounting groups, and treasury need to work together? Listen in to find out.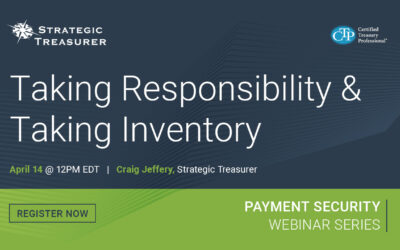 In an organization, who is responsible for payments? Who is responsible for payment security? This session will explain why the treasurer is the superintendent of payments and payment security. Since treasurers are not the only ones with important responsibilities for payments and security across the organization, these responsibilities must be more formally defined and communicated.
One of the first responsibilities of treasury with regard to payments is to inventory all payment flows (originating system and payment type). This provides the foundation for assessing your payment processes. When companies take these inventories, they are usually surprised to find they have 50% to 100% more payment flows than they originally thought. This session will discuss the process of finding and inventorying all payment flows to understand the exposure points.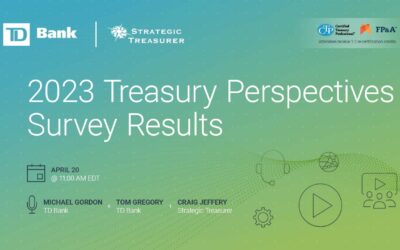 Strategic Treasurer and TD Bank's annual Treasury Perspectives Survey polls treasury and finance practitioners on their current perspectives, plans, and strategies on issues such as economic and geopolitical outlook, top concerns, credit use and availability, operations and benchmarks, staffing, regulation, bank relationship management, technology, and more. This webinar will cover key findings from the 2023 results and will discuss the primary implications of this data for organizations this year and beyond.