Join Craig Jeffery of Strategic Treasurer and Vincent Beerman of Taulia for a webinar on overcoming challenges and ensuring liquidity through various levers.
Comprehensive Liquidity & Supply Chain Resiliency Webinar
Date:     Thursday, June 4, 2020
Times:   2:00-3:00 PM ET
Where:  This is an online event.

In this time of disruption due to COVID-19, liquidity concerns abound. The outlooks for accounts receivable and accounts payable are both deeply negative. As organizations rally to construct their response plans, their priorities are clear:
Keeping the business alive.
Keeping suppliers alive.
Securing more and better levers for success.
In this webinar, Craig Jeffery of Strategic Treasurer and Vincent Beerman of Taulia will discuss overcoming challenges and ensuring liquidity through various levers. Topics covered will include access to debt and capital markets, AP and AR forecasting and modeling, supply chain resiliency, enhancing organizational posture through flexibility, and more.
Download the webinar deck here:
You may also be interested in: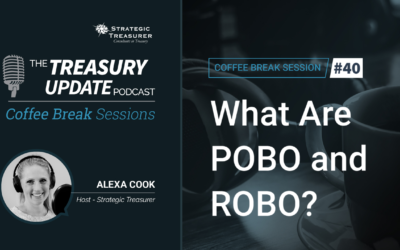 What are POBO and ROBO? This week on the Coffee Break Session, Host Alexa Cook catches up with Strategic Treasurer's Managing Partner, Craig Jeffery, to discuss how POBO and ROBO are used and how your business could benefit from implementing them. Listen to this bite-sized episode to learn more!
The technology landscape is changing rapidly. The amount of data is exploding both inside organizations and outside, and managing this data gracefully is challenging IT groups, finance at large and treasury. From improving visibility and leveraging existing IT investments to improving forecasting and achieving improved efficiency across treasury, the pressure continues to mount. The proper approach must contemplate an environment that supports rapid development, scalability, natural language search and massive amounts of data. In this initial session of the Digital Transformation Strategy series, we will explore the key factors impacting your role and how treasury needs to understand the developing trends and learn how to adapt to the era of big data and modern technology.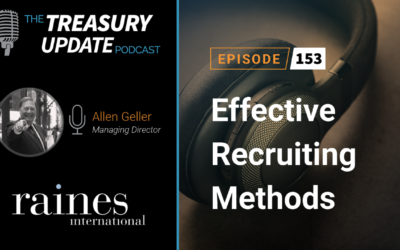 On this episode of the Treasury Update Podcast, Host Craig Jeffery sits down with Allen Geller, Managing Director of Raines International, for valuable insights on how to utilize recruiters to position treasurers and organizations for success. They discuss effective recruiting methods, the importance of diversity in the workplace, strategies for placement success and more. Listen in to learn how to maximize your potential in today's work environment.