The global economy requires the treasurer to understand the overall economic environment regardless of where the company operates (even if it's just one country).
How can treasury and supply chain teams respond effectively to the challenges ahead of them?
The New Corporate Cash Environment: Understanding Impacts on Financial Supply Chain & Cash Management
Co-Presented with SAP Ariba
Date:     Tuesday, March 20th, 2018
Time:     11:00AM – 12:00PM EST
Where:  This is an online event.
With changes in the tax rate structure creating a ripple of activities that affect the global economy, treasurers must take a more global outlook especially in looking at their cash management. These changes are affecting everything from tax repatriation to new investments. Rising interest rates (and expectations of the rates rising further from central banks) represent some of the challenges that are faced by treasurers.
This session will set a basis for understanding the impact of payment terms & dynamic discounting and include advice for the setup of the right type of governance. We will also touch on the optimization of corporate cash management through the financial supply chain and why it's not just about who you pay but the processes and costs of how you pay them.
1.2 CTP re-certification credits will be given for this webinar.
Download the deck from the webinar here:
If you encounter any issues with the webinar replay or have questions about credits, please contact
our team
.
You may also be interested in: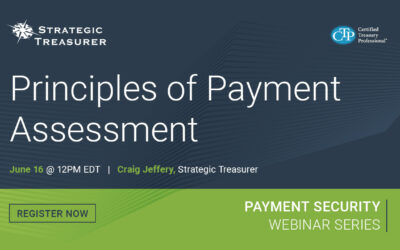 A formal assessment of a company's payment processes typically reveals 50-100% more payment processes than they believed they had. Every payment flow is a point of security exposure, and it is difficult to protect what you don't know exists. This webinar will discuss the principles of a payment assessment, offering practical insights and leading practices for completing a thorough inventory, formally documenting it for institutional knowledge, assessing controls and types of payment flows, and examining your organization's overall situation with regards to payments.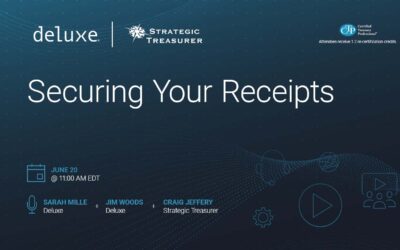 Securing inbound payments and outbound payments continues to be top of mind for many companies. The risks of fraud and data breaches are at elevated levels and continue to rise. In 2022, 65% of financial professionals reported they were victims of either attempted or actual fraud. Fraud considerations on the receivables side are too often ignored or minimized. Securing inbound payments is vital.
This session will explore how you can assess the security processes and standards for payments flowing in through your lockboxes (paper and electronic). What are the common issues that create problems? How can these issues be controlled or mitigated? New security standards are needed to provide reasonable care and control over your inbound payments.
In this webinar, you'll learn:
-Top considerations to keep in mind when designing an inbound payment process and evaluating services.
-Security questions to know and answers that are required.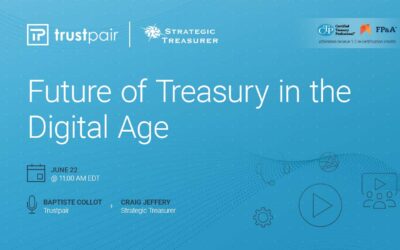 The digital age is here and is helping to remake business generally and treasury specifically. While the digital age is bringing us immense increases in data, nearly unlimited scale of computing power, faster expectations for business processes, and growth and power of networks and service-oriented functionalities, payment fraud continues to pose a threat. Although criminals are taking advantage of the digital age to defraud companies, the use of technology is a massive benefit to those who use it effectively. This webinar will discuss treasury's situation and several imperatives: leveraging the technology for flexibility, insight, visibility, efficiency, and control, as well as the need to scale up defensive technology and tactics to combat fraud.