Banks and fintech-oriented trade firms both vie for attention for corporate treasurers and have approached the relationship from different positions of strength.
Resolving the lack of available capital takes more than just a consideration of the core payables and receivables processes.
Digitalization of Trade Finance: Opportunities for Banks and Corporates
Co-Presented with Finastra
Date: Tuesday, March 27th, 2018
Time: 2:00PM – 3:00PM EST
Where: This is an online event.
Many organizations have significant amounts of capital tied up in their trade finance processes. In order to resolve this, it requires an analysis of one's technology infrastructure. What efficiencies can be gained through digitalization of an organization's trade processes? What obstacles are slowing change in this area and how can they be overcome? It is possible that reading more about digital transformation would prove to be wise.
This panel-type session will explore how newer digital tools and approaches represent an opportunity to optimize working capital management through an expanded perspective of trade finance.
1.2 CTP re-certification credits will be given for this webinar.
Download the deck from the webinar here:
If you encounter any issues with the replay or have questions regarding credits, please contact our team.
You may also be interested in: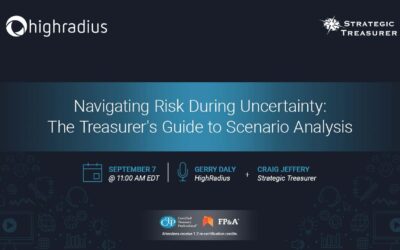 During uncertain times, treasury teams must be on the frontlines to plan for business continuity by monitoring external factors such as seasonality, currency fluctuations, and broad economic indicators. Forecasting cash flow and strategic planning have never been more important.
A mature scenario analysis process is crucial to successfully mapping a course of action in this fluid environment. This strategic approach allows treasury accurate insight into how crises will play out and how your environment and key factors may change over time.
Key Takeaways:
Understand the impact of scenario analysis while preparing a cash forecast.
Learn how to examine the business levers available under best-case and worst-case scenarios.
Know how to leverage predictive analytics to generate reliable scenario models.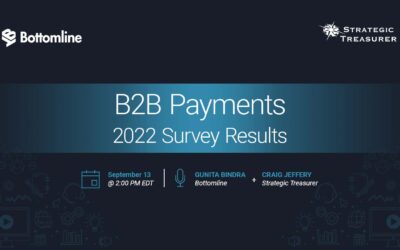 In 2022, the world of business payments faces continually developing threats, regulations, and priorities. In such a constantly changing environment, knowing what your peers are planning and doing can help you decide how to proceed and adapt. The B2B Payments Survey gathers data from treasury and finance professionals on payment challenges, security, technology, and complexity, probing global respondents on their plans, perceptions, and practices. This year's results yielded insights on payment fraud, innovative tech use, differences between organizations of different sizes and in different regions, and more. The webinar will present and discuss highlights from the survey results and key takeaways for banks and corporations.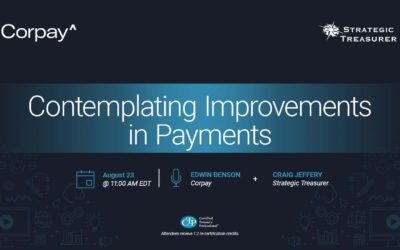 Given the technological and functionality changes in the payment space over the past five years, taking a fresh look at systems and services is in order. For those working to either optimize their current technology setup or looking to acquire new systems, gaining visibility and understanding of the newer functionality and the "art of the possible" is vital. This webinar will walk through the changing functionality and when/why this matters to organizations. Companies seek improved visibility, strengthened defenses against fraud, ability to scale, and reduced defects to drive efficiency. A leading technology provider and consultant will take attendees on a journey to payables improvements.