Banks and fintech-oriented trade firms both vie for attention for corporate treasurers and have approached the relationship from different positions of strength.
Resolving the lack of available capital takes more than just a consideration of the core payables and receivables processes.
Digitalization of Trade Finance: Opportunities for Banks and Corporates
Co-Presented with Finastra
Date: Tuesday, March 27th, 2018
Time: 2:00PM – 3:00PM EST
Where: This is an online event.
Many organizations have significant amounts of capital tied up in their trade finance processes. In order to resolve this, it requires an analysis of one's technology infrastructure. What efficiencies can be gained through digitalization of an organization's trade processes? What obstacles are slowing change in this area and how can they be overcome? It is possible that reading more about digital transformation would prove to be wise.
This panel-type session will explore how newer digital tools and approaches represent an opportunity to optimize working capital management through an expanded perspective of trade finance.
1.2 CTP re-certification credits will be given for this webinar.
Download the deck from the webinar here:
If you encounter any issues with the replay or have questions regarding credits, please contact our team.
You may also be interested in: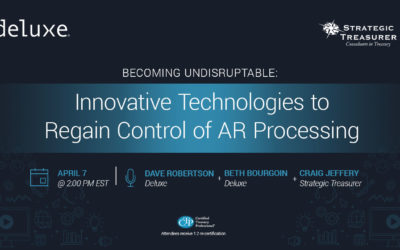 Join Deluxe Corporation's Managing Director Dave Robertson and Accredited ACH Professional Beth Bourgoin and Strategic Treasurer's Craig Jeffery for a webinar that will discuss how Artificial Intelligence and other innovative new technologies are helping forward-thinking corporations regain control of their AR processes and protect their day-to-day operations by making them "undisruptable."