Join Strategic Treasurer and GTreasury for a live discussion providing a rapid assessment of the areas adding to the pain of payments and explore how to address these issues at the root level.
Reducing the PAIN of Payments Webinar
Co-presented by GTreasury

Date:     Tuesday, April 30, 2019
Time:     11:00AM – 12:00PM EST
Where:  This is an online event.

Join Strategic Treasurer and GTreasury for a live discussion as we assess several core treasury pain points for B2B payments and explore methods for solving these issues at the root level. This session will shed light on how to optimize manual payment workflows, manage current and emerging security and compliance demands, and solve global connectivity challenges. We will also include relevant case studies to highlight examples of how companies are overcoming these core payment challenges today.
1.2 CTP credits will be given for attendance to this live webinar.
Download the deck from the webinar here:
You may also be interested in: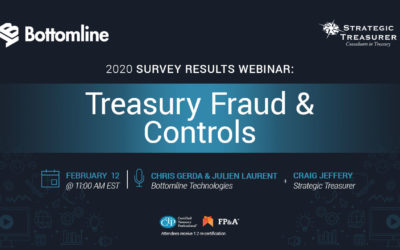 This webinar covers the results and provides insights into the 2020 Treasury Fraud and Controls Survey. This survey's purpose was to evaluate the current and projected impact of fraud on the finance and treasury environment. Practitioners were polled on their experiences with fraud and on the range of controls, safeguards, and security practices employed to protect their financial assets and information. The data was compiled and is used to educate the industry as to how the fraud landscape is evolving, and how practitioners can better protect themselves and their organizations against attacks.