Join Craig Jeffery of Strategic Treasurer and Jörg Wiemer and Jonathan Paquette of TIS as they discuss improving treasury and payments during the recovery.
Improving Treasury & Payments During the Recovery Webinar
Date:     Thursday, June 18, 2020
Time:    11:00 AM-12:00 PM EDT
Where:  This is an online event.
As organizations shift at different times into recovery mode, the insights gained into treasury issues and payment challenges create a natural list of opportunities. Exposures to payment security were highlighted during the work from home (WFH) environment. Mitigating controls were added to protect the process. Fraud attempts and cyber-attacks continue to grow more sophisticated and were already requiring a more robust process. As we move into the recovery phase, the opportunity to strengthen payment processes represents a significant opportunity and requirement for treasury and payment professionals.
Join Craig Jeffery of Strategic Treasurer and Jörg Wiemer and Jonathan Paquette of TIS as they discuss risks in the payment processes, responses to the threats by your peers from recent survey data, and actions, and processes to improve payment activity and compliance.
Download the webinar deck here:
You may also be interested in: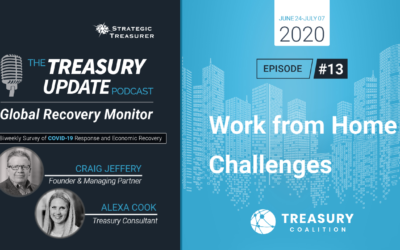 Craig Jeffery and Alexa Cook cover the 12th period results from the Global Recovery Monitor. Top headlines include significant challenges in the work from home environment, vendor payments slowing down, organizational outlook on liquidity positions, economic improvements, and health and financial normalcy.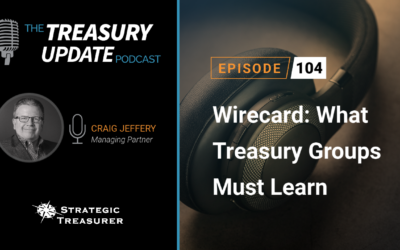 Special Host Meredith Zonsius interviews the author of The Strategic Treasurer: A Partnership for Corporate Growth, Craig Jeffery, on the Wirecard scandal. They discuss what led to this event, the early warning signs, and what treasury groups and C-Suite executives should learn from this situation.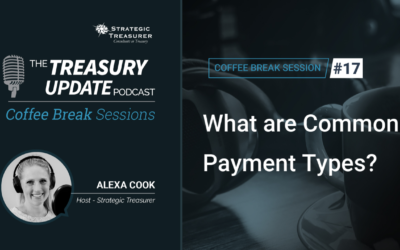 Coffee Break Session Host Alexa Cook talks with Stephanie Villatoro, Senior Consultant at Strategic Treasurer, to discuss how common payment types have changed over the last few decades, the various shifts taking place across the corporate's use of them today, and more.