Survey Results: Liquidity Risk
Co-Presented with Capital Advisors Group
Date:     Thursday, July 12th, 2018
Time:     2:00PM – 3:00PM EST
Where:  This is an online event.
This survey results webinar will cover a wide range of topics and trends on liquidity risk mitigation practices. As one of our oldest running surveys, we are able to provide valuable year-over-year data that shows major and minor shifts in corporate risk mitigation strategies and predict future trends. Join us as we take a look at how macroeconomic changes and new regulations continue to impact all treasury professionals as they approach business decisions.
This session will cover high-level highlights from this survey and include some commentary from respected industry leaders as to what this means for you. 
1.2 CTP and FP&A re-certification credits will be given for this webinar.
Download the deck from the webinar here:
If you encounter any issues with registration or during the webinar, please contact our team. It can take a few minutes for the confirmation email to come through.
You may also be interested in:
A first principle is a basic assumption that cannot be reduced further. First principles thinking involves deconstruction (breaking down complicated problems into basic elements) and then reconstruction (reassembling them) in order to make better decisions, processes and systems. Join Strategic Treasurer and HighRadius for a webinar on how using this type of thinking can transform treasury.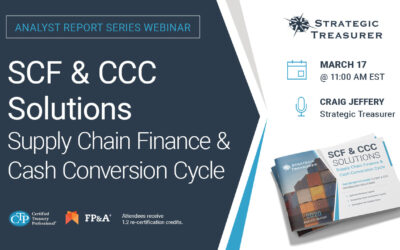 The cash conversion cycle (CCC) and working capital management often come with a variety of pain points for treasury. In this webinar, we discuss several types of solutions that address these pain points, notably supply chain finance (SCF) solutions and those addressing various portions of the CCC. We will discuss the relevance of these solutions in business continuity planning and times of disruption and volatility, the various SCF models, the navigation of supplier participation issues, the problem of competing KPIs within the CCC, and the use of working capital councils to improve these areas and implement solutions.