Survey Results: Liquidity Risk
Co-Presented with Capital Advisors Group
Date:     Thursday, July 12th, 2018
Time:     2:00PM – 3:00PM EST
Where:  This is an online event.
This survey results webinar will cover a wide range of topics and trends on liquidity risk mitigation practices. As one of our oldest running surveys, we are able to provide valuable year-over-year data that shows major and minor shifts in corporate risk mitigation strategies and predict future trends. Join us as we take a look at how macroeconomic changes and new regulations continue to impact all treasury professionals as they approach business decisions.
This session will cover high-level highlights from this survey and include some commentary from respected industry leaders as to what this means for you. 
1.2 CTP and FP&A re-certification credits will be given for this webinar.
Download the deck from the webinar here:
If you encounter any issues with registration or during the webinar, please contact
our team
. It can take a few minutes for the confirmation email to come through.
You may also be interested in: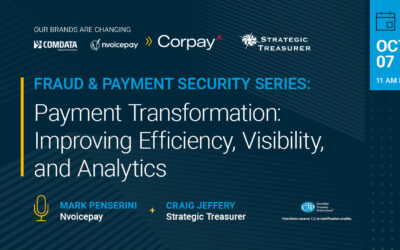 Changing expectations, developing technology and new payment rails all add to the value proposition for engaging in payment transformation. Transformation is occurring separately in individual areas (AP, Treasury, Operating Areas) and on an organizational-wide basis. This session covers some of the key drivers of payment transformation: demands for improved process efficiency; a broader view that includes internal areas and counterparties; risk management and fraud prevention; timeliness. Making payments faster addresses a speed concern. Making payments better might streamline the communication of payment information between partners more efficiently. Making payments more secure has become an executive demand. Payment transformation doesn't look at these elements in isolation or with a one-size-fits all. This fast-paced discussion will cover how organizations can develop and implement a comprehensive transformation of their payment processes and technology.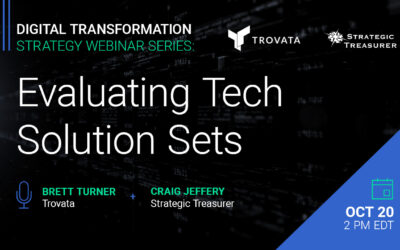 Technology solution selection projects are high stakes: Select and appropriately implement the right solution for your needs, and your company has a powerful tool to leverage for years to come – but the wrong solution for your company can ultimately become a long-term problem. The good news is that with the number of choices on the market today, there is a good fit for every customer. Finding that good fit, however, can be difficult. This webinar will outline the methods and mindsets needed for understanding your needs, evaluating the solutions on the market, and discovering which one can best help you and your team excel for years to come.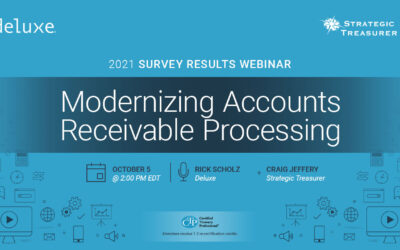 This webinar will cover and provide insights on the results of the 2021 Modernizing AP & AR Processes Survey, specifically focused on the accounts receivable (AR) data. The survey examined various practices and plans, the influence of recent disruptions, and pain points and other drivers for modernizing and automating AP and AR processes.