Survey Results: Liquidity Risk
Co-Presented with Capital Advisors Group
Date:     Thursday, July 12th, 2018
Time:     2:00PM – 3:00PM EST
Where:  This is an online event.
This survey results webinar will cover a wide range of topics and trends on liquidity risk mitigation practices. As one of our oldest running surveys, we are able to provide valuable year-over-year data that shows major and minor shifts in corporate risk mitigation strategies and predict future trends. Join us as we take a look at how macroeconomic changes and new regulations continue to impact all treasury professionals as they approach business decisions.
This session will cover high-level highlights from this survey and include some commentary from respected industry leaders as to what this means for you. 
1.2 CTP and FP&A re-certification credits will be given for this webinar.
Download the deck from the webinar here:
If you encounter any issues with registration or during the webinar, please contact
our team
. It can take a few minutes for the confirmation email to come through.
You may also be interested in: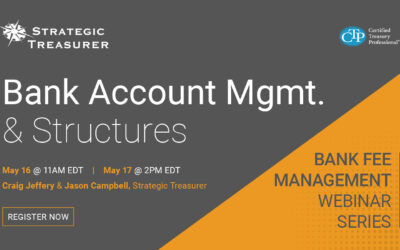 Continuing the series on bank relationship management, we transition now to bank account management and structures. Properly designing the cash management structures is vital for operational efficiency and control. Banking structures, for most corporations, will include multiple banks, and several longstanding principles and techniques are being supplemented with new structures. Turmoil in the banking sector has caused a revival for operational backup structures to strengthen the risk management footing of the organization. Additionally, the process and tools of bank account management can look notably different depending upon the organization's complexity and size. This session will highlight many of the key details from both of these components.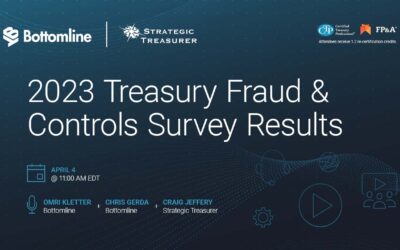 The Treasury Fraud and Controls Survey studies the current state of fraud experience, security
measures, and plans for the future. The 2023 results provide valuable data on multiple elements
impacting corporate fraud and security, including most commonly experienced fraud types, trends in
control measures and training policies, investment plans for prevention and detection technology, and
more. This webinar will highlight and discuss some of the key findings from this year's research, covering
topics such as the following:
• Views of the fraud threat level and corporate security position
• Fraud types and rates of loss and attack
• Security practices and controls employed
• Types of cyber security technology currently employed
• Expected investments in security & fraud prevention technology