Join Craig Jeffery of Strategic Treasurer and Stacey Lloyd-Jones of ION Treasury for a webinar on how to make your case to transition to a TMS.
Making the Move Webinar
Date:     Wednesday, May 20, 2020
Times:     2:00-3:00 PM ET
Where:  This is an online event.

A massive number of firms do not use a TMS. For larger firms the number is less than 20%. But, as we look at firms of smaller revenue that percentage rises rapidly and exceeds 80% for those sitting between $100mm to $500mm in turnover. This reality used to make sense given the level of effort and cost to install and maintain these systems. The radical change in technology and delivery methods over time have altered the calculus in ways that is leading to a democratization of treasury technology. Smaller revenue size doesn't necessarily mean a lack of complexity.
This webinar will cover five items to include in your case for moving from Excel to a TMS. We will also characterize the need for this move and will cover the requirements, concerns, and challenges firms may have.
1.2 CTP re-certification credits will be given for attendance to this live webinar.
Download the webinar deck here:
You may also be interested in: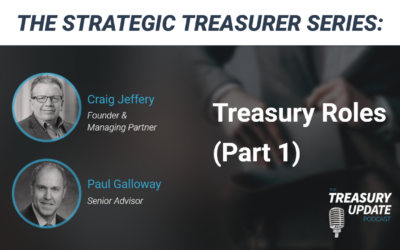 Treasury has many responsibilities. Some are highly operational and important, while others require a strategic outlook with a focus on relationship management and foresight. In this four-part series, we look at the strategic, operational, and hybrid roles of treasury. Listen in as Craig Jeffery and Paul Galloway of Strategic Treasurer kick off this new series.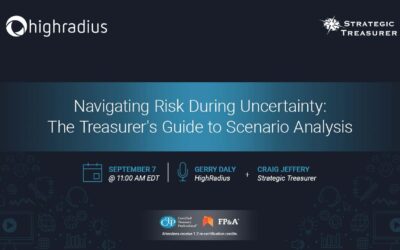 During uncertain times, treasury teams must be on the frontlines to plan for business continuity by monitoring external factors such as seasonality, currency fluctuations, and broad economic indicators. Forecasting cash flow and strategic planning have never been more important.
A mature scenario analysis process is crucial to successfully mapping a course of action in this fluid environment. This strategic approach allows treasury accurate insight into how crises will play out and how your environment and key factors may change over time.
Key Takeaways:
Understand the impact of scenario analysis while preparing a cash forecast.
Learn how to examine the business levers available under best-case and worst-case scenarios.
Know how to leverage predictive analytics to generate reliable scenario models.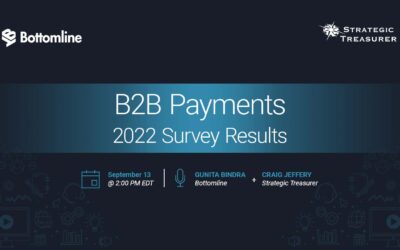 In 2022, the world of business payments faces continually developing threats, regulations, and priorities. In such a constantly changing environment, knowing what your peers are planning and doing can help you decide how to proceed and adapt. The B2B Payments Survey gathers data from treasury and finance professionals on payment challenges, security, technology, and complexity, probing global respondents on their plans, perceptions, and practices. This year's results yielded insights on payment fraud, innovative tech use, differences between organizations of different sizes and in different regions, and more. The webinar will present and discuss highlights from the survey results and key takeaways for banks and corporations.