Join Craig Jeffery of Strategic Treasurer and Dave Robertson for a webinar on the latest insights on AP/AR processing.
Modernizing AP/AR Processing: 2020 Survey Results Webinar
Date:     Tuesday, September 22, 2020
Time:    11:00 AM – 12:00 PM ET
Where:  This is an online event.

Join Craig Jeffery of Strategic Treasurer and Dave Robertson of Deluxe as they share insights from the recent 2020 Modernizing AP/AR Processes Survey. The survey examined various practices and plans, the influence of recent disruptions, and pain points and other drivers for modernizing and automating AP and AR processes.
Areas of analysis include:
Impact of COVID-19 on making and receiving payments
Findings in current environment related to a remote workforce and business continuity
The biggest pain points of operating in this environment
Migration goals and impediments to achieving them
Commitment and challenges to migrate to more digital AP/AR processes
Download the webinar deck here:
Download the Results Report
With your help, we have been able to put a spotlight on AP and AR, uncovering insights on the progress of digitization; breadth of the process view in the organization out to trading partners; technology adoption; plans to spend; movement to outsourcing; and key drivers for each area. Download the results today!
You may also be interested in: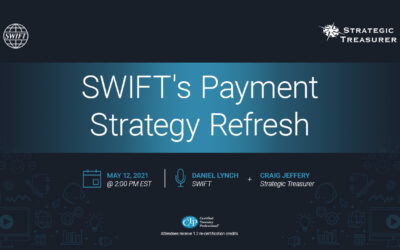 SWIFT has significantly enhanced its vision and strategy moving from a messaging platform to a transaction management partner. Intelligent adaptation has helped SWIFT adapt over time. Changes in payment and messaging platforms are impacting many companies. Hear how the new payment strategy can influence your understanding of payments whether you are a treasury or payments professional. This has applicability to SWIFT members and those not on the network. This covers even if you aren't a SWIFT member. APIs, pre-validation, etc. help us to contemplate the new world of control, payments and what is new at SWIFT.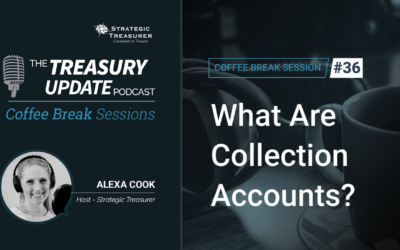 What are collection accounts? On this episode of the Coffee Break Sessions, Host Alexa Cook catches up with Strategic Treasurer's Managing Partner, Craig Jeffery. They discuss what treasury needs to know about collection accounts, including what they are used for and who typically manages them. Listen in and learn a little bit about collection accounts.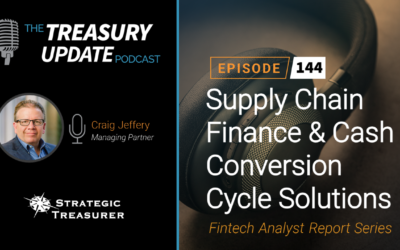 In this final segment of the Treasury Update Podcast's Fintech Analyst Report Series, Special Host Meredith Zonsius joins Managing Partner Craig Jeffery to discuss key takeaways from the Supply Chain Finance & Cash Conversion Cycle Solutions Report. Topics of discussion center around factors that affect and drive supply chain finance, today's challenges and solutions, leading practices and more.