Newer technologies, including artificial intelligence (AI), are empowering businesses to analyze cash flows across the supply chain in a different manner.
SCF Innovation: Using AI to Optimize Liquidity
Co-Presented with Taulia
Date:     Tuesday, July 17th, 2018
Time:     11:00AM – 12:00PM EST
Where:  This is an online event.
Cash and liquidity management has long been a top priority for treasury. Expectations have expanded to include visibility past their own cash positions and funding strategies to cash flows of their suppliers. This expanded view traditionally requires extensive manual effort by treasury. By leveraging the power of AI to analyze vast quantities of 3rd party and supplier data, treasury teams are able to determine which suppliers will take early payment, as well as the optimal time and rates to use. AI can also determine the proper mix of self-funding and third-party cash to employ resulting in better decisions yielding smarter lower risk investments and increasing yield or deploying third-party cash to improve working capital usage.
This session will provide an overview of supply chain finance and treasury's role within the cash conversion process and then dive into how new technologies and services are providing better insights, expanded automation, and operational efficiency for organizations. 
1.2 CTP and FP&A re-certification credits will be given for this webinar.
Download the deck from the webinar here:
If you encounter any issues with registration or during the webinar, please contact our team. It can take a few minutes for the confirmation email to come through.
You may also be interested in: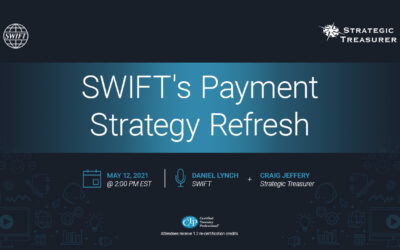 SWIFT has significantly enhanced its vision and strategy moving from a messaging platform to a transaction management partner. Intelligent adaptation has helped SWIFT adapt over time. Changes in payment and messaging platforms are impacting many companies. Hear how the new payment strategy can influence your understanding of payments whether you are a treasury or payments professional. This has applicability to SWIFT members and those not on the network. This covers even if you aren't a SWIFT member. APIs, pre-validation, etc. help us to contemplate the new world of control, payments and what is new at SWIFT.