Some organizations only care about the ROI calculation as part of a business case.
Treasury, being financially disciplined, makes sure to have financially defensible elements in their financial section of their business case. 
Securing Treasury Technology: Using ROI to Pave the Way
Quarterly Technology Webinar
Date:     Tuesday, March 13th, 2018
Time:     2:00PM – 3:00PM EST
Where:  This is an online event.
Even though many organizations only care about the return on investment (ROI), but they never revist it. Treasurers rarely toot their own horn about achieving or exceeding promised ROI. During this webinar, we will examine vital financial benefits derived from both strategic and operational changes made possible with modern technology. It will cover some leading practices and preventable pitfalls others have made while making the case for treasury technology.
This fast-paced session will provide you with tools to improve how you "make the case" for technology.
1.2 CTP and FP&A re-certification credits will be given for this webinar.
<iframe class='sproutvideo-player' src='//videos.sproutvideo.com/embed/1c9adfb51a1ee4cf94/fe9b4a4d185976a1' width='630' height='354' frameborder='0' allowfullscreen></iframe>
Download the deck from the webinar here:
You may also be interested in: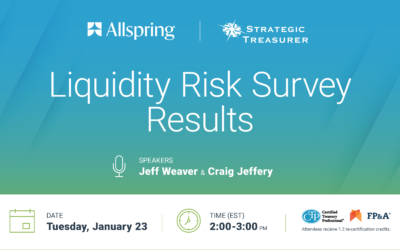 The Liquidity Risk Survey was first run in 2011, probing treasury and finance practitioners on their views surrounding managing liquidity, investing, borrowing, and various risks. This webinar will cover highlights from the survey's most recent iteration. With a total of 11 years of longitudinal data, the webinar will consider shifts over time in areas such as counterparty exposure monitoring, investment vehicle use, ESG programs, the relative prioritization of safety, liquidity, and yield, and more.
The treasury management system (TMS) automates and streamlines treasury's core tasks, forming a central dashboard for the treasury function and freeing staff for more strategic work. Recent years have seen some TMS vendors expanding into enterprise-wide solutions for tracking and managing liquidity, giving rise to the distinct enterprise liquidity management (ELM) category. From the basic TMS to the highly advanced TMS and the more comprehensive ELM system, each solution serves a segment of treasury departments. This webinar will cover the current TMS and ELM landscapes, innovations, and leading practices for selection and implementation.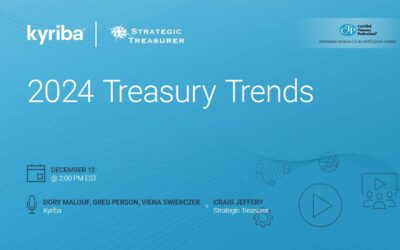 2023 is coming to a close with notable upheaval. Significant wars continue in Europe and the Middle East; central banks have increased borrowing costs to the highest rate in well over a decade; inflation has pulled back from the peak but remains above targets; borrowing costs and access to capital have tightened; FX risks remain elevated; and many CFOs are exhibiting increased caution. Several questions come up as we consider the outlook for 2024:
• How will companies need to respond to this greater recognition of the risk level?
• Are companies going to leverage their balance sheet for liquidity and supporting their trading partners?
• How does technology fit into the picture as an enabler of overhead scalability and financial resiliency?
Join this fast-paced panel discussion about the volatility of the environment and how corporate treasurers expect to manage through these more turbulent times.