Some organizations only care about the ROI calculation as part of a business case.
Treasury, being financially disciplined, makes sure to have financially defensible elements in their financial section of their business case. 
Securing Treasury Technology: Using ROI to Pave the Way
Quarterly Technology Webinar
Date:     Tuesday, March 13th, 2018
Time:     2:00PM – 3:00PM EST
Where:  This is an online event.
Even though many organizations only care about the return on investment (ROI), but they never revist it. Treasurers rarely toot their own horn about achieving or exceeding promised ROI. During this webinar, we will examine vital financial benefits derived from both strategic and operational changes made possible with modern technology. It will cover some leading practices and preventable pitfalls others have made while making the case for treasury technology.
This fast-paced session will provide you with tools to improve how you "make the case" for technology.
1.2 CTP and FP&A re-certification credits will be given for this webinar.
<iframe class='sproutvideo-player' src='//videos.sproutvideo.com/embed/1c9adfb51a1ee4cf94/fe9b4a4d185976a1' width='630' height='354' frameborder='0' allowfullscreen></iframe>
Download the deck from the webinar here:
You may also be interested in: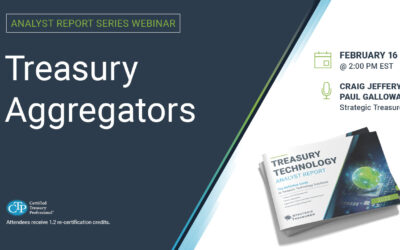 Treasury departments require massive amounts of connectivity both to internal and external groups. As the company meets with changes and growth, these connectivity needs result in heightened complexity. From payment types and formats to compliance and fraud, this complexity can become overwhelming for treasury staff. This webinar will discuss how treasury aggregators (TA) address these pain points by supporting efficient and controlled operations even in the midst of complexity. Additional topics will include the role of a treasury aggregator within the larger treasury technology landscape, factors affecting the future of aggregation, and leading practices for successfully implementing a TA.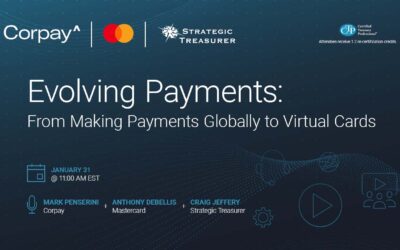 The payments landscape has been evolving more rapidly of late. Handling these changes has been a significant challenge, but newer payment types have also brought new opportunities and benefits. This session will cover the experiences, expectations, and plans of payment and treasury professionals. Companies are adapting in order to better manage payments across a range of geographies and currencies. Meanwhile, the scope and scale of fraud has sped the rise of virtual cards. This session will expand on the results and implications of two payment-related surveys.