Fraud is consistently a problem that treasury is concerned about.
We conducted a survey to find about what your peers are doing to prevent fraud and how it affects them. 
Survey Results: Treasury Fraud & Controls
Co-Presented with Bottomline Technologies
Date:     Thursday, April 26th, 2018
Time:     11:00AM – 12:00PM EST
Where:  This is an online event.
This year's Treasury Fraud & Controls Survey asked questions about a broad range of current practices and sought to determine future methods of preventing fraud. We also asked about the controls system for treasury. With responses from over 300 corporations and banks, we have a complete view of the state of fraud in treasury.
This session will cover high-level highlights from this survey and include some commentary from respected industry leaders as to what this means for you. Plus, get exclusive access to the results of this survey! 
1.2 CTP and FP&A re-certification credits will be given for this webinar.
Download the deck from the webinar here:
If you encounter any issues with the replay or have questions regarding credits, please contact
our team
.
You may also be interested in: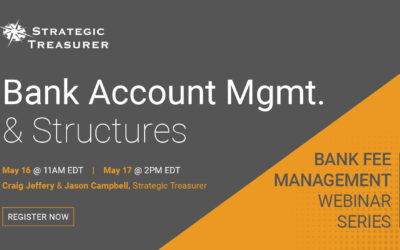 Continuing the series on bank relationship management, we transition now to bank account management and structures. Properly designing the cash management structures is vital for operational efficiency and control. Banking structures, for most corporations, will include multiple banks, and several longstanding principles and techniques are being supplemented with new structures. Turmoil in the banking sector has caused a revival for operational backup structures to strengthen the risk management footing of the organization. Additionally, the process and tools of bank account management can look notably different depending upon the organization's complexity and size. This session will highlight many of the key details from both of these components.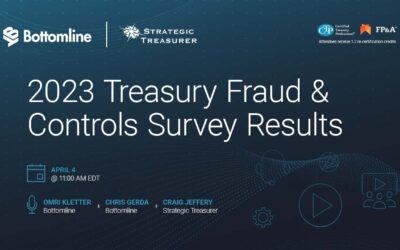 The Treasury Fraud and Controls Survey studies the current state of fraud experience, security
measures, and plans for the future. The 2023 results provide valuable data on multiple elements
impacting corporate fraud and security, including most commonly experienced fraud types, trends in
control measures and training policies, investment plans for prevention and detection technology, and
more. This webinar will highlight and discuss some of the key findings from this year's research, covering
topics such as the following:
• Views of the fraud threat level and corporate security position
• Fraud types and rates of loss and attack
• Security practices and controls employed
• Types of cyber security technology currently employed
• Expected investments in security & fraud prevention technology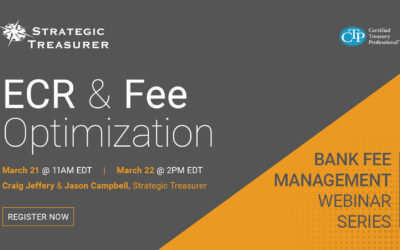 Companies are well-served by understanding the competitive position of interest rates, ECR, and bank fees in times of stability. It is far more urgent in times of rapid change and high volatility that treasury groups monitor this activity more closely and secure competitive rates quickly.   As the steward of good bank management, today's treasurer wants to feel confident that the team is optimizing bank relationships, including fee structure. Being armed with data allows you to have a reasonable discussion with your banker about the overall compensation you are providing them. Any relationship with your bank includes a number of crucial factors, and not just fees alone. Key factors include the level of credit extended; advice and guidance provided; services and service level delivered; commitment to the relationship; fees, rates, and overall compensation. Strategic Treasurer's series on bank fee management will educate the profession on the following: Fair transparent market pricing and data for reasonable discussions with your banks.Tracking ECR to make good investment/budget decisions.How has ECR been changing generally and with the rates paid to banks?How delayed ECR movements or shifts are, if at all?Optimizing your service lineup for efficiency and controls.Reducing fees by eliminating unnecessary services.Ensuring fee spend matches banking priorities (share of wallet).