Fraud is consistently a problem that treasury is concerned about.
We conducted a survey to find about what your peers are doing to prevent fraud and how it affects them. 
Survey Results: Treasury Fraud & Controls
Co-Presented with Bottomline Technologies
Date:     Thursday, April 26th, 2018
Time:     11:00AM – 12:00PM EST
Where:  This is an online event.
This year's Treasury Fraud & Controls Survey asked questions about a broad range of current practices and sought to determine future methods of preventing fraud. We also asked about the controls system for treasury. With responses from over 300 corporations and banks, we have a complete view of the state of fraud in treasury.
This session will cover high-level highlights from this survey and include some commentary from respected industry leaders as to what this means for you. Plus, get exclusive access to the results of this survey! 
1.2 CTP and FP&A re-certification credits will be given for this webinar.
Download the deck from the webinar here:
If you encounter any issues with the replay or have questions regarding credits, please contact our team.
You may also be interested in: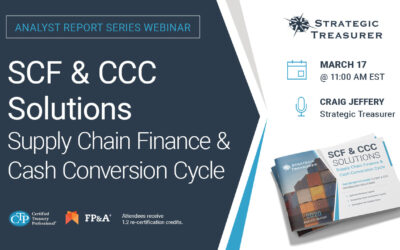 The cash conversion cycle (CCC) and working capital management often come with a variety of pain points for treasury. In this webinar, we discuss several types of solutions that address these pain points, notably supply chain finance (SCF) solutions and those addressing various portions of the CCC. We will discuss the relevance of these solutions in business continuity planning and times of disruption and volatility, the various SCF models, the navigation of supplier participation issues, the problem of competing KPIs within the CCC, and the use of working capital councils to improve these areas and implement solutions.