Fraud is consistently a problem that treasury is concerned about.
We conducted a survey to find about what your peers are doing to prevent fraud and how it affects them. 
Survey Results: Treasury Fraud & Controls
Co-Presented with Bottomline Technologies
Date:     Thursday, April 26th, 2018
Time:     11:00AM – 12:00PM EST
Where:  This is an online event.
This year's Treasury Fraud & Controls Survey asked questions about a broad range of current practices and sought to determine future methods of preventing fraud. We also asked about the controls system for treasury. With responses from over 300 corporations and banks, we have a complete view of the state of fraud in treasury.
This session will cover high-level highlights from this survey and include some commentary from respected industry leaders as to what this means for you. Plus, get exclusive access to the results of this survey! 
1.2 CTP and FP&A re-certification credits will be given for this webinar.
Download the deck from the webinar here:
If you encounter any issues with the replay or have questions regarding credits, please contact our team.
You may also be interested in: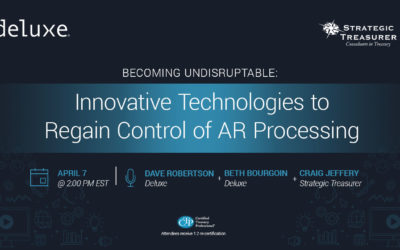 Join Deluxe Corporation's Managing Director Dave Robertson and Accredited ACH Professional Beth Bourgoin and Strategic Treasurer's Craig Jeffery for a webinar that will discuss how Artificial Intelligence and other innovative new technologies are helping forward-thinking corporations regain control of their AR processes and protect their day-to-day operations by making them "undisruptable."