Join Craig Jeffery of Strategic Treasurer and Tom Gregory of TD Bank for a webinar on the results from our 2020 Treasury Perspectives survey.
Treasury Perspectives: 2020 Survey Results Webinar
Date:     Thursday, October 1, 2020
Time:    11:00 AM – 12:00 PM ET
Where:  This is an online event.

This live presentation covers the results and provides insights to the 2020 Treasury Perspectives survey. This survey polled practitioners regarding their perspectives, plans and strategies, their outlook on the economy, key operational challenges impacting their companies, and how they manage relationships with banks and secure favorable credit terms / access to capital. 
Join Strategic Treasurer and TD Bank as we discuss the primary implications of this data for organizations in 2020 and beyond, and elaborate on how shifting economic, technology, and regulatory landscapes will impact treasury groups.
1.2 CTP re-certification credits will be given for attendance to this live webinar.
Download the webinar deck here:
[wpforms id="29098″ title="false" description="false"]
You may also be interested in: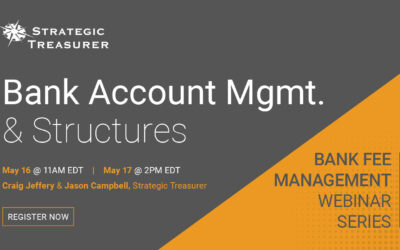 Continuing the series on bank relationship management, we transition now to bank account management and structures. Properly designing the cash management structures is vital for operational efficiency and control. Banking structures, for most corporations, will include multiple banks, and several longstanding principles and techniques are being supplemented with new structures. Turmoil in the banking sector has caused a revival for operational backup structures to strengthen the risk management footing of the organization. Additionally, the process and tools of bank account management can look notably different depending upon the organization's complexity and size. This session will highlight many of the key details from both of these components.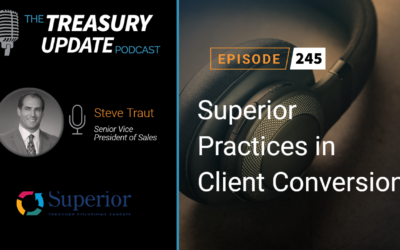 In this episode of the podcast, Craig Jeffery of Strategic Treasurer and Steve Traut, SVP of Sales at Superior Press, have a discussion on best practices in client conversion. Steve walks us through several client conversion case studies.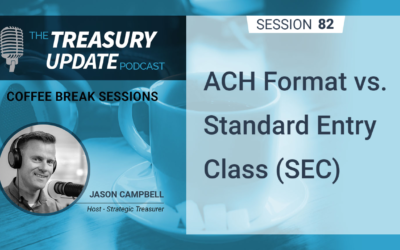 What is the difference between ACH format and Standard Entry Class? Coffee Break Session Host Jason Campbell catches up with Strategic Treasurer's Managing Partner, Craig Jeffery, to discuss what these are, the relationship between them, requirements, and the importance of data recording. Listen in and learn a little bit about ACH format vs. SEC.