Join Craig Jeffery of Strategic Treasurer and Tom Gregory of TD Bank for a webinar on the results from our 2020 Treasury Perspectives survey.
Treasury Perspectives: 2020 Survey Results Webinar
Date:     Thursday, October 1, 2020
Time:    11:00 AM – 12:00 PM ET
Where:  This is an online event.

This live presentation covers the results and provides insights to the 2020 Treasury Perspectives survey. This survey polled practitioners regarding their perspectives, plans and strategies, their outlook on the economy, key operational challenges impacting their companies, and how they manage relationships with banks and secure favorable credit terms / access to capital. 
Join Strategic Treasurer and TD Bank as we discuss the primary implications of this data for organizations in 2020 and beyond, and elaborate on how shifting economic, technology, and regulatory landscapes will impact treasury groups.
1.2 CTP re-certification credits will be given for attendance to this live webinar.
Download the webinar deck here:
You may also be interested in:
As companies grow, acquire, and make various other changes, their banks and accounts tend to increase. The more banks and accounts, the harder it becomes to maintain complete and timely visibility into and proper control over cash flows. This can present various challenges and vulnerabilities, making effective bank account management an important topic for treasury departments today. In this webinar, Strategic Treasurer and TIS will discuss common issues, security risks, innovative solutions, and effective practices for bank account management in today's environment.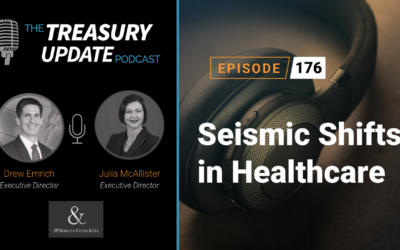 On this episode of the podcast, Host Craig Jeffery sits down with Drew Emrich and Julia McAllister, Executive Directors of J.P. Morgan, to discuss seismic shifts in the healthcare industry. They dive into a range of topics, including healthcare consumerism, shifts in care delivery models, growing adoption of data analytics and artificial intelligence, and more. Listen in to this dynamic conversation.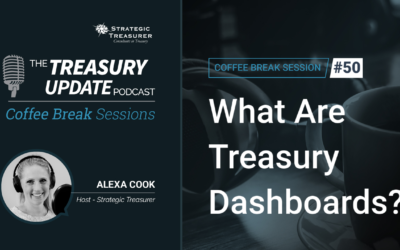 What are treasury dashboards? Coffee Break Session Host Alexa Cook catches up with Strategic Treasurer's Managing Partner, Craig Jeffery, to discuss treasury dashboards. They cover what dashboards are and how they can be leveraged in treasury departments. Listen in and learn a little bit about treasury dashboards.