Join Craig Jeffery of Strategic Treasurer and Tom Gregory of TD Bank for a webinar on the results from our 2020 Treasury Perspectives survey.
Treasury Perspectives: 2020 Survey Results Webinar
Date:     Thursday, October 1, 2020
Time:    11:00 AM – 12:00 PM ET
Where:  This is an online event.

This live presentation covers the results and provides insights to the 2020 Treasury Perspectives survey. This survey polled practitioners regarding their perspectives, plans and strategies, their outlook on the economy, key operational challenges impacting their companies, and how they manage relationships with banks and secure favorable credit terms / access to capital. 
Join Strategic Treasurer and TD Bank as we discuss the primary implications of this data for organizations in 2020 and beyond, and elaborate on how shifting economic, technology, and regulatory landscapes will impact treasury groups.
1.2 CTP re-certification credits will be given for attendance to this live webinar.
Download the webinar deck here:
[wpforms id="29098″ title="false" description="false"]
You may also be interested in: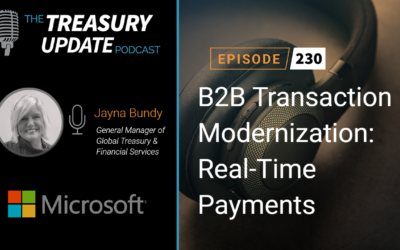 Craig Jeffery is joined by Jayna Bundy, the General Manager of Global Treasury & Financial Services at Microsoft. They discuss why faster payments matter, the goal and cost of faster payments, portals, and issues. What are "requests for payment" and how should corporations think about it?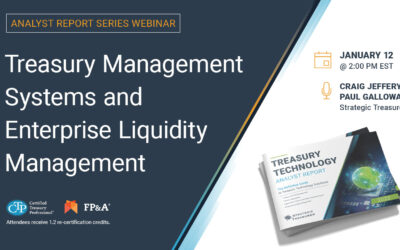 Treasury management systems (TMS) are a vital part of many treasury departments' technology stacks, and adoption rates across companies of various sizes are expected to remain high for some time. Meanwhile, some TMSs seem to be outgrowing the category, creating the new enterprise liquidity management (ELM) solution type. This webinar will give a wide-ranging overview of the current TMS space, its importance in today's era of volatility, leading practices for selection and implementation, and innovative technologies impacting the TMS landscape, as well as briefly discussing the emergence of ELM as a separate category.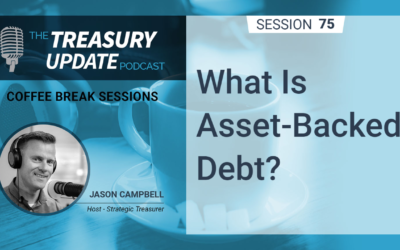 What is asset-backed debt? Coffee Break Session Host Jason Campbell catches up with Strategic Treasurer's Senior Advisor, Paul Galloway, to discuss how asset-backed debt is used for raising capital, the different types of issuances, why a company would issue an asset-backed instrument, and the risks.