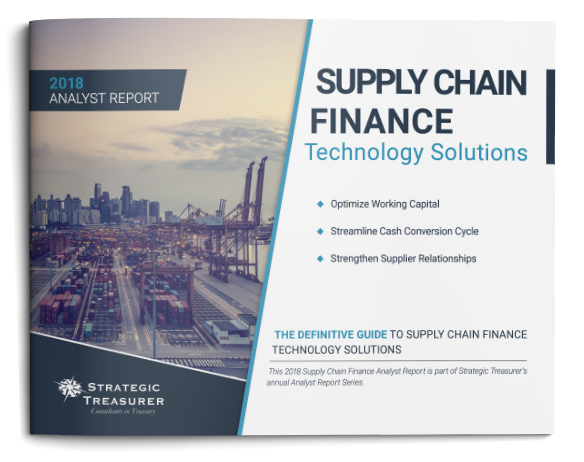 Supply Chain Finance Programs and Technology Solutions
Supply Chain Finance Analyst Report focuses on understanding how SCF can maximize efficiency and optimize cash resources by examining the leading strategies and technologies employed by companies today. Data-driven analysis of buyer/supplier relationships and payment strategies is also used to highlight how SCF can drive treasury's working capital operations. Analysis of several leading providers of SCF technology is also included to give readers an idea of what is currently available within the market.
Understanding Treasury's Stake in SCF
How Technology & Supply Chain Finance Intertwine
Common Approaches to Supply Chain Finance
Data-Driven Look at Payment Terms & Working Capital
Economic Conditions Currently Impacting SCF
SCF Implementation Considerations
Comprehensive Evaluation of Leading SCF Providers
Market Landscape.
Data derived through numerous industry surveys that highlight major developments concerning the area supply chain finance and how it has evolved into its current form.
Top Challenges.
Analysis of the top challenges faced when adopting a SCF program.
Provider Insights.
An accurate picture of the SCF technology landscape, with analysis of some of the leading fintech providers and their position within the industry.
As one of three reports in our Analyst Report series, Supply Chain Finance aids corporate practitioners in understanding supply chain finance programs and technology solutions.  It includes an overview of the economic conditions that have led to increased interest in SCF, background on the business case, and in-depth coverage of some leading providers.


You will be sent a confirmation email containing a link to view the analyst report. If you encounter any issues, please don't hesitate to reach out to
ky@strategictreasurer.com.