2018 Treasury and Risk Management Systems
Strategic Treasurer's FinTech Analyst Report Series
Download Report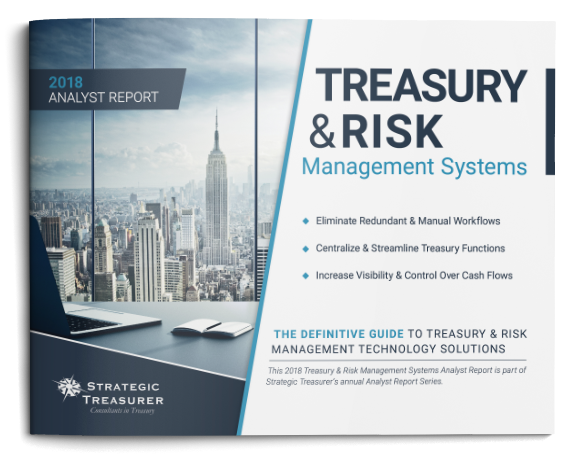 Tools for Advanced Treasury Operations and Analysis
The Treasury and Risk Management Systems ("TMS") Analyst Report offers a thorough evaluation of the TMS space by providing the data behind which areas of functionality corporates are planning to invest in, the types of solutions seeing the most traction, and an explanation of the primary benefits derived through the use of such a solution.
A detailed look at the treasury technology landscape
Analysis of key factors that impact TMS implementations
Coverage of some leading vendors currently within the space
Market Landscape.
Data derived through numerous surveys highlighting major developments in global corp-to-bank connectivity and related functionalities.
Technology Capabilities.
A thorough overview of the tasks and functions involved in establishing efficient and secure bank connectivity and financial messaging capabilities.
Provider Insights.
Detailed reports of leading vendors explaining their global coverage, support, concentration of activity, size, and service offerings.
Throughout the guide, you will find helpful statistics, points to consider, and the latest information to help you select the best TMS for your needs. The in-depth provider analysis covers both product and company level qualifications from some of the industry's leading vendors. Regardless of if you are in the consideration phase, beginning a selection process or nearing implementation, this report has guidance to help you in your efforts.






You will be sent a confirmation email containing a link to view the analyst report. If you encounter any issues, please don't hesitate to reach out to
ky@strategictreasurer.com.