Fintech Analyst Report Series
Treasury's go-to source for insights into the latest developments, trends, and solutions.
Download Reports
Treasury & Risk Management
Better
understanding
yields better
selection
Access Your Definitive Guides to Treasury Technology.
Researching new treasury and finance technology can be overwhelming. Strategic Treasurer has stepped in to help. Explore our definitive guides to the treasury technology landscape and discover detailed, data-based coverage of:
Treasury and Risk Management Systems
Treasury Aggregator (Bank Connectivity Solutions)
SCF & CCC Solutions
Learn more about these technologies and evaluate some of the top vendors in each industry.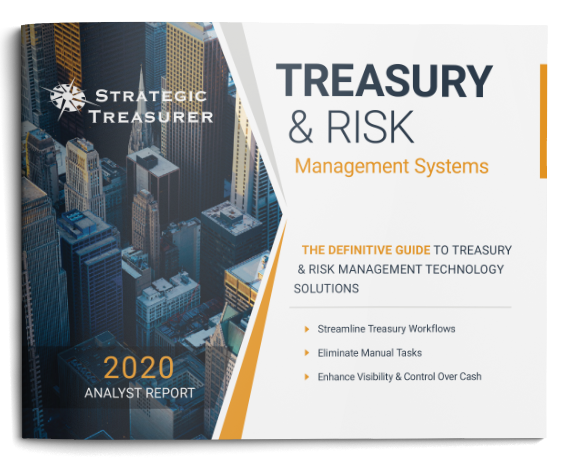 Treasury and Risk Management Systems
The Treasury and Risk Management Systems (TMS/TRMS) Analyst Report offers a thorough evaluation of the TMS space by covering the emerging uses of AI/ML (artificial intelligence and machine learning), RPA (robotic process automation), and API (application programming interface) technologies in treasury; the place of a TMS/TRMS in business continuity planning and preparing for disruption and volatility; the leading practices and proper mindsets for avoiding pitfalls in selecting, making a business case for, and implementing treasury technology; as well as the varied ways in which these solutions address the day-to-day pain points and inefficiencies of treasury departments within the space.
 Watch webinar replay of this Analyst Report here.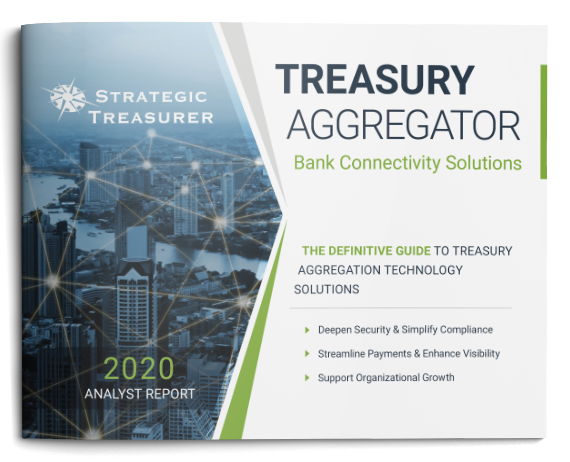 Treasury Aggregators (Bank Connectivity Solutions)
The Treasury Aggregator Analyst Report covers the pain points driving this technology, such as fraud, disparate and evolving payment formats, economic globalization, complexity, compliance, and staffing, along with the various ways in which a treasury aggregator can address those pain points and support efficient and controlled operations. Additional topics will include the role of a treasury aggregator within the larger treasury technology landscape, factors affecting the future of aggregation, and leading practices for selection, implementation, employee training, system integration, and bank onboarding.
Newly Released on January 20, 2021…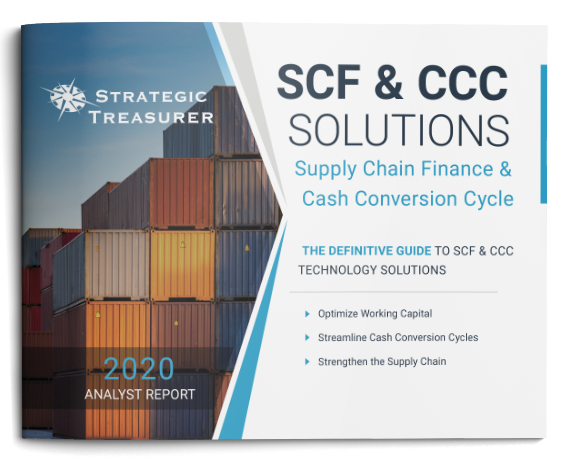 Supply Chain Finance & Cash Conversion Cycle Solutions
The SCF & CCC Analyst Report will cover a variety of solutions that address pain points in the cash conversion cycle, specifically SCF (supply chain finance) solutions, accounts payable automation systems, and accounts receivable automation systems. The report will cover the relationship between treasury, technology (including emerging technologies), and cash conversion cycle solutions; the relevance of these solutions in business continuity planning and times of disruption and volatility; the various SCF models; and the navigation of challenges such as international legal and jurisdictional issues, supplier participation, and internal corporate conflicts. Finally, it will offer a working capital checklist, which will guide the reader through ideas such as forming working capital councils, establishing a single set of KPIs, understanding suppliers, addressing communication issues, and monitoring usage to refine the approach.
Thanks to all of our participating vendors.
Download Your Complimentary Reports
Upon submission, you will be sent an email confirmation with links to download the reports. If you encounter any issues or have any questions, please don't hesitate to reach out to
our team.