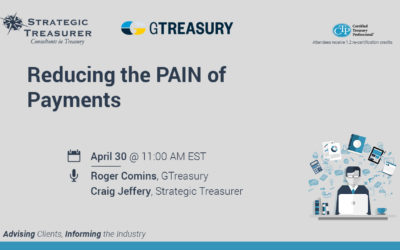 Join Strategic Treasurer and GTreasury for a live discussion providing a rapid assessment of the areas adding to the pain of payments and explore how to address these issues at the root level.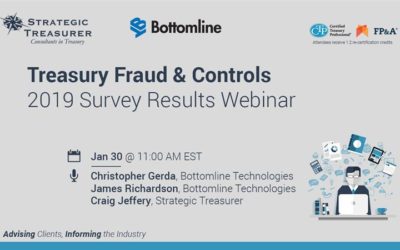 This webinar covers the results and provides insights into the 2019 Treasury Fraud and Controls Survey.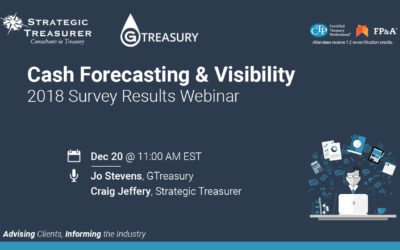 This webinar will focus on understanding the layers of internal complexity that can make cash positioning and forecasting so difficult, as well as the array of technologies, systems, and processes used by companies to enhance the accuracy of their forecasts and effectively manage cash.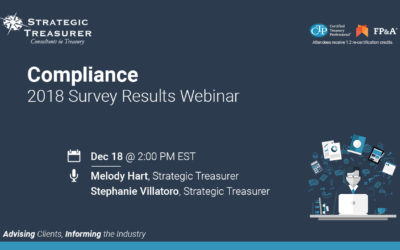 This webinar will cover some of the more salient data points obtained through the survey, including which areas of regulation treasury struggles with the most and the specific aspects of the environment that practitioners are most concerned about. Areas of analysis will include sanctions screening and KYC requirements, FBAR, the use and traction of eBAM solutions, and the current strategies, practices, and plans that practitioners are leveraging to manage their compliance-related operations now and into the future.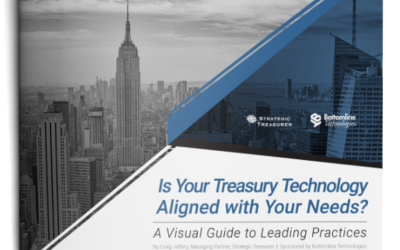 VISUAL GUIDE Is Your Treasury Technology Aligned with Your Needs?: A Visual Guide Leading Practices » Introduction » Situation Overview » Sources of Confusion Regarding Technology » Primary Research: Visibility, Forecasting, & Risk » The Treasury Technology...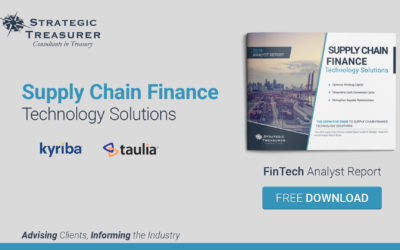 This report aids corporate practitioners in understanding supply chain finance programs and technology solutions.  It includes an overview of the economic conditions that led to increased interest in SCF, background on the business case, and in-depth coverage of some leading providers.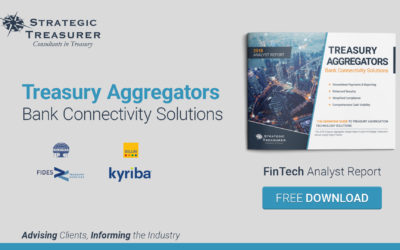 This report focuses on the FinTech solutions that provide sophisticated bank connectivity, payments, security, compliance, and cash management functionality to corporations. It analyses why aggregation technology is so important and evaluates some of the primary benefits of its use.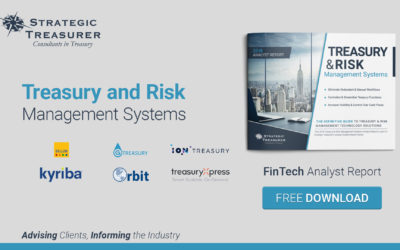 This report offers a thorough evaluation of the TMS space by providing the data behind which areas of functionality corporates are planning to invest in, the types of solutions seeing the most traction, and an explanation of the primary benefits derived through the use of such a solution.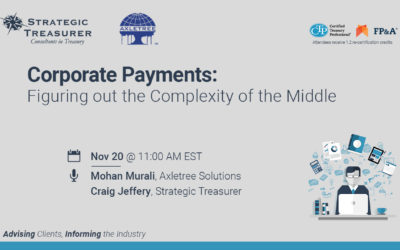 Evolution within the payments landscape is challenging corporate treasury on a variety of fronts. It has proven difficult for many companies to keep pace with the level of change taking place within the space. Join us as we discuss functionalities that are available to address these issues.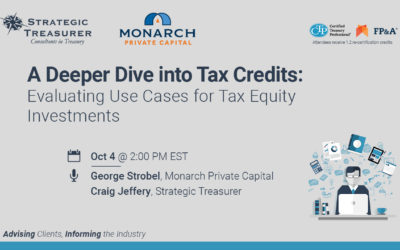 This webinar will examine the scenarios in which organizations can leverage tax equity investments to reduce their tax liability, generate multi-year returns on capital, and create impactful PR opportunities while benefitting and supporting their communities in the process. The event will be co-presented with Monarch Private Capital. 1.2 CTP and FP&A re-certification credits will be given for attendance.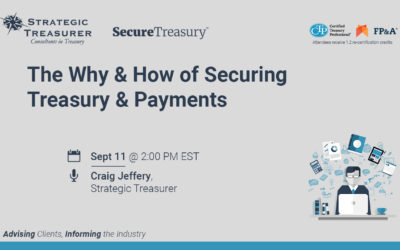 This webinar will first explore the dramatic increase in fraud that we have witnessed within the financial environment and how new technologies have given way to the creation of more sophisticated criminal techniques. Next, we will identify common areas of exposure that exist within organizations today and finally, analyze specific methods and strategies that financial practitioners can employ to protect themselves. The event will be co-sponsored by PDG. 1.2 CTP and FP&A re-certification credits will be given for attendance.