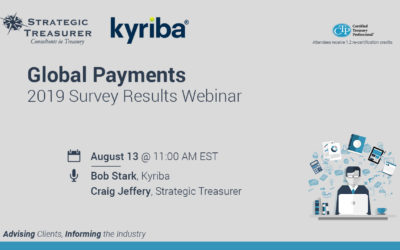 During this expert-led webinar, Craig Jeffery of Strategic Treasurer and Bob Stark of Kyriba discuss results from the 2019 Global Payments Survey and share how organizations are addressing new challenges and opportunities. Tune in to hear key findings from this year's research, created to show the drivers, attitudes and perceptions of various new, faster payment initiatives across the globe. This comprehensive evaluation of treasury and AP-related payments functions will assist practitioners in managing global payment activity technology for years to come.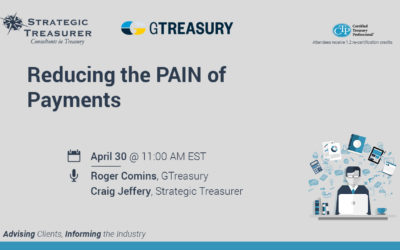 Join Strategic Treasurer and GTreasury for a live discussion providing a rapid assessment of the areas adding to the pain of payments and explore how to address these issues at the root level.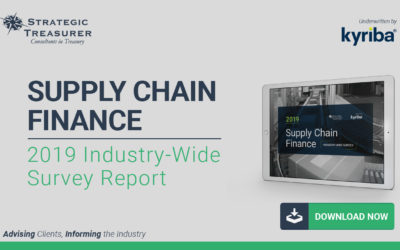 Survey Results  Supply Chain Finance  In 2019, the 2nd iteration of Strategic Treasurer's supply chain finance survey, developed in partnership with Kyriba, sought to pinpoint the unique factors that are ultimately influencing the evolution of the SCF space, both...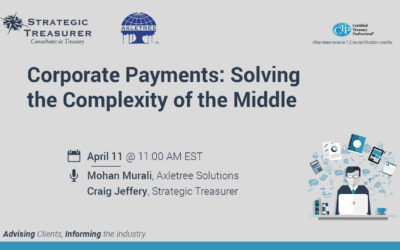 Join Strategic Treasurer and Axletree Solutions for a live discussion on corporate payments. For treasury, B2B payment challenges have proven particularly in the realm of financial messaging and bank connectivity. In many cases, these "middle-man" processes are those that cause the most headache for practitioners and are where the majority of obstacles and delays occur.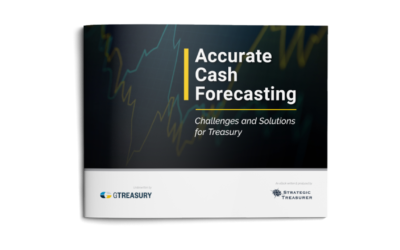 VISUAL & AUDIO RESOURCE Challenges and Solutions for Treasury » The Purpose of & Common Methods Used in Forecasting » Seven Key Challenges to Forecasting Accurately » Top Techniques and Tools for Forecasting » Looking Forward: Leveraging Machine Learning »...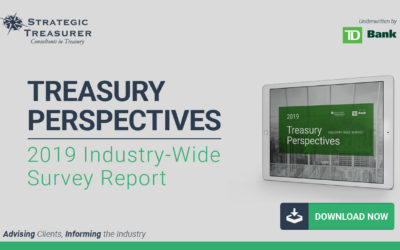 Survey Results Treasury Perspectives For the 2nd year running, Strategic Treasurer and TD Bank are proud to present the findings from the Treasury Perspectives Survey. This annual study polls treasury and finance professionals on their views regarding the economy,...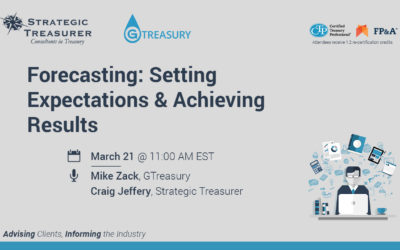 This session will help participants understand the context of good forecasting and explore how to overcome the major issues and challenges faced by many organizations.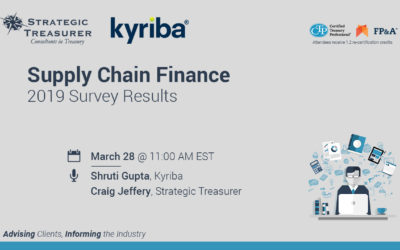 This webinar covers the results and provides insights into the 2019 Supply Chain Finance Survey.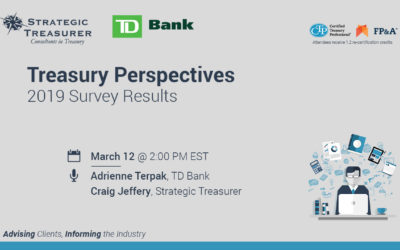 This webinar covers the results and provides insights into the 2019 Treasury Perspectives Survey.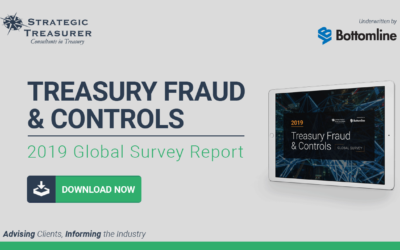 Survey ResultsTreasury Fraud & ControlsWith your help, we've consistently found that fraud is a top ranking concern for treasury. This year, as it has become a bigger issue worldwide, we discover how your experiences and practices have changed. Has your security...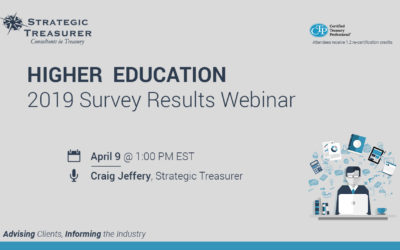 This newly revised survey, now in its 3rd year, is specifically oriented towards treasury and finance practitioners operating within the realm of Higher Education. The aim of this research is to identify the specific drivers, challenges, and other factors impacting both private and public universities heading into 2019.