Professional Analyst Coverage
Deluxe
Deluxe, a Trusted Payments and Business Technology™ company, champions business so communities thrive. Our solutions help businesses pay and get paid and grow.
For more than 100 years, Deluxe customers have relied on our solutions and platforms at all stages of their lifecycles, from start-up to maturity.
Our powerful scale supports millions of small businesses, thousands of vital financial institutions and hundreds of the world's largest consumer brands, while processing more than $2.8 trillion in annual payment volume.
Founded:
1915
CEO:
Barry McCarthy
Headquartered:
Minneapolis, Minnesota (US)
Ownership:
Publicly Held
Learn more about Deluxe's company, solutions, and services.
Treasury Technology Analyst Report
Primary coverage on treasury technology can be found in Strategic Treasurer's annually released Treasury Technology Analyst Report. These definitive guides include the market case, historic functionality, and future developments of solutions across these categories:
Treasury & Risk Management Systems
Treasury Aggregators
Supply Chain Finance & Cash Converstion Cycle Solutions
Enterprise Liquidity Management
Explore special coverage of Deluxe's company and solution set in the report below.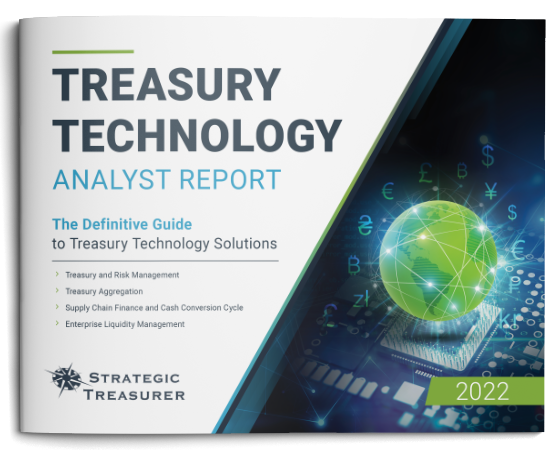 Headlines & Awards
Deluxe President & CEO, Barry McCarthy, was named among 10 winners of the annual EY Entrepreneur of the Year award for the Heartland region. McCarthy was nominated for his vision and entrepreneurial spirit in leading the historic transformation of the 107-year-old company from a check printer into a digital payments and data company.
Newsweek published its first-ever list of the most trusted companies in America which focused on Fortune 1,000 companies across an array of sectors. Listed as #11 among financial services companies, Deluxe continues to uphold its promise as a Trusted Payments and Business Technology™ company.
The American Association of People with Disabilities (AAPD) and Disability:IN have awarded Deluxe in recognition of the company's commitment to fostering an equitable workplace, from leadership and culture to employment practices and supplier diversity.
Deluxe and BillGO have leveraged the power of their respective networks by linking their innovative technologies to develop a "network-of-networks," which will initiate faster payment methods for customers of both companies.
Frequently Asked Questions
What is Receivables as a Service (RaaS)?
Built off an all-in-one receivables solution, Deluxe's Receivables as a Service (RaaS) is a complete suite of components that expedites and automates cash application from all forms of payments and enables smarter business decisions for enterprises. RaaS helps businesses in the order-to-cash cycle by solving three primary jobs:
Process: Get money and data in easily
Apply: Move money to the right place
Report: Provide accurate and actionable insights
RaaS offers enhanced receivables management capabilities through its connected suite of components. Businesses can pick and choose which solutions they need within the suite, including: Remittance Matching, Integrated Receivables, Bill Pay, Remote Deposit Capture, Lockbox, eLockbox, and Advisory Services.
Best of all, with custom dashboard reporting and industry-leading technology, businesses can use these insights to inform their daily business decisions and improve their overall receivables processing.
How does RaaS leverage artificial intelligence (AI)?
Deluxe's advanced machine-learning technology "reads" electronic remittances, matches payments to open invoices, identifies errors—and more. RaaS leverages this state-of-the-art innovation across all your payments for precision posting and unrivaled straight-through processing rates.
Can RaaS offer insights to help manage my receivables?
With a holistic approach that ends data silos, RaaS helps you capture enterprise-wide insights by turning your receivables data into a valuable business resource. Custom dashboards create a 360-degree view that fuels real-time business decisions; Deluxe treasury experts help you understand and optimize these insights.
How does RaaS optimize liquidity and working capital?
With fragmented data and manual processes, it's impossible to make intelligent choices about your excess cash. RaaS not only speeds cash application, it transforms your business with actionable insights to drive informed investment and spending decisions.
Does Deluxe offer services to help us implement RaaS?
No matter where you are in your digital transformation journey, Deluxe can support you with efficient tools and knowledgeable treasury advisors. Working together, we can tailor an easy and convenient experience for your customers, while enabling your staff to work efficiently by handling all payment methods through a single solution.
Does Deluxe RaaS integrate with all ERPs?
As part of the accounts receivable automation process, RaaS has the ability to update the specific data required for your business to complete the task of cash application. Regardless of what ERP you use (or how many), RaaS is able to support any updates to ERP information.
Onboarding, Implementation, and Client Training
Deluxe takes a holistic, 360-degree approach to partnership. From onboarding support to on-demand educational resources for your team, Deluxe keeps collaboration top of mind. With real-time dashboards and reporting, we help to accelerate lead, journey and engagement that promotes powerful sales growth. In our partnerships, we make it a priority to help you add more value to your end customers, build up your brand equity, grow your market share, improve operational efficiency and increase your revenue.
Customer Service
Deluxe's Customer Care service extends to our Receivables products, including Deposit 24/7, ITMS, ImageRPS, Receivables360, Electronic Bill Payment & Presentment, PRIM (Remittance Matching), Optima Capture and IMS Archive. Deluxe clients can reach Customer Care by phone or web portal. Deluxe's Customer Care service is based in North America and provides support to all U.S. customers. We offer 24/7/365 availability, with normal business hours taking place 7 a.m. to 7 p.m. CT Monday to Friday, and on-call support outside of those hours.
Testimonials
"Synovus and Deluxe have had a longstanding history together, going back well over 20 years. At the end of the day, the complete package of what Deluxe offered, especially the pieces on payment reassociation (which to me is really the secret sauce of this whole platform) as well as the biller piece, is you just put that all together and it's a great bundle for customers—whether they're small, mid-size or even just started getting into that corporate space."
Seth Marlowe, Senior Director and Head of Treasury & Product Innovation at Synovus