This webinar is exclusively for those participating in our Treasury Ambassadors program.
Diving into Data
Date:     Wednesday, July 31, 2019
Time:     12:00PM – 1:00PM EST
Where:  This is an online event.

This is an exclusive event for active Treasury Ambassadors program members. If you are not a Treasury Ambassador but would like more information on how to become one, click here and/or email Ky Casanova to request to join.
During this live webinar Craig Jeffery will take an in-depth look at Strategic Treasurer's recent survey data that has not been previously released to the public. The topics covered include supply chain finance, fraud, payments, and cash forecasting. This will include industry distinctions to provide comprehensive information to attendees. A thorough description of what our research data shows and how it can be applied to benchmarking, highlighting elements of particular interest to for a quick recognition of what is relevant and important.
If you encounter any issues with registration or during the webinar, please contact our team. It can take a few minutes for the confirmation email to come through.
You may also be interested in: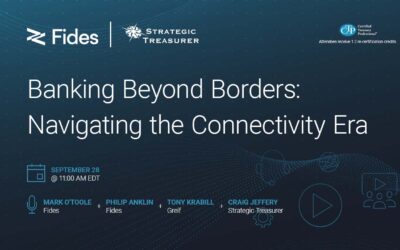 Gain insights into the transformative impact of connectivity on the banking industry. As technology continues to bridge geographical gaps and reshape traditional financial systems, this webinar delves into the opportunities and challenges that come with banking's new connected landscape. Attendees can expect to gain a deeper understanding of how cross-border transactions, digital platforms, and real-time data are shaping the future of banking. From exploring the potential for enhanced customer experiences to understanding the regulatory implications of this global connectivity, the webinar will provide a comprehensive view of the changing dynamics.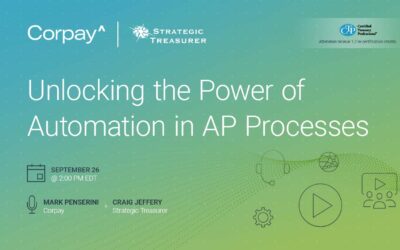 In the world of modern business, achieving efficiency and cost-effectiveness is crucial to success. However, a common problem that hinders this goal is defects within critical business processes. Among these, the accounts payable (AP) process stands out as a prime contributor to inefficiencies and financial losses. But what exactly fuels these defects? There are two primary sources:
1. Manual processes and handoffs.
2. Poorly designed processes with limited scope.
Understanding the AP process and the advantages of automation is crucial. This understanding goes beyond just the steps in the process; it includes how information is used, managing available funds, optimizing working capital, reducing risks, preventing fraud, and increasing overall business adaptability. Join us in this informative webinar as we uncover the surprising impacts that automation can have on the AP process.